September 4, 2020
by: Tiffany Razzano
SAINT PETERSBURG, Fla. – With rooms of military memorabilia, some items dating back to the Spanish-American War and even the Civil War, VFW Post 39 is as much a museum as it is a bar and community gathering space for veterans.
Located on Central Avenue in the heart of St. Petersburg's Grand Central District, it's one of the oldest Veterans of Foreign Wars posts in the world – in fact, it's the third oldest that still exists today. Formed in 1919, it was also the first VFW post established in Florida and is the oldest in the South.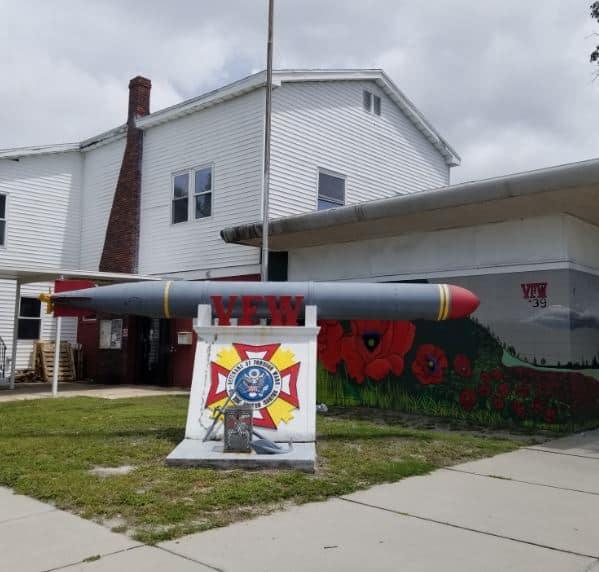 "They say it was the first in the South. Back in 1919, there could be a lot of interpretations of the South. I don't know if they meant south of the Mason-Dixon line or what," said Janice "JP" Pettit, the post's commander.
Now, due to the COVID-19 global pandemic, this post is in danger of closing.
"There's a lot of history in this building," Pettit said. "It would be a shame if it went away."
Like many bars in Florida, the post was forced to close its doors in March because of the coronavirus. The last time a group gathered in the space was on St. Patrick's Day. Most of its funds usually come from alcohol sales, concerts, and venue rentals, but its been five months since any of these have been allowed.
The post owns its building at 2599 Central Ave, which has been its "saving grace," Pettit said. To keep the lights on, it's been forced to dip into funds set aside for helping veterans in the community.
"We've had to tap into that and we're hoping to replenish that," she said.
The organization assists local veterans in need in various ways. It hosts toy drives for veterans and their families at Christmas, donates food to shelters, gives away food baskets at Thanksgiving, hosts family-friendly events, and generally helps veterans get on their feet and access the resources available to help them improve their lives.
COVID-19 has put a stop to much of this work, as well, at least for the time being. The post was forced to cancel an April Easter egg hunt and a Christmas in July toy giveaway. Its members pooled their own funds to purchase school supplies for families in Duval Park, a low-income housing complex for veterans in St. Petersburg.
"We were able to do that (school supply drive) without tapping into any of our resources," said Wanda Negron, the post's house committee chair and adjutant. "We haven't been able to do much more than that, unfortunately."
As Post 39's members contemplate its future, they'll open its doors to the public for the first time since March for a fundraiser tomorrow, Saturday, Sept. 5.  The post will shut down 26th Street North between Central and First Avenues for an outdoor block party from 6 to 11 p.m.
The evening will feature music from DJ Duane D. Cook, The Wrenchers, Terrapin and Boys' Entrance. There will also be drag performances by Victoria Michaels and friends. There's a suggested $20 to attend.
This also will be the public's first opportunity to see the upgrades made to the post during the pandemic. The post's membership used this time to renovate nearly every room.
"We were given a bag of lemons, so we made lemonade," Negron said.
The biggest change was the installation of a new bar located in the front room near the entrance to the building. They removed the old bar from a different room and refurbished the wood to create the new one.
They will turn the other room into a sports bar with a pool table and darts. They also updated the Blackburn Lounge, which is often rented out for concerts, by soundproofing it, sealing the windows, adding a curtain, and improving lighting. They've also begun major renovations to the upstairs Grand Hall, a project they anticipate will continue into early next year.
All materials used for the project were recycled from other areas of the post, and all work was done for free by members.
"The whole project was reduce, reuse, recycle," Negron said. "We used the three 'Rs' and the manpower was volunteer, volunteer, volunteer."
The building's exterior got a facelift as well. Mural artists, Murals by Us, donated their time to create an eye-catching mural on the outer wall, and a VFW member commissioned them to paint an additional wall.
During the event, the post will also open its artifacts room and library to the public to show them "how much history there is here," Pettit said.
VFW Post 39 formed Jan. 17, 1919, she added. "And you know what happened the day before that? On Jan. 16 of that year, they passed the Prohibition Act. They couldn't serve or sell alcohol. It's actually quite comical when you think about it. (The VFW) in general, is stereotyped to be a bunch of drunks. But they couldn't drink the first 10 to 12 years. Back then they were only community-focused. In all the old pictures, you see mostly families."
It was established by a mix of Spanish-American War and World War I veterans who were home on leave. The post is named for Lawrence Melzer Tate, a St. Petersburg native and the city's first resident to die during combat in WWI.
From the beginning, it played an important role in the community, Pettit said. "Back in the day, it was like the who's who of the community. You had mayors. You had sheriffs. You had everyone."
Over the years, the post has earned a reputation as "The Welcoming Post," Negron said. "Everyone is welcome here. There's a lot of diversity in our location. Not only do you have punk rockers jamming out, you also have Vietnam veterans who are 80-years-old hanging out."
VFW Post 39 also taps into the LGBTQ community and boasts numerous female leaders – four officers are women.
"The biggest thing is the gay community," Pettit said. "They have been shunned for so long in the military that now a lot of them are looking back and going 'wait a minute, I'm a vet, will they welcome me?' And we do."
Post 39 eschews the reputation normally associated with VFWs. In fact, it's the only reason Negron joined last fall.
"I never wanted to join. I always thought it was grandpa's club," she said. "It was like, sorry, I got enough stuff from the military being a female trying to come up the ranks. I don't need to go into grandpa's club and deal with the crusty mentality of that."
She added, "Our post is nothing like that. We're incredibly diverse and everyone is welcome here. It would be a shame if we lost this place."
Learn more about VFW Post 39 and Saturday's fundraiser on the post's Facebook page. Donate to the post through a GoFundMe campaign organized on its behalf.
Publishers Note: While The Free Press will always be free for our readers, and ad-supported, we are asking our loyal readers to consider a monthly donation of $3 to maintain our local journalism and help us grow, as we ramp up ad sales locally.
We thank you all for your consideration and for supporting local journalism
Login To Facebook From Your Browser To Leave A Comment