Newspaper comnpany Gannett came under fire on Wednesday for cartoons published by an Editorial Cartoonist with the Pensacola News Journal.
One of the two cartoons that set Twitter on fire Wednesday, depict Kanye West and Condoleezza Rice. West is holding a 'race card' while Rice says the 'N' word.
Another cartoon depicts Florida Governor Ron DeSantis' Press Secretary, Christina Pushaw in a skirt with a bag full of cash, referencing cosmetic enhancements.
Pushaw tweeted on Wednesday, "Hi @Gannett, are these misogynistic and racist cartoons from @AndyMarlette at @pnj aligned with your corporate social responsibility statement?"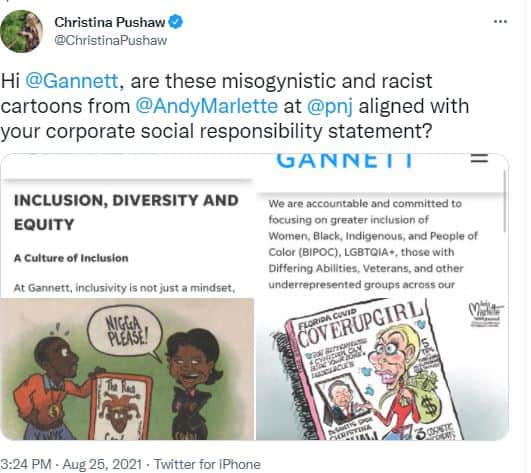 Florida Rep. Alex Andrade responded to Pushaw, "Yes it does say more about them @ChristinaPushaw We here in Pensacola have never understood why the @pnj hired @AndyMarlette with his background. His portfolio should've raised some red flags."
Andy Marlette who is white, the cartoonist behind these peices, reiteraated his hatred for Pushaw saying, "#Florida cartoon: #COVID19 Covergirl and taxpayer-funded Twitter troll, @ChristinaPushaw… @GovRonDeSantis@RonDeSantisFL."
Marlette, the Editorial Cartoonist for the Pensacola News Journal might want to read up on Gannett's "inclusion" policy and get to know the Chairman and CEO of Gannett Mike Reed – He/Him.
According to a page titled, Inclusion, Diveristy And Equity on Gannetts website, The Culture Of Inclusion section states:
"At Gannett, inclusivity is not just a mindset, it's a continuous journey for our organization and employees at all levels. Inclusion, Diversity and Equity are core pillars of our organization and influence all that we do, from recruiting, development and retention, to day to day operations including hiring, on-boarding, education, leadership training and professional development. We foster an environment that lifts all voices and welcomes everyone to take part in our journey into the future where every employee is heard, respected, and given an equal opportunity to thrive."
"We are accountable and committed to focusing on greater inclusion of Women, Black, Indigenous, and People of Color (BIPOC), LGBTQIA+, those with Differing Abilities, Veterans, and other underrepresented groups across our workforce. Beginning with our Board of Directors and our Executive Leadership Team, this commitment extends throughout the organization."
Ahem..
On Wednesday Pushaw told The Free Press, "Corporate media constantly tries to smear Governor DeSantis by fabricating false narratives. When people see through that, liberal media activists resort to attacking the Governor's staff, simply for doing our jobs."
"They can't disprove my points, so they turn to shallow, appearance-based insults," said Pushaw.
Last week, Pushaw back against a complaint by The Associated Press that she unleashed a social media mob against one of its reporters over a story critical of DeSantis' promotion of a COVID-19 treatment.
On a side note, and a relevant one, in March of 2021 Gannett announced it was canceling Mallard Fillmore, the duck,, the long-running comic strip with a conservative perspective, because of a pair of cartoons critical of President Joe Biden's promotion of transgender rights.
The decision essentially slams the door on Mallard Fillmore's creator, Bruce Tinsley, to 261 newspapers across the country, according to The Washington Times.
Gannett objected to two cartoons that appeared in mid-February, the Times reported.
The first depicted Biden saying, "For too long, segregation sullied women's sports. They were restricted to women! Thank goodness those dark days are over."
We have reached out to Gannett for comment on Marlette's work and will update this story at that time.
Support journalism by clicking here to our GoFundMe or sign up for our free newsletter by clicking here
Android Users, Click Here To Download The Free Press App And Never Miss A Story. It's Free And Coming To Apple Users Soon
Login To Facebook From Your Browser To Leave A Comment