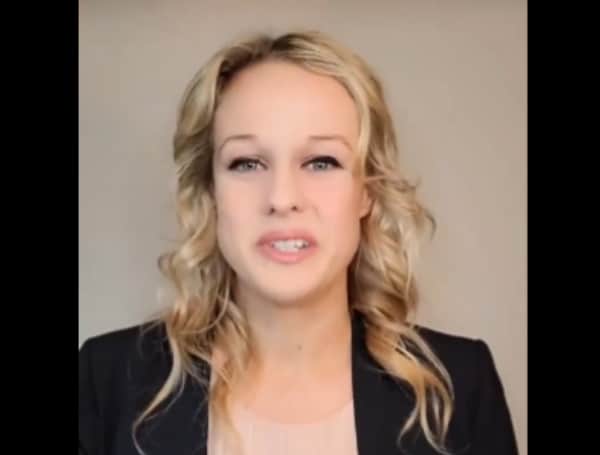 Rebekah Jones, the former Florida Department of Health worker who accused Gov. Ron DeSantis of cooking the books on COVID-19 deaths, pled guilty on Monday to stealing sensitive department data.
But Jones says that's not the case.
Jones took to social media claiming that a plea deal she inked with Tallahassee prosecutors was, in fact, not a guilty plea.
"There was no guilty plea. There was no plea of any kind because it was a dismissal. The case is being dropped," Jones said in a video posted on her YouTube channel, according to the Pensacola News-Journal.
Yet that was not true.
Prosecutors tentatively dismissed the charges against Jones because they allowed her to enter a diversion program.
According to her deal with the state, Jones must admit her guilt of illegally accessing the DOH's computer network over the next two years:
Begin payments on the $20,000 in investigative fees she owes to the Florida Department of Law Enforcement
Not be arrested for any local, state, or federal crime
Return any DOH property she still has exclusive of public records
Perform 150 hours of community service
See a licensed mental health professional for at least one hour per month
Pay $100 fee to State Attorney's Office upon filing of agreement
Work regularly at a lawful job
Avoid alcohol to excess
Submit to and pay for random urinalysis screenings
And report to a state pre-trial intervention officer each month.
If Jones abides by that for 24 months, prosecutors will formally drop the charges.
In 2021, the media sought to portray Jones as a heroic whistleblower who was detailing how Gov. DeSantis was fibbing on COVID death numbers. She claimed her job was to delete death records to indicate Florida was performing better in controlling the virus than it really was. 
As The Free Press has reported, Jones lied about her initial lie in saying she was hired to scrub the data but did not and could not access the data she claimed to have doctored, according to records.
When FDLE investigated her for illegally accessing a confidential state database, she claimed agents entered her home guns drawn, and waved their weapons in her face. Body-cam footage quickly rendered that claim false.
In May, the FDOH inspector general's office released a report of its internal investigation. The IG noted her claims about DeSantis were "unfounded" and "unsubstantiated."
Jones even tried to lie about the IG report, posting a partial section on social media, but leaving out the IG's finding that she had no evidence of wrongdoing by the governor or the department.
Jones ran for the U.S. House this year as a Democrat, challenging incumbent GOP Rep. Matt Gaetz. An appellate court panel generously allowed Jones to remain on the ballot, overruling a judge who believed Jones had been misleading about when she wanted to run for office.
Jones missed the deadline for filing to run as a Democrat in Florida. She actually had been living and registered to vote in Maryland when she became a candidate.
When a judge noted her story didn't add up, she claimed she had been the victim of a computer hack.
The News-Journal noted that when Jones' plea deal came out, Gaetz tweeted, "The people who have lied about me keep pleading GUILTY to their crimes."
Jones shot back that Gaetz's comment was "false, defamatory, and libelous."
"We'll be seeing him in a lawsuit very, very soon," she added.
Visit Tampafp.com for Politics, Sports, and National Headlines, or signup for our free newsletter by clicking here.
Android Users, Click Here To Download The Free Press App And Never Miss A Story. Follow Us On Facebook Here Or Twitter Here.
Login To Facebook From Your Browser To Leave A Comment