HILLSBOROUGH COUNTY, Fla. – A significant storm surge from Hurricane Idalia has pushed the Alafia River to major flood stage and forced road closures throughout Hillsborough County. 
The Alafia River reached major flood stage of 6.56 feet at about 8 a.m., a level that is expected to rise later today because of the combination of Idalia-fueled storm surge, heavy rains, and a tide that will peak in early afternoon.
Alafia River flooding will impact roads and neighborhoods from the river mouth at Tampa Bay through Bell Shoals Road to the east, with the area along the Alafia River between Gibsonton and U.S. Hwy. 301 facing the greatest threat. Those floodwaters already have forced the closure of Riverview Drive.
Other road closures throughout Hillsborough County include the following:
Riverview Drive
U.S. 41 between Big Bend Road and Ohio Street
50th Street and Madison Avenue
Sheldon Road and Moore Road
Gulf City Road
19th Avenue closed at 14th Street N.W. in Ruskin
Causeway Boulevard and 47th Street
Hurricane Idalia made landfall about 7:45 a.m. near Taylor County's Keaton Beach as an "extremely dangerous" Category 3 storm, the National Hurricane Center said.
"This thing's powerful," Gov. Ron DeSantis said during a 6:30 a.m. news conference at the state Emergency Operations Center. "If you're inside, just hunker down until it gets past you. You don't want to be messing around with these winds."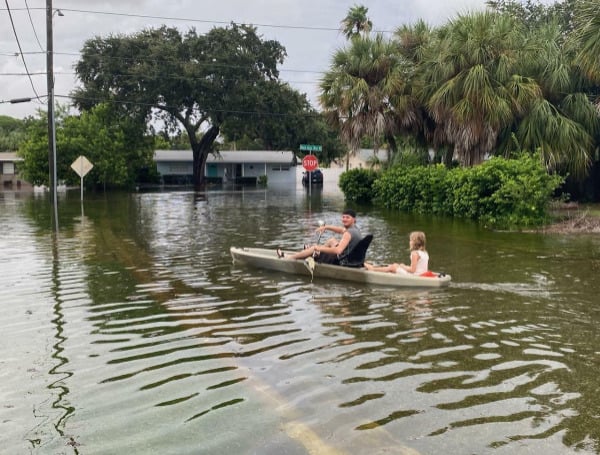 The hurricane center said maximum sustained winds were 125 mph, which is 5 mph below the threshold for a Category 4 storm. Idalia is expected to move through areas of North Florida and into South Georgia.
"Destructive life-threatening winds will occur where the core of Idalia moves onshore in the Big Bend region of Florida, with hurricane conditions expected elsewhere in portions of the hurricane warning area along the Florida Gulf Coast," the hurricane center said in a 5 a.m. advisory. "Strong winds will also spread inland across portions of northern Florida and southern Georgia near the track of the center of Idalia where hurricane warnings are in effect. Residents in these areas should be prepared for long-duration power outages."
The advisory also warned of "catastrophic effects" from storm surge up to 12 to 16 feet between the border of Wakulla and Jefferson counties and Yankeetown in Levy County.
Other parts of the state, such as Southwest Florida, had power outages and storm surge as Idalia moved north in the Gulf of Mexico. DeSantis said electricity had been restored to about 100,000 utility customers, while power was out for about 54,000.
During the 6:30 a.m. news conference, lights flickered at the state Emergency Operations Center, which has backup generator power.
Keaton Beach is about 75 miles southeast of Tallahassee.
DeSantis and Division of Emergency Management Director Kevin Guthrie said the storm will affect a wide swath of the state, from Tallahassee to potentially Northeast Florida. They also said Idalia could cause tornadoes.
The path of the storm appeared Tuesday to be shifting west, increasing the threat to Tallahassee. While the storm ultimately made landfall in the Keaton Beach area, Leon County Commissioner Christian Caban said Idalia will have a "lasting impact on surrounding communities. This is a historic Category 4 storm."
"Leon County residents, you should expect downed trees, blocked roads, power outages, flooding and overall dangerous conditions," Caban said at the state news conference.
In the news: Pasco County Urges Residents To Shelter In Place
DeSantis said more than 30,000 utility crew members were "stationed and ready to go" to restore electricity after the storm.
Duke Energy Florida, which provides electricity in many areas that could be hard-hit, said Tuesday it had more than 5,000 people ready to respond to outages.
"Duke Energy crews and additional workers from across the country are staged throughout Florida's service territory," Todd Fountain, Duke Energy Florida storm director, said in a statement. "We appreciate the assistance from our contractor partners who will help speed power restoration, as soon as weather conditions safely allow."
Android Users, Click To Download The Free Press App And Never Miss A Story. Follow Us On Facebook and Twitter. Signup for our free newsletter.
We can't do this without your help; visit our GiveSendGo page and donate any dollar amount; every penny helps
Login To Facebook To Comment