PINELLAS COUNTY, Fla. – A Tampa businessman who owns a St. Petersburg Mobil gas station located at 101 34th Street, South, has been charged with aggravated battery with a deadly weapon.
Umar Farooq was working the counter of his gas station on September 12 when a woman came in to purchase beer with a $100 bill. The beer cost just over $4.00. Farooq issued change and the woman exited the store. However, her friend, Nicolas J. Young, stormed back into the store accusing Farooq of short-changing her. When Farooq allegedly gave only $84.00 back to Young's friend, it was about $12.00 short. 
According to Farooq, Young blasted through the doors and yelled, "If you don't give me my money, I'll shoot you." At that point, Farooq said he told Young to leave several times. But Young suddenly reached behind his waistband, which prompted Farooq to retrieve his handgun. A shot fired. It struck Young in the hand and exited through a buttock. But Farooq said that he didn't intend to shoot him, didn't know where Young was standing when the bullet hit him, and only intended to show that he could defend himself, if necessary. He also claimed Young added the threat, "I'll kill you," as his hands reached around his waistband.
Young's version of the incident is different.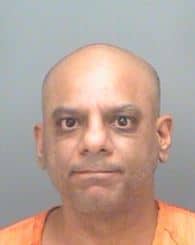 He said he entered the store and immediately told Farooq to "check his drawer," that he had not refunded his friend the proper amount. Then, according to Young, Farooq pulled out a gun and held it up "gangster-style" – sideways. Young said he then began to exit the store and cried out, "Don't shoot me! You're going to shoot me!" He also stated his hands were up. Young claimed he never threatened Farooq.
But Samuel L. Simmons was witness to the incident, and he told another story.
According to him, Young was just a few feet away from him near the counter when he began digging into the front of his waistband, threatening, "I'll shoot and kill your a–, mother******." Simmons said he never saw a gun on Young but wasn't sure why he was digging into his waistband. He indicated Young was "turning his body," and he wasn't sure if that was meant to conceal his actions, or possibly a gun, from Farooq, or if Young was thinking about leaving.
Farooq was arrested and charged on September 12 but has pleaded not guilty.
In the meantime, Young has filed a civil lawsuit against Farooq and a company that owns the land upon which the Mobile gas station is located. It is a case with three counts of negligence against the property owners, Package A, L.C., Umar Farooq and his business.
Florida Statute 836.05 makes it a felony to express verbal threats of physical harm. It is not known if Farooq may be able to counter-sue on this premise.
The State Attorney's office could not comment on the criminal aspects of the case because it is still under investigation.  An inquiry to Farooq's attorney, William Bennett of St. Petersburg has not been answered.  The attorney for Young is John Trevena, Largo.  Trevena was not available for comment.
Publishers Note: While The Free Press will always be free for our readers, and ad-supported, we are asking our loyal readers to consider a monthly donation of $3 to maintain our local journalism and help us grow, as we ramp up ad sales locally.
We thank you all for your consideration and for supporting local journalism
Login To Facebook From Your Browser To Leave A Comment