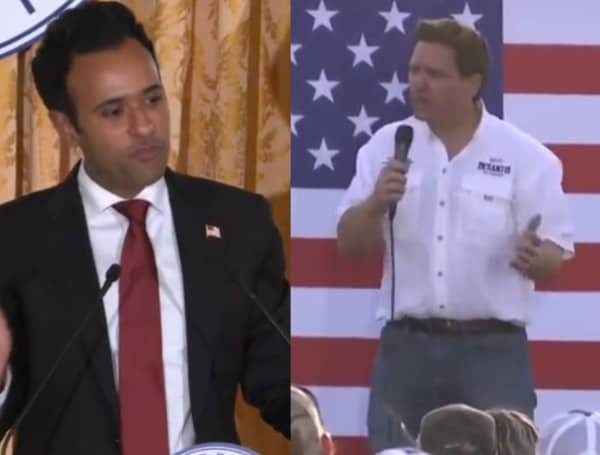 A new poll shows that former President Donald Trump still holds a commanding lead in the Republican presidential primary.
But the survey also showed that Florida Gov. Ron DeSantis has slipped to third, trailing businessman Vivek Ramaswamy — who, according to a report on Monday, entered the race in order to knock out DeSantis.
Ramaswamy "is more focused on making sure Ron DeSantis doesn't earn the GOP nomination for president in 2024 than he is on winning it himself," the Florida Standard reported Monday, citing a story by ABC News.
In the news: Alan Dershowitz Says Trump Call To Brad Raffensperger Is 'Exculpatory Piece Of Evidence'
According to ABC, Ramaswamy, a biotech millionaire from Ohio, first told GOP operatives that he could prevent DeSantis from getting into the contest.
But if he did, Ramaswamy argued that "he believed that if he ran, it could stop DeSantis from running or impact his viability as a candidate if he did enter the race."
The poll released Monday by right-leaning Rasmussen Reports indicates the strategy is working.
Rasmussen noted that Trump remains the favorite among likely GOP voters with 49%, which is actually down eight points since last month.
But Ramaswamy has maneuvered into second place, with 11% support. That is one point ahead of DeSantis.
Rasmussen's survey indicates Ramaswamy may be benefitting from voters who are fatigued with Trump and DeSantis.
We can't do this without your help; visit our GiveSendGo page and donate any dollar amount; every penny helps
The businessman surged eight points since Rasmussen's July poll — the same number that's Trump's support shrunk by.
Yet DeSantis is also down three points from a month ago.
As Florida Standard noted on Monday, liberal commentators have observed that Ramaaswamy's strategy seems to be "sucking up" to Trump while repeatedly bashing the Florida governor.
He did so on Sunday, saying on Twitter in reference to DeSantis that the "real danger to our movement is the rise of 'listless-vessel' robot politicians who blindly follow the commands of their Super PACs."
In the news: Oliver Anthony's 'Rich Men North Of Richmond' Now The #1 Song In US, Reactions
That comment came in response to DeSantis' interview with the Standard on Friday. The governor questioned whether conservatives should be "listless vessels that are just supposed to follow whatever happens to come down the pike on Truth Social every morning." That, he added, is not going to be a "durable movement."
Ramaswamy's tweet drew a sharp rebuke from RedState.com journalist Bonchie, who replied to Ramaswamy, "While you were changing your position on nearly every major issue and doing big pharma's bidding, DeSantis was turning Florida into a conservative playground against the wishes of the big donors."
In its original report, ABC cited critics who asserted that Ramaswamy only joined the race in a bid to build his personal brand as a podcaster and a media presence within conservative media and with conservative voters.
In the news: Vivek Ramaswamy Says Black Chicago Residents Are Pro-Border Wall, Pro-Military On The Border
Still, ABC added, "Some have claimed his campaign is a shadow effort to secretly help Trump stave off a challenge from DeSantis and breeze to the party's nomination — a criticism that has gained traction given Ramaswamy's embrace of Trump on the campaign trail."
Recently, Ramaswamy has shown that by denouncing the indictments of the former president and demanding the release of internal Justice Department documents about the alleged asnti_Trump bias among federal prosecutors.
Android Users, Click To Download The Free Press App And Never Miss A Story. Follow Us On Facebook and Twitter. Signup for our free newsletter.
We can't do this without your help; visit our GiveSendGo page and donate any dollar amount; every penny helps
Login To Facebook To Comment