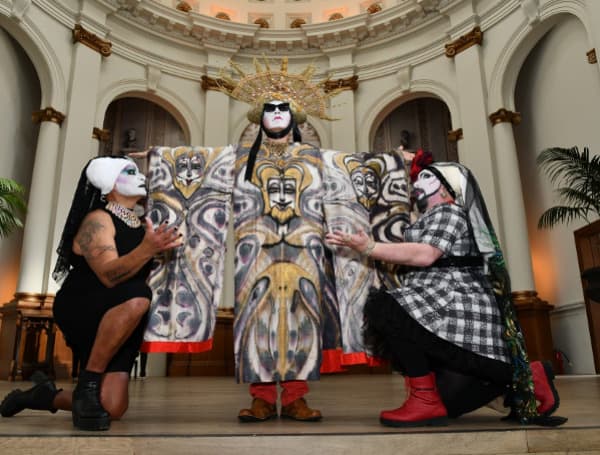 Earlier this week, Sen. Marco Rubio and other Catholics wanted the head of Major League Baseball to explain whether it really is "inclusive" to openly embrace left-wing groups that smear Christians, especially Roman Catholics.
On Wednesday, the Los Angeles Dodgers decided they weren't after all.
According to the conservative group CatholicVote, the team canceled an event for next month set to recognize The Sisters of Perpetual Indulgence, a self-described "order of queer and trans nuns," with the "Community Hero Award."
CatholicVote President Brian Burch said in a statement, "We are pleased that the @Dodgers reconsidered their decision to honor an anti-Catholic hate group known for their gross mockery of Catholic nuns."
In the news: Trump Slams DeSantis Over Endorsed Candidates Losing In Kentucky And Florida "Magic Is Gone"
"While we continue to wonder how such a group was selected in the first place, this incident should serve as a wake-up call for all religious believers: unchecked woke corporations have no qualms about exploiting people of faith."
Rubio, a Florida Republican, helped call attention to the issue on Monday with a letter to MLB Commissioner Rob Manfred.
The Dodgers announced a plan to invite an LGBTQ group called LA Pride to partner in the 10th annual LGBTQ+ Pride Night at Dodger Stadium on June 16.
Part of the event would feature the Dodgers honoring the SPI.
Bill Donohue, executive director of the Catholic League, noted that by inviting the SPI, the Dodgers are "rewarding hate speech."
In the news: Three Florida Minors, Including 12-Year-Old, Indicted And Charged As Adults In Slaying Of 3 Teens
"These homosexual bigots are known for simulating sodomy while dressed as nuns," Donohue wrote. "They like to feature a 'Condom Savior Mass,' … (and) the 'Sisters' go by names such as 'Sister Homo Fellatio' and 'Sister Joyous Reserectum.'"
In his letter to Manfred, Sen. Rubio noted, "The 'sisters' are men who dress in lewd imitation of Roman Catholic nuns. The group's motto, 'go and sin some more,' is a perversion of Jesus's command to 'go, and sin no more.'"
"The group's 'Easter' ceremony features children's programming followed by a drag show where adult performers dress in blasphemous imitation of Jesus and Mary," he added. "The group hosts pub crawls mocking the Stations of the Cross and even the Eucharist, the sacrament that unites more than one billion Catholics around the world."
Thus, Rubio wanted Manfred, who has said MLB must be "as inclusive and welcoming to everyone as possible, and keep us as apolitical as possible," to explain whether that includes Christians.
"If so, why you are allowing an MLB team to honor a group that mocks Christians through diabolical parodies of our faith?" he added. "I am addressing you now to clear up any confusion about where the League stands on this matter."
"Do you believe that the Los Angeles Dodgers are being 'inclusive and welcoming to everyone' by giving an award to a group of gay and transgender drag performers that intentionally mocks and degrades Christians — and not only Christians, but nuns, who devote their lives to serving others?" Rubio asked.
"Do you believe such an award is 'apolitical'? Do you believe it is a sound business decision, in a city with more than four million Catholics and countless other people of faith? Finally, setting aside financial considerations, do you believe it is morally right for the most important league of our national pastime to honor a group that mocks religion, and one religion in particular?"
In the news: Florida Gov. DeSantis Signs Expansion Of Sexual Orientation, Gender Identity Law
MLB, as a private organization in a free country, can give awards to whatever groups it chooses, no matter how loathsome, Rubio wrote.
"But baseball has always been tied to our nation's values, at the heart of which is faith in God. It would be an outrage and a tragedy if the MLB, in pursuit of modern, secular, and indeed anti-religious 'values,' rebuked that faith and the millions of believing fans who cherish the sport."
Apparently, the Dodgers got that message.
As the New York Post reported, the team said in a statement, "We are now aware that our inclusion of one group in particular — The Sisters of Perpetual Indulgence — in this year's Pride Night has been the source of some controversy."
"Given the strong feelings of people who have been offended by the sisters' inclusion in our evening, and in an effort not to distract from the great benefits that we have seen over the years of Pride Night, we are deciding to remove them from this year's group of honorees."
Android Users, Click To Download The Free Press App And Never Miss A Story. Follow Us On Facebook and Twitter. Signup for our free newsletter.
We can't do this without your help; visit our GiveSendGo page and donate any dollar amount; every penny helps.
Login To Facebook From Your Browser To Leave A Comment