September 2, 2020
By: Deborah Childress
LAKELAND, Fla. – MATURE CONTENT WARNING. A lawsuit filed on August 26, 2020, by Plaintiff, Jane Doe, alleges what is another case of sexual assault by a Hand and Stone licensed massage therapist.  The alleged incident occurred at 4750 South Florida Avenue in Lakeland, a Hand and Stone franchise operation owned by Defendant, Clarion Spas, LLC of Brandon Florida. In recent years, similar complaints against Hand and Stone franchisees have been reported in Florida, from Clermont and Orlando to Ft. Myers and Naples.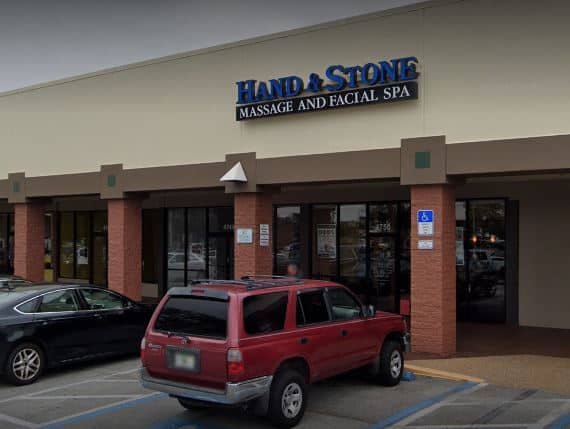 The lawsuit states that on May 23, 2020, Jane Doe became shocked, frozen and afraid when a male, licensed massage therapist "sexually touched her breasts, and inappropriately touched her (genital) area/underwear. He also sexually massaged her gluteus maximus."
Among several counts made against the Defendant is "Direct Negligence of Hand and Stone Franchise Corporation." The count complains the company allowed a Hand and Stone therapist to remain employed after knowing he sexually assaulted a female customer. It also complained that Hand and Stone failed to report the alleged sex assault in this case to authorities, although they claim to have a "zero tolerance" policy.
However, in other sexual assault cases against Hand and Stone, as well as other high-volume spas, the defense is that sexual assault by a licensed massage therapist is outside the purview of the corporation's responsibility, as it is not part of the therapist's job description. It appears from journalistic research that, in part, spa corporations attempt to avoid terminating, suspending, or reporting accused massage therapists until a trial by jury has been completed with a verdict, although suspensions have been occasionally reported. In some instances, even law enforcement withdraws from taking action.
In a case from Ft. Myers, as reported by the Ft. Myers News-Press on August 1, 2020, two women filed charges with the Lee County Sheriff's Office regarding sexual assault by the same local Hand and Stone licensed massage therapist, where the therapist's genitals were allegedly thrust into their hands. The therapist was also accused of inappropriately touching their breasts and genitals. The same massage therapist is listed with the Florida Department of Health as being accused in a similar complaint while he was employed with Massage Luxe in Naples. However, Lee County's Sheriff's Office concluded there was no probable cause that a crime was committed. In these two women's cases, Hand and Stone stated they accepted no liability for the employee's sexual battery against a third party, as his conduct was not within the scope of his employment. Hand and Stone itself demanded a jury trial.
Massage therapy expert witness, Ben Benjamin, PhD., is the publisher of massagemag.com.
He writes he has worked in the massage and bodywork industry for 50 years. In an article regarding sexual misconduct, he lays out a case for better massage therapy schools:
"As I see some massage therapy schools reduce the ethics, sexuality, and communication content in their curricula, I fear that the incidence of these violations will only increase."
He also claims some schools are not vetting their students for previous offenses, prior to accepting their enrollment and tuition fees.
Benjamin also describes proper etiquette, techniques and mishaps that occur in the field of massage therapy. He includes the warning signs of a sexually unethical and offensive massage therapist.
Regarding client disrobing and draping (the proper placement and use of sheets, towels, gowns or clothing) Benjamin writes that a therapist instructing a client to remove all clothing is a warning sign, as nudity is not required for any type of massage. There is also no reason, he states, for a therapist's hand to ever go under the draped sheet. That declaration is suggested in the State of Florida's Department of Health Rule 64B7-30.001(5) of the Florida Administrative Code (2018). It states, "Appropriate draping of a client shall include draping of the buttocks and genitalia of all clients and breasts of female clients unless the client gives specific informed consent to be undraped."
Benjamin also explains that mishaps occur, such as a male therapist's genitals accidentally falling into the upturned, open palms of a client lying on their stomach. In another example of mishaps, he explains how a female patient was alarmed once her chiropractor placed one of his hands on her legs and the other on her upper back. She suddenly cried out in shock, "Doctor, what's going on?" The chiropractor, realizing his tie had fallen between his patient's thighs, gently said, "I'm sorry. My tie slipped and is touching you. Let me keep my hands where they are while you turn your head to see for yourself."
Regarding female breast contact, Benjamin is adamant there is no condition which justifies touching a woman's bulging breasts while she is lying face down. However, with the exception of state restrictions, he indicates that at the request of a client, breasts may be massaged due to several kinds of medical conditions, such as clogged milk ducts or painful post-mastectomy scars, although the nipples should never be massaged.
A review of Florida massage therapy rules did not present a specific or strict prohibition on breast massages, although this review was not intended as a legal conclusion. It is presumed such massages do, however, require a client's request, as breasts are otherwise expected to be draped at all times.
Among other insightful tips and stories, Benjamin describes how light touch can be manipulated to create sexual arousal, as can contact near the pubic bone region.
Benjamin's online article is at https://www.massagemag.com/massage-business-misconduct-allegations-part-one-87822/.
Jane Doe's lawsuit against Hand and Stone and Clarion Spas LLC demands a trial by jury. A call to clarify the Defendant's policies was not returned. The attorney for the lawsuit's Plaintiff is Gordon and Partners, P.A. of Palm Beach Gardens, Florida.
NOTE: The Federal Rules of Civil Procedure generally require that a publicly filed lawsuit name all the parties involved. However, under certain circumstances, plaintiffs can avoid disclosing their name by filing a lawsuit using a pseudonym (such as "Jane Doe" or "John Doe"). Although the use of a pseudonym commonly arises in sexual harassment cases, some courts are reluctant to allow a plaintiff to proceed pseudonymously based solely on allegations of sexual harassment. Other bases, such as a reasonable fear of reputational damage or the risk of psychological harm if the litigant's true identity is revealed, are often required for a plaintiff to proceed anonymously.
Publishers Note: While The Free Press will always be free for our readers, and ad-supported, we are asking our loyal readers to consider a monthly donation of $3 to maintain our local journalism and help us grow, as we ramp up ad sales locally.
We thank you all for your consideration and for supporting local journalism
Login To Facebook From Your Browser To Leave A Comment