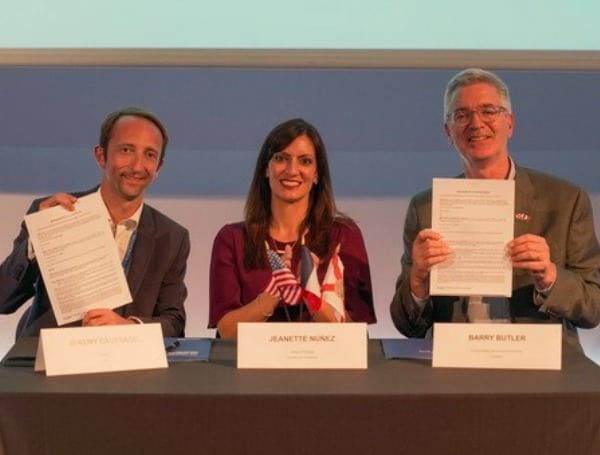 Florida Lieutenant Governor Jeanette Nuñez led Florida's Strategic Business Meetings at the 2023 Paris Air Show.
Nuñez, in conjunction with Enterprise Florida, engaged with key leadership across various aerospace entities and discussed the current needs of the industry, and promoted future opportunities for collaboration between Florida and the aerospace sector.  
"As Chair of the Board of Space Florida, we are committed to supporting the growth of Florida's flourishing aerospace sector," said Lieutenant GovernorJeanette Nuñez. "We have worked hard to attract companies that are building today's aerospace assets and imagining tomorrow's innovations. From modernizing and sustaining aerospace infrastructure investment to adapting to a dynamic global market, Florida has made the conscious decision to position our state as the world leader in global aerospace operations. With the support of Enterprise Florida, we are eager to turn these conversations at the air show into finalized projects, benefiting Florida's workforce and economy." 
In the news: Lieutenant Governor Jeanette Nuñez Opens 2023 Paris Air Show, Inauguration Of Florida Pavilion
"Thanks to Lieutenant Governor Jeanette Nuñez and team for representing the state of Florida at the 2023 Paris Air Show," said J. Alex Kelly, Secretary of the Florida Department of Economic Opportunity. "Economic development is all about collaboration, and aerospace is a leading industry sector in Florida. Partnerships like these exemplify why our state continues to lead and attract innovative companies from around the world to create great careers for Floridians for generations to come."
Lieutenant Governor Nuñez met with the following aerospace and aviation entities to discuss strategic opportunities for growth and expansion within the state:
AAR Corporation
Boeing Corporation
Embraer
Embry-Riddle Aeronautical University
Dassault Falcon Jet Corporation
Lockheed Martin
RTX
Safran
ST Engineering
Aerospace continues to be one of Florida's best-performing sectors. In the next five years, Florida's aerospace economic impact is projected to be more than $5.3 billion, with an average annual impact of $1.1 billion. These aerospace and aviation companies continue to be significant contributors to Florida's aerospace economy.
Since 1994, Enterprise Florida has hosted a Florida Pavilion at the Paris Air Show. The air show serves as the point of entry for many businesses looking to build, expand, or relocate their business operations to Florida. Aviation/Aerospace is a targeted industry for growth and expansion, and Florida's presence at these trade shows serve three main purposes:
1) branding Florida as the best place to do business;
2) attracting inbound foreign direct investment and garnering expansion and retention activities; and
3) assisting Florida manufacturers with their exports through promotion and assistance.
Android Users, Click To Download The Free Press App And Never Miss A Story. Follow Us On Facebook and Twitter. Signup for our free newsletter.
We can't do this without your help; visit our GiveSendGo page and donate any dollar amount; every penny helps.
Login To Facebook To Comment