PASCO COUNTY, Fla. – U.S. Rep. Matt Gaetz publicly suggested that Florida Gov. Ron DeSantis use his executive power to remove a Pasco County Sheriff Chris Nocco, who accused of overseeing an Intelligence Lead Policing program (ILP) that targets and harasses citizens.
In a lawsuit filed Wednesday in Tampa, documents state, "The Pasco County Sheriff's Office punishes people for crimes they have not yet committed and may never commit. It first predicts that certain people may commit future crimes, and then it harasses these people—and their relatives and friends—with relentless visits to their homes at all hours of the day, with unwarranted stops and seizures, and with repeated citations for petty code violations. In the words of a former Pasco deputy, the policy is meant to "[m]ake their lives miserable until they move or sue."
Rep. Matt Gaetz agrees.
On Thursday he tweeted out, "I don't care that this is being done by a GOP Sheriff. Its awful to harass citizens because you think they may commit crimes, hoping to "make their lives miserable." @GovRonDeSantis has the authority to remove @ChrisNocco & should consider doing so."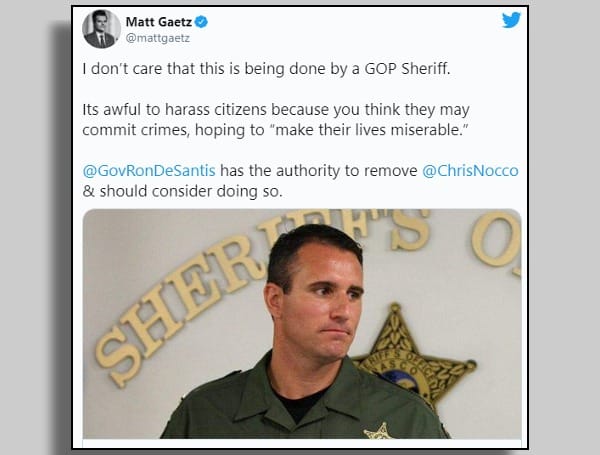 The Sheriff's office calls the description of the program false and its Intelligence-Led Policing program is guided by a person's criminal history or a school student's characterization as being at risk.
"ILP is a philosophy that is blind to a person's race, gender, creed, sexual orientation, or any other aspect of an individual's life. The only consideration for ILP is an individual's criminal history and actions along with their criminal associates," said Sheriff Chris Nocco, in a statement in September.
"This is 2020. Professional law enforcement agencies use technology to protect and keep their communities safe, and would be derelict in their duties if they didn't," said Polk County Sheriff Grady Judd added in a September statement to The Free Press, "Here is a thought for prolific criminals. Behave. Quit terrorizing the community with criminal conduct and you won't have to worry about investigations and arrest."
ILP also analyzes relationships of known offenders, gang members, and others that come into a law enforcement agency, through a negative contact, to assist with solving crime in a community.
Sheriff Nocco added, "As evidenced by the 74.4% reduction in residential burglaries since we first implemented the ILP philosophy. This reduction has a direct, positive impact on the lives of the citizens of Pasco County. There is a direct correlation between our ability to keep our community safe and families and economic opportunities expanding in Pasco County."
Support journalism by clicking here to our gofundme or sign up for our free newsletter by clicking here.
Login To Facebook From Your Browser To Leave A Comment