WASHINGTON, D.C. – Today, President Trump nominated 7th Circuit Judge Amy Coney Barrett to serve as the next Supreme Court Justice. A Respected Legal Expert On Federal Courts And Constitutional Law, Judge Barrett Is Exceptionally Qualified To Serve On The Nation's Highest Court

PRESIDENT TRUMP HAS NOMINATED JUDGE AMY CONEY BARRETT TO SERVE AS THE NEXT SUPREME COURT JUSTICE
Judge Barrett has served on the 7th Circuit Court of Appeals for nearly 3 years.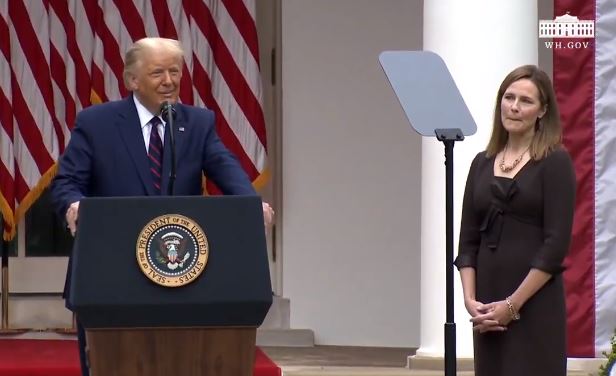 HER APPOINTMENT TO THE FEDERAL BENCH RECEIVED "ROBUST BIPARTISAN PRAISE" FROM THE LEGAL COMMUNITY
Judge Barrett's nomination to the Circuit Court received "robust bipartisan support" from the legal community.
More than 70 law professors representing a "broad range of fields and perspectives" wrote a letter to the Senate Judiciary Committee praising Judge Barrett's "stellar credentials" and urging the Senate to confirm her.
The letter highlighted Judge Barrett's "rigorous, fair-minded, respectful, and constructive" contributions to legal scholarship noting that "she enjoys wide respect for her careful work, fair-minded disposition, and personal integrity."
Several of these professors are prominent liberals who served in Democrat administrations:
Neal Katyal served as Acting Solicitor General in the Obama Administration as well as several key roles in Bill Clinton's Department of Justice.
Patricia Bellia worked as an attorney-advisor in the Clinton Administration's Department of Justice.
Nestor M. Davidson worked in the Clinton White House and the Department of Housing and Urban Development during both the Clinton and Obama Administrations.
Jay D. Wexler clerked for Justice Ruth Bader Ginsburg and served in the Clinton Department of Justice.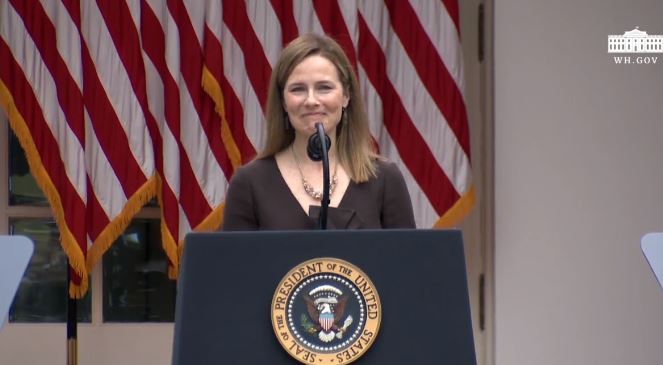 Judge Barrett also received unanimous support from her colleagues at Notre Dame, who all signed a letter expressing their support for her nomination and the belief that she "will be an exceptional federal judge."
Notre Dame Law School Faculty: "Amy is a role model for all of us, and would be a model of the fair, impartial and sympathetic judge."
Upon reviewing her impressive qualifications, The American Bar Association rated Barrett "well qualified" to serve as a judge on the 7th Circuit.
During her confirmation hearing, Barrett exhibited grace under fire when liberal senators attacked her faith and questioned her impartiality.
She even received support from 3 Democrat senators including 2016 Vice Presidential nominee Sen. Tim Kaine (D-VA), who ) voted to confirm Barrett's nomination to the 7th Circuit.
PRIOR TO HER TENURE ON THE 7TH CIRCUIT BARRETT WAS A WELL-REGARDED LEGAL SCHOLAR WHOSE EXPERTISE ON FEDERAL COURTS AND CONSTITUTIONAL LAW IS PERFECTLY SUITED FOR A ROLE ON THE SUPREME COURT
Judge Barrett attended Notre Dame Law School, where she graduated first in her class and served as executive editor of the Notre Dame Law Review.
Prior to her nomination to the 7th Circuit Barrett is a was respected legal scholar, teaching and researching in the areas of federal courts, constitutional law, and statutory interpretation.
Her scholarship in these fields has been published in leading journals, including the Columbia, Virginia, and Texas Law Reviews.
In 2010, she was tapped by Chief Justice John Roberts to serve on the Advisory Committee for the Federal Rules of Appellate Procedure.
During her 2017 confirmation process, a group of bipartisan legal experts praised Barret as a "distinguished scholar in areas of law that matter most for federal courts."
Dean of Notre Dame Law School, Nell Jessup Newton, has praised Barrett as "an outstanding teacher, a great colleague, and a highly productive scholar who has achieved national recognition in the field of Federal Courts."
Publishers Note: While The Free Press will always be free for our readers, and ad-supported, we are asking our loyal readers to consider a monthly donation of $3 to maintain our local journalism and help us grow, as we ramp up ad sales locally.
We thank you all for your consideration and for supporting local journalism.
Login To Facebook From Your Browser To Leave A Comment