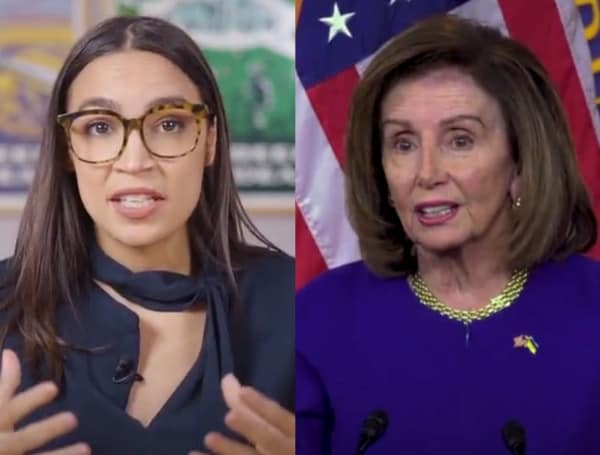 Members of a MSNBC panel said Tuesday that the "left wing" does not control the Democratic Party, while Republicans are "captive to" supporters of former President Donald Trump.
"The Republican Party has this problem, is that they are captive to this base that's very extreme. So, Donald Trump or anybody who pays homage to Donald Trump can't win a national election. Donald Trump cannot," John Heilemann, a national affairs analyst for MSNBC. "His support nationally keeps going down. He could never win a majority of the vote in any circumstance. Donald Trump is not able to — I would say, at this point, Donald Trump can't even run the table through the narrow path of the Electoral College. He is that toxic."
Trump came under fire from some republicans after high-profile endorsements, like Republican gubernatorial candidates Doug Mastriano of Pennsylvania and Kari Lake of Arizona, as well as Senate candidates Blake Masters of Arizona, Adam Laxalt of Nevada, and Mehmet Oz of Pennsylvania, lost during the Nov. 8 midterm elections.
"You can't win a Republican nomination without appealing to Donald Trump's base voters. You can be Joe Biden and say, as he did in 2020, 'You know, I won't compete with Bernie Sanders on the left. I won't compete with Elizabeth Warren on the left,'" Heilemann added. "He won the Democratic nomination without embracing Medicare-for-all, without embracing Green New Deal, without doing any of the things the left wanted him to do."
In the news: Just Like That, Another Anti-Trump Narrative Dissolves
"It's just that the left has a big voice in the Democratic Party, but it's not a barrier to a more centrist politician winning the nomination, as Biden proved. In the Republican Party the base has made it impossible to get over their hurdle and then be a nationally competitive candidate," Heilemann said after a brief interruption by Donny Deutsch. "That's the problem Republicans face. That's what Trump and Trumpism have done to the party, they've created a circumstance where it's almost impossible to nominate someone who clears that bar and is that electable on a national basis."
While the Republican Party underperformed expectations of a nationwide "red wave" however, according to Ballotpedia, Trump's scorecard for the 2022 midterms was on-par with past performance, percentage-wise.
In 2022, Trump endorsed 241 candidates in the primaries with a 93% success rate. In the general election, Trump endorsed 254 candidates with a 78% success rate, in line with his 2020 endorsement percentage, according to Ballotpedia.
While the defeats have been widely reported, the successes haven't garnered as much attention.
A Florida race that has garnered little attention on mainstream media is Trump-endorsed Republican Anna Paulina Luna, an Air Force veteran who beat Democrat Eric Lynn by a margin of 53 percent to 45 percent in Pinellas County's Congressional District 13, flipping a blue seat red.
Luna will take the place of former U.S. Rep. Charlie Crist, the unsuccessful Democratic gubernatorial candidate who Florida Governor Ron DeSantis easily beat with 4.6 million votes to challenger Crist's 3.1 million.
Trump-backed candidates also racked up wins in such contests as the Ohio Senate race, in which Republican J.D. Vance beat Rep. Tim Ryan (D), and the Utah Senate race, in which Sen. Mike Lee (R) kept his seat against independent challenger Evan McMullin.
In the news: Poll Shows Nearly Half Of Americans Say Biden Should Support China's Protesters
After the midterm elections, Trump fired back at the media, calling their midterm reporting "unrecognizable junk."
"Incredible how dishonest the Fake News Media is. The Failing New York Times has gone crazy. So many of the people I Endorsed went on to victory on Tuesday Night, nobody was even close, and they literally make up a story refusing to write the facts, and only quoting enemies and losers. Almost all of the people I endorsed WON, yet if you read the story from two Trump hating writers (who only do as they are told!), you would not even recognize the truth. They truly are, THE ENEMY OF THE PEOPLE!!!," Trump said on Truth social.
Trump added, "…219 WINS against 16 LOSSES IN THE GENERAL ELECTION, and yet the Fake News writes only unrecognizable junk. No wonder they are all doing sooo badly!"
Trump-endorsed Senate candidate and former NFL running back Herschel Walker faces a Tuesday runoff with Democratic Sen. Raphael Warnock of Georgia.
In the news: Florida AG Moody Warns Of Google Voice Identity Theft Scams
Visit Tampafp.com for Politics, Sports, and National Headlines.
Android Users, Click Here To Download The Free Press App And Never Miss A Story. Follow Us On Facebook Here Or Twitter Here.
Login To Facebook From Your Browser To Leave A Comment