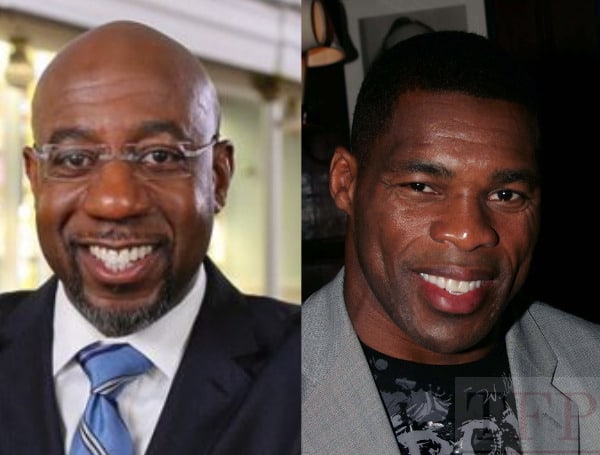 On Dec. 6, voters in Georgia will decide a run-off between incumbent Democratic Sen. Raphael Warnock and Republican Herschel Walker, the former Heisman Trophy winner, and NFL star.
At this point, only one thing is assured by this election: since both men are black, Georgia's next senator is guaranteed to be black.
But MSNBC on Saturday tried to convince viewers that no matter who wins, the victor can thank white supremacy or something.
MSNBC is not alone in this.
CNN, Business Insider, and Time are among the left-wing media outlets that seek to convince people that Georgia's system is still racist.
The report, by NBC News correspondent Priscilla Thompson, detailed how Georgia nearly 60 years ago adopted a runoff system as proposed by an admitted segregationist, a state representative named Denmark Groover.
The runoff system merely says that if no candidate receives a clear majority in an election, the top two vote-getters will run again a few weeks later to ensure the office-holder has the support of most voters. It's been that way in Georgia ever since 1963.
In the news: Florida AG Moody Says "It's Not Rocket Science" Enforce The Law
The reporter and an alleged expert on Georgia elections, who is actually a professor at SMU in Texas, clearly painted Groover as a racist.
MSNBC declined to report that Groover was a Democrat, and that in 2001, near the end of his life, he testified in the legislature to have the Confederate battle flag removed from the state flag, roughly 45 years after he first proposed adding it in defiance of the federal government imposing segregation on the states.
Groover, apparently not anticipating the times to come, said of the flag in 2001, "It has become the most divisive issue on the political spectrum and needs to be put to rest. It would bring to an end this cauldron of discord that adversely affects our lives and the future of our children and grandchildren."  
MSNBC also declined to discuss what, if any, efforts have been made to change Georgia's system — other than a lawsuit brought in 1990 by former President George H.W. Bush's administration, which failed because a federal court said the feds never mustered enough evidence that Georgia's runoffs were racist or disenfranchised black voters.
MSNBC did interview David Burgess, a black member of the public service commission who lost a statewide runoff to a white candidate in 2006 after he got the most votes in a three-candidate general election. In large part, Burgess affirmed the narrative MSNBC sought to promote.
But then, he nearly undermined it with an observation about his own election loss: "I didn't think it was a fair process, but, you know, those were the rules of the game."
In closing her report, Thompson noted that Georgia's voting system "remains a glaring reminder of the systemic racism ingrained in the fabric of America, lingering in one of the values we hold most dear — democracy."
Yes, a system so racist that it now guarantees that one of two black men will represent Georgia in the Senate.
Visit Tampafp.com for Politics, Sports, and National Headlines.
Android Users, Click Here To Download The Free Press App And Never Miss A Story. Follow Us On Facebook Here Or Twitter Here.
Login To Facebook From Your Browser To Leave A Comment