Universities and Colleges across Florida received, what we are being told, an email threat of a campus bomb.
The first alert The Free Press received was from SEU in Lakeland Florida at 9:47 AM stating, "Shelter in place. Security alert for SEU. A threat to the campus community has been received. If any suspicious person or object is seen, contact Security or call 911."
"Shelter In Place. Deputies are still continuing to sweep the campus in an abundance of caution. Please continue to shelter in place."
However at 11:39 AM and 'All Clear' alert was sent to staff and students, "Alert- All Clear. The Treat has been determined to be a hoax and the campus has been cleared by deputies. ALL CLEAR! Resume normal activities, classes will resume at 1:00 PM. Please continue to use caution and maintain awareness."
Around 10:00 AM, the University of Tampa tweeted out, "UT ALERT: Shelter in place. Unsubstantiated bomb threat. Will issue all clear when safe to resume normal operations."

Around 11:15, University of Tampa gave the all clear, stating, "UT Alert: Campus Safety in conjunction with TPD have finished sweeping the campus. Normal operations may resume. Thank you for your compliance."
Just before 11:00 AM, Daytona State College sent out this alert, "DSC Alert! Due to potential threat, please evacuate all Daytona State College campuses immediately. All Daytona State College campuses are closed until further notice."
Daytona Beach police said. "We are working a reported bomb threat at Daytona State College. We are assisting with the campus evacuation. Please do NOT attempt to go on the Daytona State campus at this time. We will notify you when it's safe. Thank you."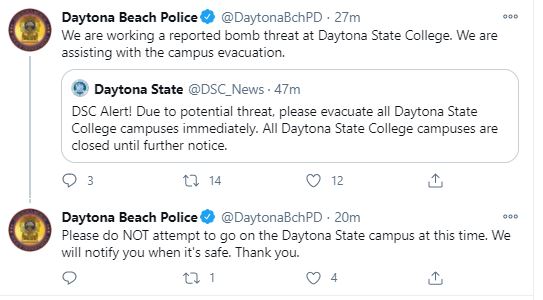 Daytona State College also received an 'All Clear' around 11:40 AM, but will keep classes closed for the remainder of the day, "DSC Update. Daytona State College received a shooting & bomb threat with specific information and a time. DSC worked with authorities, and all campuses are now cleared. DSC will remain closed for the remainder of the day. All classes and operations will resume as normal tomorrow."
We will be updating this story if more information becomes available.
Login To Facebook From Your Browser To Leave A Comment