June 30, 2020
By: Martin Fennelly
TAMPA Fla. – You know, just last week, I was in the middle of saying that all we have right now when it comes to Tampa Bay sports is our shiny new Bucs quarterback and in-house legend, Tom Brady.
But enough is enough.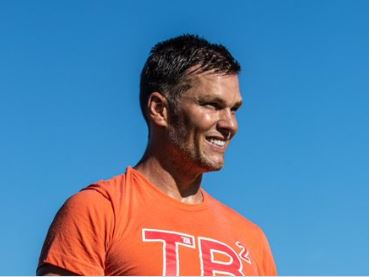 No sooner had I written a love letter to Brady, that he again was observed holding his workouts with teammates, despite strong recommendations to do no such thing.
It's time for No. 12 to shut it down.
And lead the way.
Florida has become COVID-19 central, with surges everywhere. This state is a dangerous place to be at the moment. It might be the next New York. I hope to God it isn't. I hope we all pull together.
Shut it down, young Tom.
Set an example. In the name of your new community.
Forget getting to know your new teammates. There will be time enough for that, time enough to lead the Bucs back to the playoffs and make this town bubble with excitement.
That is for then.
Shut it down.
With every practice toss you make, with every gathering you assemble, however well-meaning, you say that the rules don't apply to you, that you're indestructible, that you're: Brady. No. 12 even took to Instagram to note that we have nothing to fear but fear itself.
Franklin Delano Brady.
But we're in a pandemic, all of us, and that would include the NFL. Brady needs to recognize that. He is not alone. Seattle quarterback Russell Wilson and others have been practicing with teammates.
As positive COVID continued to rise, the NFL players association issued that recommendation that players stop getting together for private group workouts.
"Those practices are not in the best interest of player safety," NFLPA executive director DeMaurice Smith to USA Today. "They're not in the best interest of protecting our players heading into training camp, and I don't think they're in the best interest of us getting through an entire season."
I'd hate to see Brady keep organizing these practices with teammates. True, he's Hey, he's Tom Brady, the greatest of all time. Getting to know his teammates on and off the field is what the man does. Brady didn't get his reputation for commitment to excellence by sitting around.
But this is different. This isn't about football. It's about public health. It's about safety.
Florida is basically breaking its record for COVID-19 cases every day.
I'm sure Brady feels impervious. I'm sure a lot of athletes do. And I bet there are a lot of kids out there, maybe not even kids, who see Brady running around and think, "Hey, if Brady thinks it's okay, what's wrong with the bunch of us going to the beach?"
All the more reason to take the lead.
Brady should know that. And that there is a lot that goes with the big contract he signed with the Bucs. He instantly became the face of this franchise, its go-to guy.
This is one such go-to instance. This is where Bucs fans should look to their quarterback for a little guidance. Maybe Brady thinks that's not his business to tell people what to do.
Well, it is, at least in this case.
Bucs fans can't wait for training camp. That includes me. But I will.
So should Tom Brady. He'll be flinging it around camp before we know it.
But, for now, give it a rest.
It's the right thing to do. Look at this as your first real snap as the face of Tampa Bay.
Now more than ever, we need a quarterback.
Publishers note: While The Free Press will always be free for our readers, and ad-supported, we are asking our loyal readers to consider a monthly donation of $3 to maintain our local journalism and help us grow, as we ramp up ad sales locally.
You can click here to support us.
We thank you all for your consideration and supporting local journalism.
Login To Facebook From Your Browser To Leave A Comment