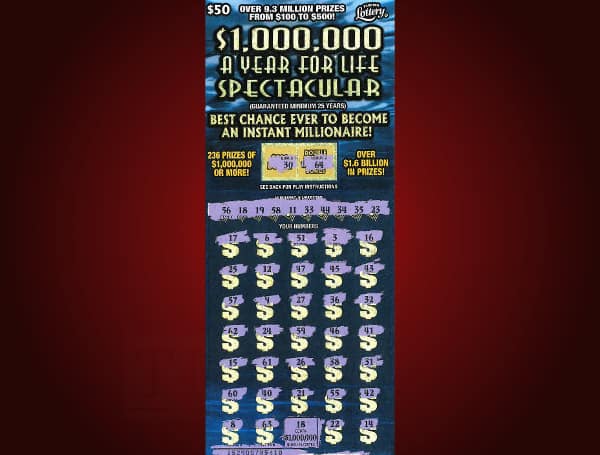 PASCO COUNTY, Fla. – The Florida Lottery announced Monday that Jackie Dombrowski, 34, of Holiday, claimed a $1 million prize from the $1,000,000 A YEAR FOR LIFE SPECTACULAR Scratch-Off game at the Lottery's Headquarters in Tallahassee.
He chose to receive his winnings as a one-time, lump-sum payment of $640,000.00.
Dombrowski purchased his winning ticket from Winn-Dixie, located at 1640 US 19 North in Holiday. The retailer will receive a $2,000 bonus commission for selling the winning Scratch-Off ticket.
In the news: Florida Man From The Villages Claims $1 Million Scratch-Off Lottery Win
The $50 Scratch-Off game, $1,000,000 A YEAR FOR LIFE SPECTACULAR, launched in February and features two top prizes of $1 million a year for life and 234 prizes of $1 million! This game also features more than $1.6 billion in cash prizes. The game's overall odds of winning are 1-in-4.50.
Scratch-Off games are an important part of the Lottery's portfolio of games, comprising approximately 72 percent of ticket sales in fiscal year 2022-2023. Since inception, Scratch-Off games have generated more than $18.09 billion for the Educational Enhancement Trust Fund (EETF).
Android Users, Click To Download The Free Press App And Never Miss A Story. Follow Us On Facebook and Twitter. Signup for our free newsletter.
We can't do this without your help; visit our GiveSendGo page and donate any dollar amount; every penny helps
Login To Facebook To Comment