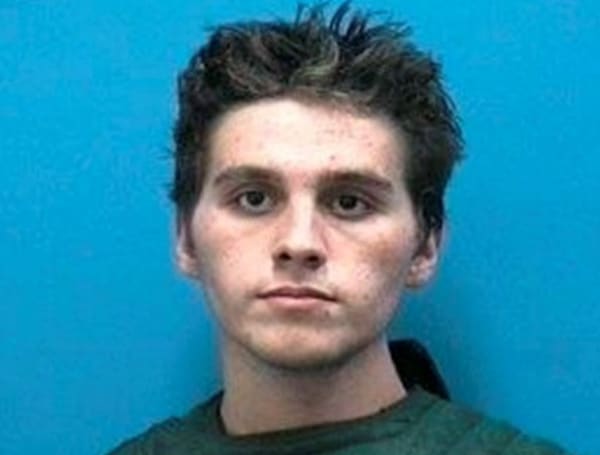 A judge has accepted a plea deal for a man who randomly killed a Florida couple in their garage six years ago and then chewed on one victim's face.
Austin Harrouff, 25, pleaded not guilty by reason of insanity to two counts of first-degree murder and other charges for the 2016 slayings of 59-year-old John Stevens and his wife, 53-year-old Michelle Mishcon Stevens.
The agreement worked out between the defense and prosecution avoids a trial that had been scheduled to start today.
Harrouff will be committed to a secure mental health facility until doctors and a judge agree that he is no longer dangerous. Harrouff could have faced life in prison.
Harrouff previously pled not guilty by reason of insanity and waived his right to a jury trial.
The former Florida State University student was just 19 years old when prosecutors say he killed Stevens and Mishcon Stevens in the garage of their Tequesta home in 2016.
Harrouff, 25, has pleaded not guilty by reason of insanity to two counts of first-degree murder and other charges for his August 2016 slayings of his parent's neighbors, John Stevens, a 59-year-old landscaper, and his 53-year-old wife, Michelle Mishcon Stevens, who had retired after working in finance.
The trial has been delayed by the pandemic and Harrouff's recovery from critical injuries suffered while drinking a chemical during the attack.
Harrouff's attack made national headlines because of its brutality and randomness; he did not know the victims. He was a 19-year-old with no criminal record — a former high school football player and wrestler who was studying exercise science.
He stripped nearly naked and attacked the couple in their open garage with tools that he found there. When police arrived, Harrouff was biting chunks off John Stevens' face.
It took several officers, an electric stun gun, and a police dog to subdue Harrouff. Officers didn't shoot him because they feared hitting Stevens.
In the news: Report: Poll Makes Trump "Severe Underdog" To Florida Gov. DeSantis In Iowa '24 Primary Race
Harrouff was hospitalized for nearly two months recovering from injuries caused by drinking a caustic liquid found in the couple's garage.
Investigators found he purchased some hallucinogenic mushrooms a few days before the attack, but friends said he destroyed them and no trace was found in his blood. He also did Google searches for "how to know if you are going crazy."
Harrouff's parents, who are divorced, and others said he had acted strangely for weeks. His parents had set up an appointment for him to be evaluated, but the attack occurred first.
His father, Wade Harrouff, told TV psychologist Phil McGraw (Dr. Phil) that on the night of the slayings his son left a restaurant where they had been eating without explanation. He walked two miles to his mother's house and tried to drink cooking oil.
Mina Harrouff stopped him, but he poured the oil into a bowl with Parmesan cheese and ate it, according to reports.
Wade Harrouff, a dentist, told Dr. Phil he grabbed his son and said, "What is wrong with you?" He said his son raised his fist, but Wade Harrouff's girlfriend told him to stop and he left.
The restaurant's security video shows Austin Harrouff calmly exiting about 45 minutes before the attack. His mother, before knowing of the attack, called 911 and told the dispatcher her son seemed delusional, claiming to have superpowers and that demons were in her house.
But it was too late — Harrouff walked or ran the four miles to the Stevens' home.
Austin Harrouff told Dr. Phil he was escaping a demon that he called Daniel, and only has vague recollections of the slayings.
He said he encountered Michelle Stevens in the couple's garage. She screamed, and "then it's a blur."
In the news: Thanksgiving Day Mass Casualty Event Averted In Florida When Police Stop "Reckless" Woman
"I don't remember what she said — I just remember being yelled at," Harrouff said. He said he grabbed a machete, but doesn't remember why he killed her and her husband.
"It's like it happened, but I wasn't aware of it," Harrouff said.
It took several officers to subdue Harrouff who reportedly seemed to be possessed of superhuman strength. As officers were taking him into custody after the murders, they pulled him off John Stevens, he begged deputies to kill him and told them 'I ate something bad'.
Visit Tampafp.com for Politics, Sports, and National Headlines.
Android Users, Click Here To Download The Free Press App And Never Miss A Story. Follow Us On Facebook Here Or Twitter Here.
Login To Facebook From Your Browser To Leave A Comment