WASHINGTON, D.C. – President Trump on Sunday dismissed a New York Times investigative report that says he paid $750 a year in income taxes in 2016 and 2017 as "fake news."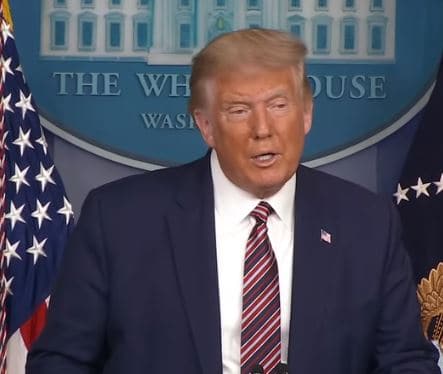 "It's totally fake news," Trump told reporters at a press conference when asked about the NYT's story, which was posted just minutes before Trump, Rudy Giuliani, and Chris Christie entered the White House briefing room. Trump insisted that the public would eventually see his tax returns but said that they are currently "under audit" by the IRS.
"Actually, I paid tax, but — and you'll see that as soon as my tax returns — it's under audit. They've been under audit for a long time. The IRS does not treat me well. They treat me like the Tea Party — like they treated the Tea Party. And they don't treat me well. They treat me very badly," said Trump.
"When they're not, I'd be proud to show you. It's fake news," Trump said.
At the press conference, President Trump brought up the Hunter Biden report that was buried by mainstream media sources. (You can read that here) and the 'Impeachment Hoax'
"They — they spied on our campaign, and then they tried for a coup. That didn't work out too well. And it turned out that, if you read the — you read the texts that came out over the last three days, it turned out that they were really — it was reversed; it was the DNC and the Democrats that were using Russia. And related or unrelated, Hunter Biden got three and a half million dollars from the wife of the mayor of Moscow. Why did he get three and a half million dollars? And then he got millions more than we thought from Ukraine, and he got millions more than we heard about from China. Hunter Biden — Where's Hunter?," said Trump.
The press conference in its entirety is below.
Publishers Note: While The Free Press will always be free for our readers, and ad-supported, we are asking our loyal readers to consider a monthly donation of $3 to maintain our local journalism and help us grow, as we ramp up ad sales locally.
We thank you all for your consideration and for supporting local journalism
Login To Facebook From Your Browser To Leave A Comment