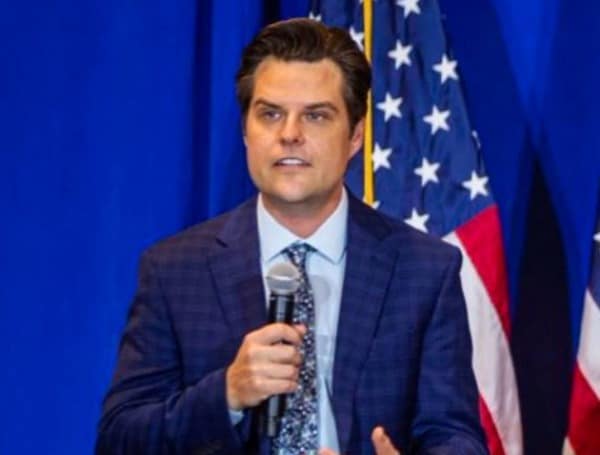 On Tuesday, U.S. Congressman Matt Gaetz introduced the "Saudi Arabia December 6, 2019, Anti-Terror and Accountability Act."
Three years ago today, a Saudi Arabian terrorist shot and killed three U.S. Navy sailors at Naval Air Station (NAS) Pensacola in Florida's First Congressional District.
The terrorist was a combatant participating in a Pentagon-sponsored training program, which granted him access to NAS Pensacola.
This bill will hold the Kingdom of Saudi Arabia accountable for aiding and abetting terrorist attacks within the United States while financially supporting the victims of the NAS Pensacola Terrorist Attack, including the following provisions:
Ends support to the Saudi-led coalition in Yemen
Halts any military officer exchange programs with Saudi Arabia
Authorizes that the victims of the NAS Pensacola terrorist attack may seek damages from the Saudi Arabian government through 34 USC 20144: Justice for United States Victims of State-Sponsored Terrorism Fund
Withdraws $1 Billion from U.S. military aid to Ukraine and deposits the same amount to the Justice for United States Victims of State-Sponsored Terrorism Fund
Makes available any unused funds to all victims of state sponsored terror to include September 11th victims
In July, Gaetz demanded that President Joe Biden force the Saudi Arabian government to account for the killing of three U.S. troops.
In the news: Biggs: I'm Running To Replace Kevin McCarthy As House Speaker And Break The Establishment
Appearing on Fox News, the Fort Walton Beach Republican noted that the Saudi Arabian government was linked to two horrific terrorist attacks on U.S. soil: 9/11 and the murders at NAS Pensacola, committed by a Saudi military officer being trained there.
"Joe Biden is so intent to kill American energy that he is in turn financially helping the very people that I think are responsible for killing Americans," Gaetz told Carlson.
"I do not believe that the world's superpower should travel halfway around the globed so that we can beg some Ferrari bedouins who shoot at our sailors for oil, But we do, and the reason we do is because Joe Biden hates American working-class people so much that he would rather have Saudis pump oil than hard-working American men."
Gaetz also ripped the Biden administration and the media for paying more attention to the murder of Jamal Khashoggi than the three troops killed by the Saudi pilot. Khashoggi, a Saudi journalist living in America, was allegedly killed by the Saudi government during a 2018 visit to Turkey. Gaetz described him as a "9/11 apologist and a spokesman for the Muslim Brotherhood," a radical Islamic group.
"It is always foreign reliance rather than American resilience for the Biden administration," said Gaetz. "If we've learned anything by now, it's maybe we shouldn't be so reliant on our enemies or on those who would do us harm for the stuff we actually need, like oil and food and medicine."
Gaetz discussed the killings of those troops in greater detail in an op-ed that appeared in the Pensacola News-Journal on Thursday.
For Biden's part during his trip this weekend to Saudi Arabia, Gaetz noted the president "will be begging for more oil and gas. Lost on the president is that energy drawn from the Arabian Desert is dirtier for our environment – and bloodier politically – than energy from America's heartland. Domestic climate politics means we cap wells here, while we bend and bow to the Ferrari Bedouins abroad."
Gaetz then accused the Saudi government of failing to engage in "rigorous oversight and monitoring" of their pilot, and of reneging on a promise made to him to compensate the families of the slain sailors while now actively fighting them in court.
"Biden must not forget what happened in Pensacola, or it will happen again," Gaetz wrote.
"Our president should insist that Saudi Arabia come clean regarding the elements of their government that have supported terrorism – or failed in their duty to neutralize it. They must shut down madrasas that incite hatred. They must stop fighting the jurisdiction of U.S. courts to compensate survivors and victims. They must behave like a modern country if they want to be treated like one."
"Mr. President, don't forget about the attack on NAS Pensacola during your visit to Saudi Arabia. The entire country is counting on you to hold the Kingdom accountable, including Ensign Joshua Kaleb Watson, Airman Apprentice Cameron Walters, and Airman Mohammed Haitham."
Visit Tampafp.com for Politics, Sports, and National Headlines.
Android Users, Click Here To Download The Free Press App And Never Miss A Story. Follow Us On Facebook Here Or Twitter Here.
Login To Facebook From Your Browser To Leave A Comment