August 12, 2020
By: Staff Report, PR
WASHINGTON, D.C. – The Republican National Committee, Donald J. Trump for President, Inc., the National Republican Senatorial Committee, the National Republican Congressional Committee, and the Republican Party of Iowa, announced in a press release today, two concurrent offensive lawsuits, Donald J. Trump For President, et al. v. Weipert and Donald J. Trump for President, et al. v. Miller, that seek to stop two rogue County Auditors from unilaterally and defying state law and throwing out important voter integrity safeguards.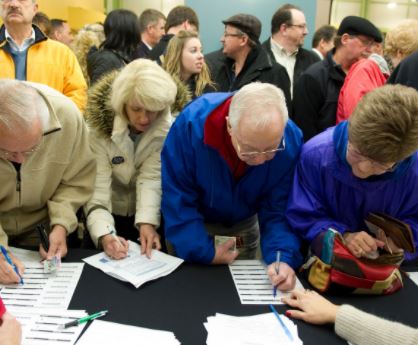 "By willfully and unilaterally disobeying Iowa election law, these County Auditors have destroyed a key mechanism designed to ensure the integrity of absentee voting. The responsibility of filling out personal information on absentee ballot applications is a key safeguard to confirm the applicant's identity and should rest squarely with the voter. The rogue County Auditors must immediately stop their harmful actions that threaten the validity of and confidence in the upcoming election." – RNC Chairman Ronna McDaniel
"While Iowa County Auditors have gone rogue and rewritten the rules for absentee ballot security, President Trump and his team are once again standing up for election integrity and the right of every eligible voter to safely and securely cast their ballot this fall. Dropping thousands of ballot applications with personal information already filled out in the mail is wildly irresponsible." – Trump 2020 General Counsel Matthew Morgan
"Democrats will stop at nothing to disregard the laws in place to try and gain an electoral advantage. Protecting the integrity of absentee voting is paramount to free and fair elections and the NRCC is proud to join our Republican partners in stopping this latest attack on our electoral system." – NRCC Chairman Tom Emmer
"Iowans overwhelmingly support voter ID laws to uphold the integrity of our elections, and we strongly believe election officials should be upholding current state law, not defying it. The Republican Party of Iowa is proud to stand with other Republican groups in joining this lawsuit to safeguard our absentee voting process and to protect common sense election laws." – Iowa GOP Chairman Jeff Kaufmann
County Auditors in Linn County and Johnson County are defying state law by unilaterally mailing every registered voter in their counties an absentee ballot request form with prepopulated personal information – including the voter's verification number. Existing state law requires the individual voter to properly and entirely complete their absentee ballot application in order to receive a ballot, as this responsibility should fall on the applicant alone. Additionally, on July 17th, the Iowa Secretary of State announced a plan to mail every Iowa voter a blank absentee ballot request form for the 2020 general election. The Johnson and Linn County Auditors are in direct contradiction of this directive and Iowa election law.
The RNC, Trump campaign and Republican groups filed a motion for a temporary injunction to order the Auditors to obey the Secretary of State directive and block them from sending out any more prepopulated forms that could harm the electoral process. The actions of these Auditors have opened the door for fraud and ballot manipulation as the mass sending of prepopulated forms could land in the hands of inactive, deceased, or incorrect voters, and there would be no safeguard preventing the fraudulent submission of the form.
The filing, in its entirety, is here:
Login To Facebook From Your Browser To Leave A Comment