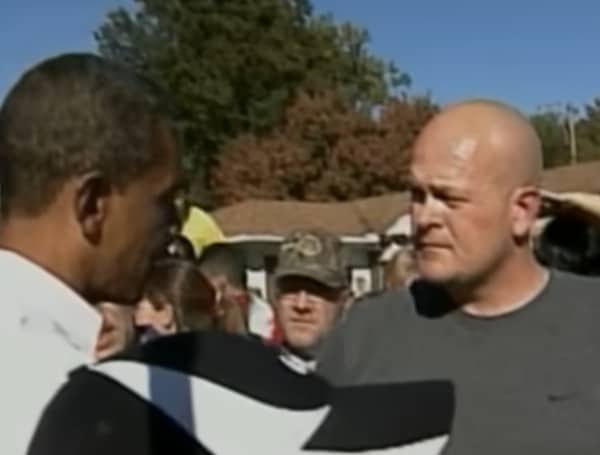 Samuel "Joe" Wurzelbacher, known for his moment of fame during the 2008 presidential campaign as "Joe the Plumber," has passed away.
Wurzelbacher gained national attention during the 2008 U.S. presidential campaign when he engaged in a conversation with then-candidate Barack Obama. He asked Obama about his economic proposals, leading to his nickname "Joe the Plumber."
Wurzelbacher passed away at the age of 49. His death occurred on Sunday in Wisconsin.
According to his oldest son, Joey Wurzelbacher, his father had been battling a long illness. Earlier this year, his family had announced on a fundraising site that he was diagnosed with pancreatic cancer.
The family's announcement indicated that Joe Wurzelbacher had been dealing with pancreatic cancer, a serious and often aggressive form of cancer that affects the pancreas.
In the news: New York GOP Rep Blasts IRS For Losing Personal Data Belonging To Millions Of Taxpayers
The Obama Exchange
"Joe the Plumber" is a nickname that became widely known during the 2008 United States presidential election. The nickname refers to Samuel Joseph Wurzelbacher, a plumber from Ohio who gained national attention after engaging in a conversation with then-candidate Barack Obama during a campaign event.
The encounter took place on October 12, 2008, in Ohio. Wurzelbacher questioned Obama about his economic policies and expressed concerns about the potential impact of Obama's proposed tax plans on small businesses and individual earners.
The exchange was captured by the media and quickly became a focal point of discussions about economic policies, wealth redistribution, and government intervention.
The term "Joe the Plumber" was coined in reference to Wurzelbacher's profession as a plumber, highlighting his working-class background. The exchange with Obama brought him into the spotlight and turned him into a symbol of middle-class concerns during the election campaign.
Wurzelbacher's interaction with Obama led to debates about taxation, the economy, and the role of government.
The incident underscored how individuals from various backgrounds can have a significant impact on political discussions and narratives during major events like presidential campaigns.
Android Users, Click To Download The Free Press App And Never Miss A Story. Follow Us On Facebook and Twitter. Signup for our free newsletter.
We can't do this without your help; visit our GiveSendGo page and donate any dollar amount; every penny helps
Login To Facebook To Comment