Op-Ed By: Sheriff Kurt A. Hoffman
SARASOTA, Fla. – Several citizens have recently approached and written me expressing their concern about the continued infringement of their 2nd Amendment rights. In response to these concerns, I reviewed President Biden's press release, and I hope the following affirmatively states my position as Sarasota County's Sheriff.
I read with interest the actions by President Biden to "address gun violence," all of which is pure nonsense and political theater. Not only do proposals like these continue to infringe on the constitutional rights of the citizens of Florida and Sarasota County, but they concurrently have no impact on criminal activity in our communities.
Look no further than Los Angeles, Detroit, Baltimore, Seattle, Chicago, or other Democrat-controlled cities to see that draconian restrictions on citizens' right to protect themselves do not make those communities safer, they make them more dangerous. In the city of Chicago, 706 people have been shot since the beginning of the year, yet the city touts its gun restrictions as some of the toughest in the nation. The Sarasota County Sheriff's Office reduced violent crime by 54% by specifically focusing on crime and criminals, not on disarming our citizens. It worked here and it can work in Chicago, too.
---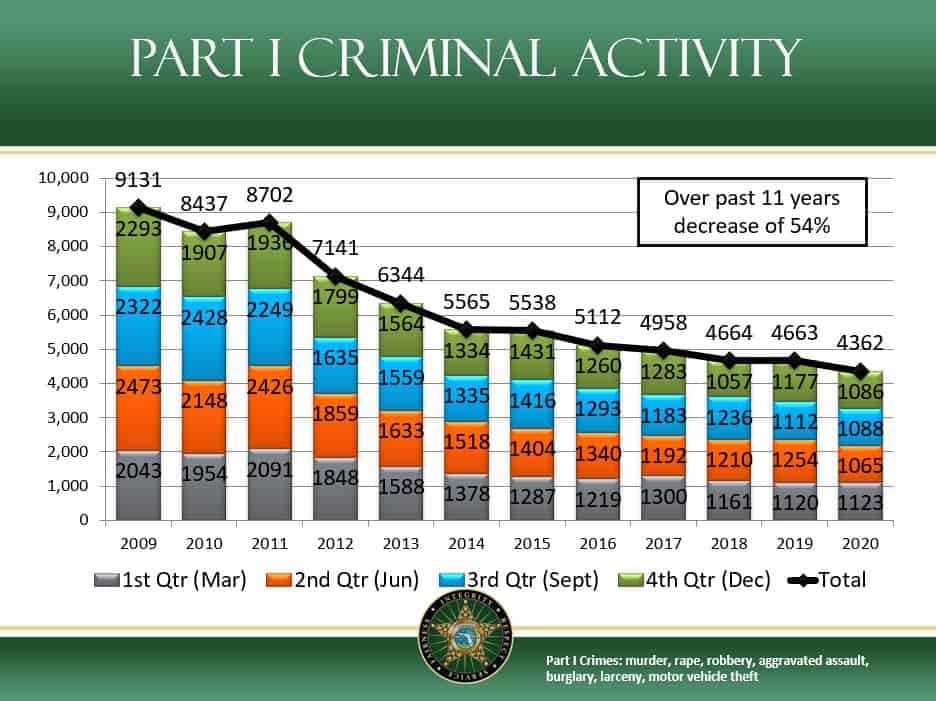 ---
The President purports in his press release to "invest in evidence-based community violence interventions" to the tune of $5 billion. What the President should do instead is stop feeding the "defund the police" narrative and arrest and prosecute the criminals who are killing our citizens.
Also, in his press release, it appears the President has concerns about illegal firearms trafficking. Remember, Operation Fast and Furious occurred under the Obama/Biden administration and authorized federal agents to traffic in thousands of firearms, one of which was used by a "criminal" to kill a federal agent. If the White House is truly concerned about firearms trafficking, perhaps the President and Vice President should run, not walk, to our southern border.
While the entire proposal is troubling, it is the President's proposed nomination of a retired ATF agent and senior policy advisor at the Giffords Law Center, a gun control group, that signals the real war on our 2nd Amendment rights. David Chipman recently penned an article in which he stated, "The Second Amendment envisions firearms as being 'well regulated,' and individual sheriffs aren't entitled to decide whether a particular regulation is constitutional—that's the job of the courts."
I took an oath to uphold the Constitution as does every deputy sheriff that serves this community, so I beg to differ with David Chipman and his soon-to-be-boss, President Biden.
---
Sheriff Kurt A. Hoffman is the 11th Sheriff of Sarasota County, serving since January 5, 2021. He has served our community for more than 30 years as both a prosecutor for the 12th Judicial Circuit, and as the general counsel for the sheriff's office since 2005. During his tenure at the sheriff's office, Hoffman promoted to Captain, Major, and Colonel. He has a Bachelor of Arts in Criminal Justice from Saint Leo College, a Master of Science in Criminal Justice from International College, and a Juris Doctorate degree from Nova Southeastern University.
Sheriff Hoffman is a graduate of the Federal Law Enforcement Training Center's Police Legal Advisors Training Program and a member of the Florida Bar's Labor and Employment Law, and City, County and Local Government Law sections. In 2011, Sheriff Hoffman completed FBI's Florida Executive Development Seminar and in 2014, graduated from the FBI National Academy, during which time he also earned a Graduate Certificate in Leadership from the University of Virginia.
Originally from Indiana, Sheriff Hoffman moved to Florida in 1982 and graduated from Lemon Bay High School in 1984. Sheriff Hoffman and his wife, Teri, have one son and one grandson, and currently reside in Venice.
Sheriff Hoffman has a rich family history of service in both local and state law enforcement, as well as the U.S. Military. His middle name is Alan, named after his uncle, Terry Alan Hoffman, a Corporal in the U.S. Marines who was killed in 1968 in South Vietnam. Sheriff Hoffman has a passion for the veteran community, his family, and his hometown.
Support journalism by clicking here to our gofundme or sign up for our free newsletter by clicking here.
Login To Facebook To Comment