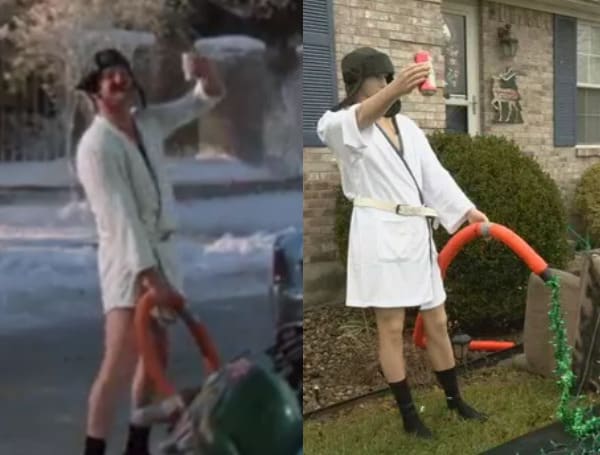 Police in Kentucky were called to the scene where a man was allegedly exposing himself outside of a home. What police found was simply an elaborate tribute to the classic Christmas movie, "National Lampoon's Christmas Vacation."
When police arrived on the scene on Wednesday, they quickly found that there was no crime in progress.
According to local media, a dispatcher in Shepherdsville, KY, described the scene as that of "a male standing outside. He is naked. He has a robe covering part of his body. He is exposing himself, and he has a hose between his legs."
Shepherdsville is a small city about 20 miles south of Louisville, Kentucky.
In the news: Florida Man With Warrants Arrested After Posting Pictures Of Himself Online With Stolen Guns
When police arrived, they found a mannequin dressed as "Cousin Eddie," the hilarious character played by Randy Quaid in the 1989 film. 
"Umm…it's gonna be 'Uncle Eddie,'" the responding officer told the dispatcher. He meant "Cousin Eddie," said WDRB-TV.
"Never a dull moment," Shepherdsville Police Chief Rick McCubbin said to WDRB-TV.
Officers on the scene "did get a laugh and took some photos of the display," said the outlet. 
The mannequin was at the home of Joni Keeney, who said that "National Lampoon's Christmas Vacation" is her favorite Christmas movie, and that "everybody has a 'Cousin Eddie' in their family, everybody." 
Keeney and her husband do not drink, so they enlisted the help of a neighbor to make their display more movie-accurate, said WDRB.
"She told me she was looking for a mannequin, and I'm like, 'Oh Lord, here we go,'" said her neighbor, Tamara Gould.
Gould's husband drank the beer that "Cousin Eddie" was holding, reported the outlet.
Android Users, Click Here To Download The Free Press App And Never Miss A Story. Follow Us On Facebook Here Or Twitter Here. Signup for our free newsletter by clicking here.
Login To Facebook From Your Browser To Leave A Comment