By RICK MAYER
APOLLO BEACH − Shelly Molter says her South Shore Boutique specializes in personalization. The stylish clothing and gift shop includes a three-letter embroidered monogram in the price of purchases.
"Just about everything in here can be monogrammed," says Molter. "It's all done in-house."
This personalization goes one better, though. When you visit her shop, at 6126 N. U.S. 41, you'll find comfort in her kindness. The affable business owner isn't shy about her good nature, or where it was fostered – in the airline business, of all places.
Molter worked as a service manager for Air Tran in Buffalo, New York, responsible for opening new locations for the then-fledgling airline. Soon after, Air Tran transferred her to Tampa. During that time, she met her husband, Urban, a retired Navy officer and pilot for Air Tran (now Southwest). They married 18 years ago and started a family.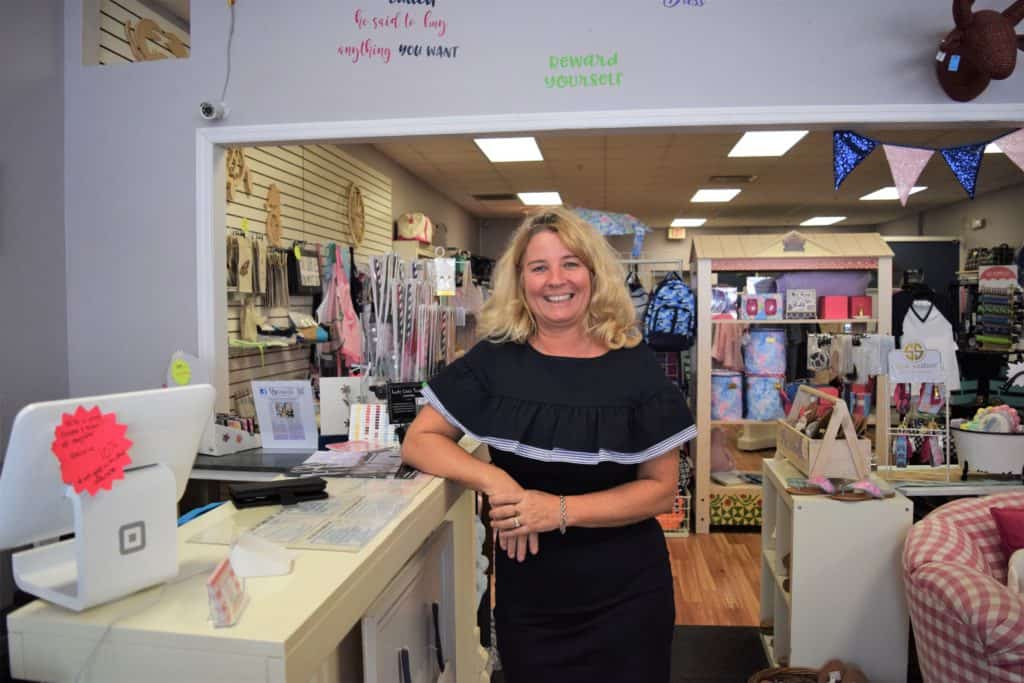 "It was not always an easy business," says Molter, who later moved on to JetBlue Airlines in a similar role. "But it's just important to let people talk first. If you're angry, sometimes all you want is to be heard. I just think it's important in customer service to listen to your customers, listen to people. People want to be heard. I felt people just want to be treated the way I would like to be treated. It's just a little bit of kindness."
Still it would seem a long journey from airline service to monogram-specialty boutique owner, especially since she had no thoughts of learning embroidery. How did the idea take off?
"This was never on my scope of things," she says." 'Oh, someday you're going to be a store owner.' I would tell you you're absolutely crazy. That's not going to happen."
After "having some babies, I quit the job," says Molter, who has three children, now ages 13, 15 and 27. "And I didn't want to be just a stay-at-home mom. I'm fidgety, and I like to do stuff and I'm creative.
"I literally woke up one morning and said I think I want to learn how to sew and embroider. And my husband's like, 'OK, let's go look at machines,' " she says. The sticker shock led to a brief delay. "He's, like, 'I'm not spending $3,000 on a machine that you've never touched, you don't even know how to do.'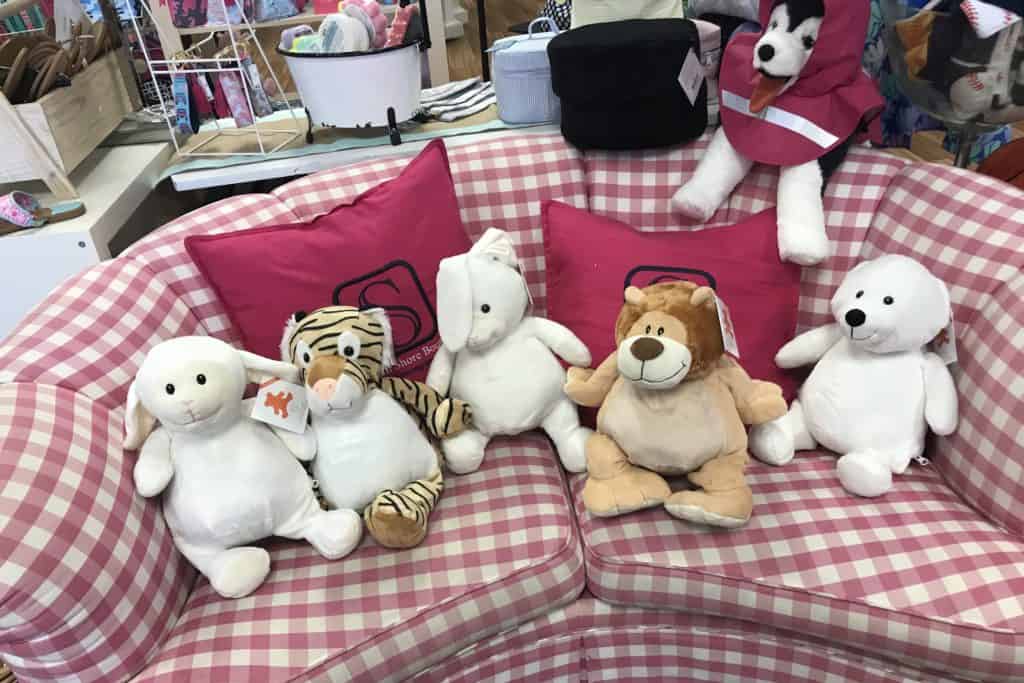 "So, Christmas that year he buys me this $400 to $500 little Brother machine. It sat in a box for two months. And one day he came home from a trip and said, 'Are you ever going to do anything with that machine; if not we're going to take it back and get our money back.' "
A few days later, Urban left for a flight, "and I broke it out, and I just started going to town."
She began by making "little burp cloths" that she sold at a neighborhood consignment store that carried children's items. "I upgraded to a multi-needle machine within about six months, and took some lessons and watched a lot of YouTube and played around a lot," she recalls.
The business started four years ago with a plan to sell online and through word of mouth, "and then I started overtaking our office, overtaking our pool table. And my husband says, 'I think you need to go find a storefront.' "
South Shore Boutique offers clothing, accessories and gifts geared toward women and children, with lines that include Simply Southern, Lily Pulitzer and Vera Bradley. Think T-shirts, socks, totes, pillows, keychains, cuddly stuffed critters and more.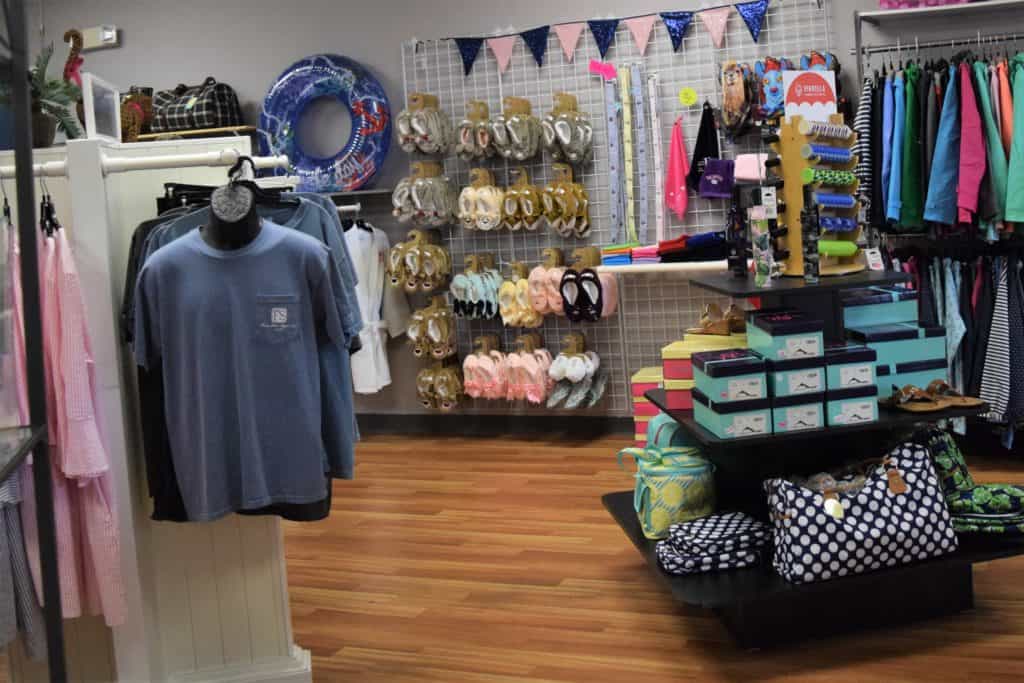 "I sell a lot of everything in here," says Molter, who opened the 1,700-square-foot location about a year ago. "From pajamas to soaps, to umbrellas to raincoats, to baby gifts."
If she doesn't have a requested item, she'll make an effort to find it for the customer.
"I'm not just a business owner," she says. "I've built a relationship with these people who come in here in most cases. I've dropped things off at people's houses because they couldn't get to the store. Amazon and Walmart and Target, they don't do that.
"I've had people call and say, 'I'm really trying to get there before 5 when you close.' (I'll say) 'Take your time, I'll stay for a little bit. I'll stay open for people. Because this is a lost thing in our lifetime. No one has great customer service skills like they used to. Everybody is just so trained on Amazon and online ordering."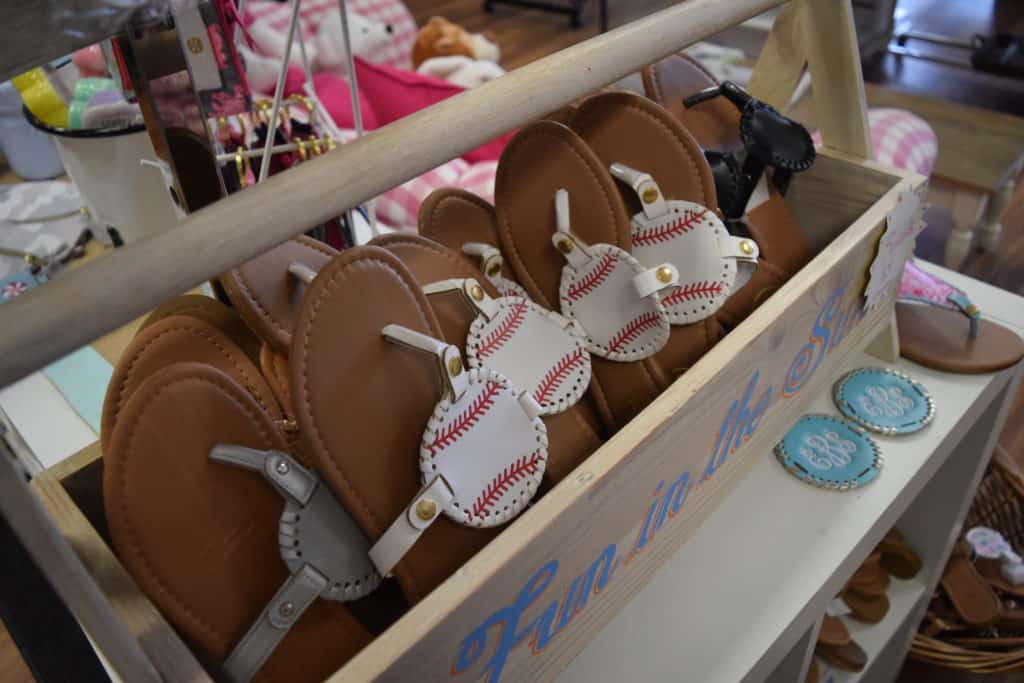 Her formula is apparently working. Molter is already working on a second location, in a small plaza at 5492 Lithia-Pinecrest Road, not far from her Lithia home.
The opening of the 880-square-foot space is scheduled for the first week of October.
"I'm excited, nervous, I don't like to take the plunge like that so quickly," she says.
With her airline background, it should be a smooth landing.
For information on South Shore Boutique, call (813) 812-7790 or visit southshoreboutique.com.
Login To Facebook From Your Browser To Leave A Comment