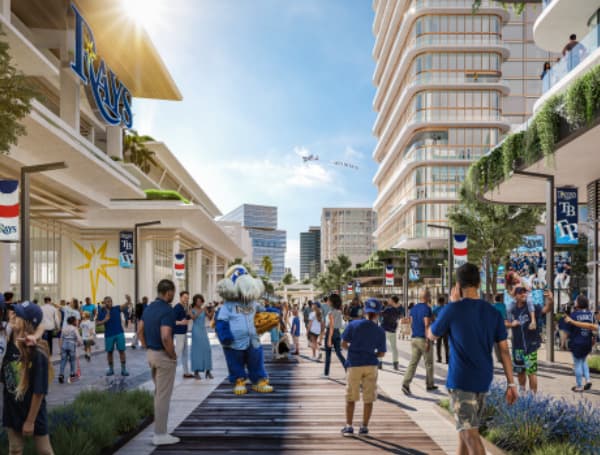 ST. PETERSBURG, Fla. – The Tampa Bay Rays announced today that a historic agreement has been reached with the City of St. Petersburg and Pinellas County to move forward with a new state-of-the-art ballpark and a transformational development by the Hines Historic Gas Plant Partnership on the 86-acre site where the team's current stadium sits.
The agreement advances a project for St. Petersburg, Pinellas County and the Tampa Bay region that will include nearly 8 million square feet of mixed-use development and a new, neighborhood ballpark for the Rays that ensures Major League Baseball is here to stay in St. Petersburg for generations. Overall, this historic project will invest more than $6.5 billion in St. Petersburg over 20 years and be the largest mixed-use development project in Tampa Bay history.
The agreed-upon plan includes the key aspects of the original proposal submitted by the Hines Historic Gas Plant Partnership in response to St. Petersburg Mayor Ken Welch's Request for Proposals in 2022.
In the news: Rays Clinch Playoff Spot, Settle For Split In Baltimore
The agreement increases the number of affordable/workforce housing units to be built by the partnership to 1,200, with at least half of that amount to be built on the Historic Gas Plant site. It also adds on-site affordable units for seniors.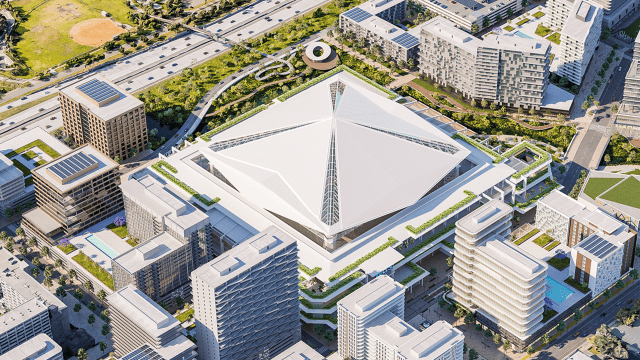 The development agreement focuses heavily on the equitable, intentional and restorative delivery of community benefits and economic impacts, specifically to honor the legacy of the Historic Gas Plant neighborhood's residents and businesses. This includes a $50 million commitment to intentional equity initiatives in partnership with South St. Petersburg that include affordable housing funding, employment and business support, education programs and Minority/Women Owned Business Enterprises hiring commitments.
Hines is one of the largest privately held real estate developers and managers in the world, with extensive experience in Florida and nationally. Once fully built, the project is planned to include:
4,800 residential units
1,200 affordable/workforce residential units (on and off-site)
600 senior living units
1,400,000 square feet of office, medical and commercial space
750,000 square feet of retail
750 hotel rooms
100,000 square feet of entertainment space, including a concert venue to seat up to 4,000
50,000 square feet of civic space, namely a new home for the Carter G.
Woodson African American Museum
90,000 – 100,000 square feet of conference, ballroom and meeting space
14 acres of public open space
14,000 parking spaces
The ballpark will have a capacity of around 30,000 for baseball, with the ability to accommodate up to 35,000 for other events, providing the most intimate fan experience in Major League Baseball. The Rays will pay more than half of the $1.3 billion ballpark and be responsible for any cost overruns.
Pinellas County and the City of St. Petersburg will combine to contribute approximately $600 million in equal amounts.
Construction on the transformational development is expected to begin in late 2024 in the first of two phases.
The team will continue to play in the existing ballpark on the site until the end of its current lease with the City of St. Petersburg in 2027. Phase 1 of the development and the new ballpark are projected to be ready by Opening Day 2028.
The public approval process by Pinellas County and the City of St. Petersburg is expected to begin this fall.
Android Users, Click To Download The Free Press App And Never Miss A Story. Follow Us On Facebook and Twitter. Signup for our free newsletter.
We can't do this without your help; visit our GiveSendGo page and donate any dollar amount; every penny helps
Login To Facebook To Comment