If former President Donald Trump is a racist, or worse a white supremacist, as liberals have maintained for years, he's pretty bad at it.
Trump on Wednesday issued a fundraising email for his Save America PAC. In the notes, Trump proclaimed: "Wouldn't it be fantastic if the legendary Herschel Walker ran for the United States Senate in Georgia? He would be unstoppable, just like he was when he played for the Georgia Bulldogs, and in the NFL. He is also a GREAT person. Run Herschel, run!"
Walker, as Trump's email indicated, was a massive football star in the early 1980s.
He's also black.
In three years at the University of Georgia, Walker won the Heisman Trophy, given to college football's best player, and led the Bulldogs to a national championship. He then played professionally in the United States Football League, for a team Trump owned. He was named the USFL's most valuable player. When the league folded, Walker joined the NFL, and played for 12 seasons.
Walker was a major Trump supporter. He campaigned for him last year.
In a speech to the Republican National Convention, Walker pushed back on the claims of Trump's alleged racism. "It hurt my soul to hear the terrible names that people call Donald," said Walker, "I take that as a personal insult, that people would think I've had a 37-year friendship with a racist.
"Growing up in the Deep South, I've seen racism up close. I know what it is. And it isn't Donald Trump," he said.
"Just because someone loves and respects the flag, our National Anthem and our country, it doesn't mean they don't care about social justice," Walker continued.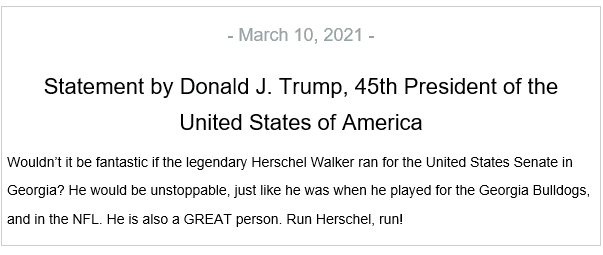 "He shows how much he cares about social justice in the black community through his actions. And his actions speak louder than stickers and slogans on a jersey."
In the email, Trump was touting Walker as a challenger to Democratic Sen. Raphael Warnock, who won a special election in January to finish out the term of GOP Sen. Johnny Isakson. Warnock is considered one of the most radical liberals in the Senate.
Subscribe to our newsletter!
Login To Facebook From Your Browser To Leave A Comment