SAN DIEGO, CA.  – Nearly five years after charges were first filed on Frederick McLean, he is still running from the law. McLean, an alleged sexual predator, is wanted in California on four counts of child molestation, one count of lewd and lascivious acts with a child under 14, and one count of unlawful flight to avoid prosecution.
Authorities need the public's help in getting McLean off the streets and away from potential victims. Law enforcement officials say they have already identified potentially 17 victims and additional charges could be filed against McLean once he is in custody.
The U.S. Marshals believe his crimes are heinous enough to have earned him a spot on the Marshals' 15 Most Wanted fugitive list in 2006. Authorities regard McLean as a high risk for committing additional sex crimes against minors. Research on sex offender recidivism shows it is a variety of factors that contribute to reoffending.
"McLean possesses many of the factors correlated with reoffense," said Dr. Michael Bourke, Chief psychologist for the U.S. Marshals Sex Offender Investigations Branch, "and stress, including the stress that comes with being a fugitive, increases the risk for abusive acting out."
Fugitive McLean, 65, is wanted by the San Diego Sheriff's Department on multiple counts of sexual assault on a child, but according to the U.S. Marshals "multiple counts" is an understatement. One alleged victim, now an adult, reported McLean assaulted her more than 100 times, starting when she was five and ending about seven years later.
McLean is deemed to be at high risk for engaging in sexual assault of young girls, according to Bourke. However, he might also target young boys.
"This fugitive has evaded capture for nearly five years, but he needs to know that we will never cease our efforts of hunting him down," said George W. Venables, U.S. Marshal for the Southern District of California. "We are absolutely resolute in our commitment to bringing in Frederick McLean to face the charges brought against him."
Several months ago, the Pacific Southwest Regional Fugitive Task Force executed a search warrant and obtained new leads and updated photos on Frederick McLean.
Authorities believe McLean gained access to many of his victims through his leadership position in his local congregation of Jehovah's Witnesses near San Diego.
An arrest warrant was issued in January 2005, for McLean, but authorities believe he sensed his days of freedom were numbered almost six months prior. In May 2004, family members confronted McLean regarding a young female victim's allegations of molestation. McLean admitted they were true, and the victim's family called Riverside County Sheriff's Department. After the confrontation, McLean's wife and children left him. He began liquidating financial assets, and he signed divorce papers.
In September 2004, McLean's father-in-law woke up one morning to find McLean's truck in his driveway. Inside the truck were McLean's cell phone, letters for the family and instructions on how to sell the vehicle. It was evident from his actions that he believed criminal charges against him were looming.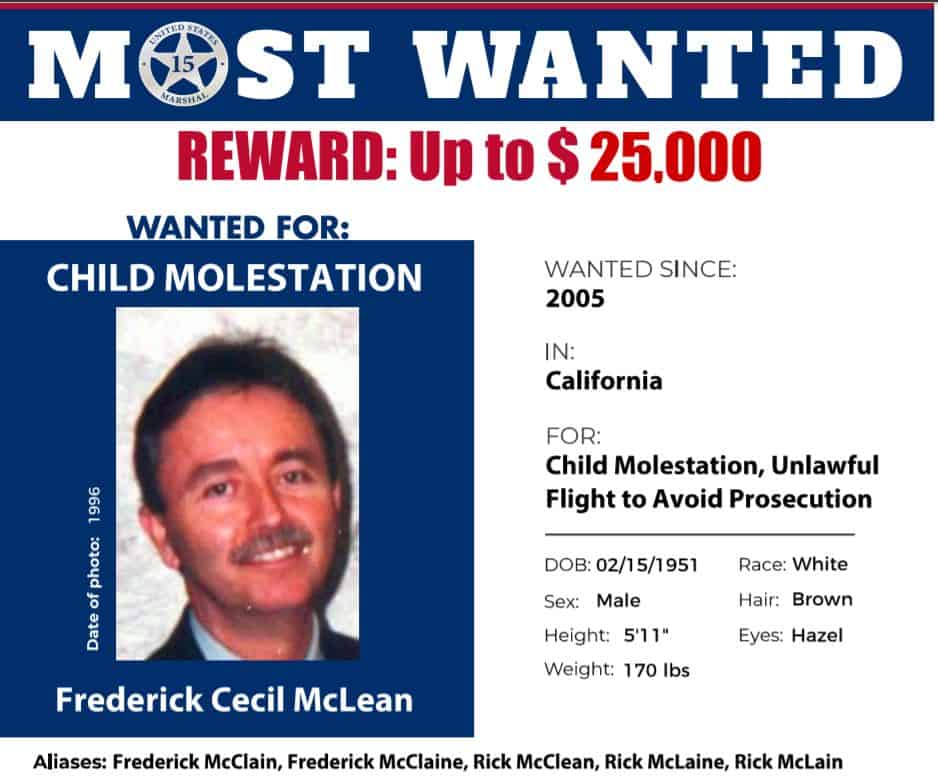 McLean is in his 60's, white male who weighs 170 pounds and is 5 feet, 11 inches tall. He has hazel eyes and brown/gray hair – possibly all gray hair. He is an auto mechanic by trade and once owned a racecar restoration business, specializing in racing cars from the 1960s and 1970s. McLean is also an experienced outdoorsman and may frequent camping areas. McLean's character traits include: being financially frugal, meticulous, organized, and probably pays by cash. Investigators believe McLean may have assumed a new identity and could be using an alias name.
Authorities caution citizens to consider McLean armed and dangerous, and possibly suicidal.
Anyone with information is urged to contact the nearest USMS District Office, the U.S. Marshals Service Communications Center at 1-800-336-0102, or submit a tip using USMS Tips.
U.S. Marshals are the nation's primary fugitive hunting organization. Fugitive Task Forces led by the U.S. Marshals capture thousands of fugitives each year. For more information on the U.S. Marshals and 15 Most Wanted Fugitive Frederick McLean, go to www.usmarshals.gov.
Login To Facebook From Your Browser To Leave A Comment