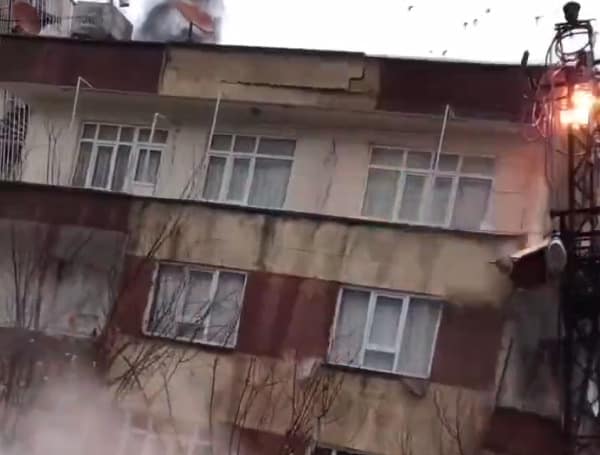 The massive 7.8 magnitude earthquake that rocked parts of Turkey and neighboring Syria on Monday has claimed at least 2,500 lives, and the death toll is growing.
The quake toppled hundreds of buildings and trapped residents under mounds of rubble or pancaked floors.
The quake hit at depth of only 11 miles and was centered in southern Turkey, near the northern border of Syria, according to the U.S. Geological Survey.
In the news: VIDEO: The Moment When Massive 7.8 Mag. Earthquake Brings Down Buildings In Turkey, Syria
13 significant aftershocks were recorded with a magnitude of at least 5, said Alex Hatem, a USGS research geologist.
---
---
"More aftershocks are certainly expected, given the size of the main shock," Hatem said. "We expect aftershocks to continue in the coming days, weeks, and months."
Scientists are studying whether a magnitude 7.5 quake that hit nine hours after the main shock is an aftershock and think that may be the case.
Researchers said the earthquake was a 'strike-slip' quake, where two tectonic plates slide past each other horizontally instead of moving up and down.
In the news: VIDEO: The Moment When Massive 7.8 Mag. Earthquake Brings Down Buildings In Turkey, Syria
In this case, one block moved west while the other moved east, grinding past each other to create the quake, Hatem said.
The earthquake was powerful, one of the biggest strike-slip earthquakes that had hit on land, Hatem said.
"On top of that, it's located near populated areas," she said.
The pre-dawn quake was centered in the town of Pazarcik in Turkey's southeastern Kahramanmaras province and was followed by several powerful aftershocks.
Thousands of buildings were toppled on both sides of the border, and the death toll was expected to rise as rescue workers searched for survivors in the massive piles of rubble.
Both Turkey and Syria have declared a state of emergency.
In the news: Florida Teen Who Stabbed Classmate 114 Times Pleads Guilty To First-Degree Murder
"Because the debris-removal efforts are continuing in many buildings in the earthquake zone, we do not know how high the number of dead and injured will rise," Turkish President Recep Tayyip Erdogan said.
More than 2,800 buildings across Turkey have been completely destroyed, according to Turkey's Emergency Management Agency, while over 1,400 buildings were demolished in Syria, according to the Syrian Civil Defense Agency.
Android Users, Click Here To Download The Free Press App And Never Miss A Story. Follow Us On Facebook Here Or Twitter Here.
Login To Facebook From Your Browser To Leave A Comment