HILLSBOROUGH COUNTY, Fla. – Continuing to defend her life and innocence after the 1997 disappearance and 2002 declared death of her husband Jack Donald Lewis, Carole Baskins of Tampa, CEO of "Big Cat Rescue," is fighting back against a Complaint for a Pure Bill of Discovery filed by her step-daughters and a former employee of Mr. Lewis. It was filed on August 7, 2020, in the Hillsborough County Clerk of Court as "Donna L. Pettis, Lynda L. Sanchez, Gayle L. Rathbone, and Anne McQueen v. Carole Baskin, Susan Bradshaw, and Kenneth Wayne Farr." The lawsuit seeks to re-open investigations into Lewis' death, scour through diaries and other possessions of Baskins, and obtain allowance to proceed, despite various expired statutes of limitations. In it is also reference to the allegation by Defendant Susan Bradshaw that Carole Baskins told her to falsely claim she had witnessed signatures to Lewis' last will and testament.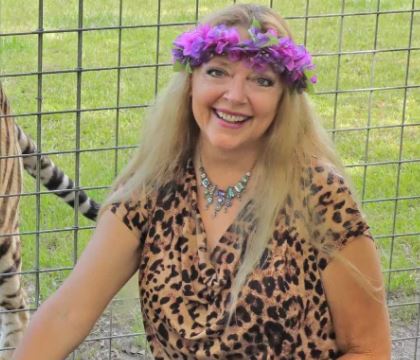 In response, on August 31, 2020, Baskins' attorney, Craig Rothburd filed a "Motion to Dismiss Complaint and for Protective Order" in Hillsborough County, arguing that the step-daughters are on a "fishing expedition" and improperly utilizing a "pure discovery" request in their pursuit to gather potentially new and/or previously intentionally concealed evidence implicating Carole Baskins as the perpetrator in their father's death.
In the Florida Bar's Florida Bar Journal in March 2004, referencing a Publix Supermarkets lawsuit, it explains that "the court stated that a pure bill of discovery is not to be used as a fishing expedition to see if causes of action exist." In other words, a pure bill of discovery is not able to work its way through courts if it is merely being used to find a reason to file a future lawsuit. Baskin's Motion to Dismiss describes what Rothburd believes to be the reason for the step-daughters' legal complaint while also describing the Plaintiffs' allegedly faulty memories:
"A cable-television mini-series (i.e., "Tiger King: Murder, Mayhem, and Madness"), which began airing on March 20, 2020, has apparently encouraged the Plaintiffs to attempt to revive and relitigate unsupported allegations and suspected causes of action that have expired and/or were resolved in court long ago. Twenty-three years after Plaintiffs were all parties and active participants in the Conservatorship of Jack Donald Lewis, Hillsborough County Probate Case No. 97-2001 Div. A (the "Estate"), twenty-two years after Plaintiffs Pettis, Sanchez, and Rathbone entered into a stipulation with Baskin to settle issues among them, twenty-two years after Plaintiff McQueen settled with the Estate, and eighteen years after Mr. Lewis was legally presumed dead, the Plaintiffs now incredulously allege that "[i]ssues still exist about whether the last known will and testament of Mr. Lewis and a Power of Attorney relied upon by Defendant Baskin in the probate court was bona fide…Notably, neither Baskin nor the probate court relied on either the last known will and testament or any power of attorney in handling the Estate. Instead, the parties, by a written court-approved stipulation, established the Estate whereby each group managed assets that eventually would be their own, and any such other issues were resolved in the Estate. There never was a probate of any will, as all Mr. Lewis's assets were depleted to fund the Estate, consistent with controlling law, the parties' stipulation, and the court's approval.
Rothburd further described how Lewis's estate was handled, attaching in the Motion to Dismiss exhibit the actual "Petition for Appointment of Conservator for the Estate of Jack Donald Lewis," as filed in the court by Lewis' daughter, Donna L. Pettis through her attorney. An excerpt from this Petition states:
"…Petitioner believes to the best of her knowledge that her father, Jack Donald Lewis, has given no valid power of attorney, nor does he have a known last will and testament…," and "urgent necessity exists for the establishment of a conservatorship for the assets and property of the absentee…for the reason that his estate consist of on-going businesses, real and personal property, gold and silver, and other values in a safe deposit box, all in excess of $4,000,000.00, and that there is the great possibility and/or probability that theft, waste, and/or mismanagement of absentee's property will occur without the immediate appointment of a conservator to take control and manage said properties."
When asked whether he expects more lawsuits to arise out of Lewis' death, he lamented the poor quality of various news and official claims about facts surrounding the death of Jack Donald Lewis.
"Everybody is speculating and not looking back at the record on these matters. The Sheriff, the press and everybody else is looking at this through the lens of "Tiger King." (So) now that "Tiger King" has opened up old wounds, who knows what people will do."
Hillsborough County Sheriff, Chad Chronister, held an interview with 10 Tampa Bay News on June 2, 2020, stating that two experts agree Lewis' last will and testament was forged, supporting Defendant Susan Bradshaw's claims. He has re-opened the case into Jack Donald Lewis' death. Carole Baskins has not officially been deemed a suspect.
Publishers Note: While The Free Press will always be free for our readers, and ad-supported, we are asking our loyal readers to consider a monthly donation of $3 to maintain our local journalism and help us grow, as we ramp up ad sales locally.
We thank you all for your consideration and for supporting local journalism
Login To Facebook From Your Browser To Leave A Comment