June 5, 2020
By: Deborah Childress
The Coronavirus pandemic shrunk the U.S. economy by $8 trillion, according to experts. But new unemployment statistics and new laws enacted under the Trump administration indicate that all Americans are benefitting from the current administration's efforts to improve the nation's economy.
In the last 24 hours, the Dow has leaped to over 27,000 points as new unemployment statistics dropped to 13.3 percent. Comparatively, April 2020 unemployment statistics were as high as 28.2%, posted for Nevada. 2.5 million jobs were added in May 2020 against predictions of eight million jobs to be lost. The bright, happy news produced giddy relief that boosted the Dow just before President Trump delivered the new statistics publicly and clearly in a good mood. "This is a rocket ship," Trump said. The May job additions are the largest job increase on record since 1939.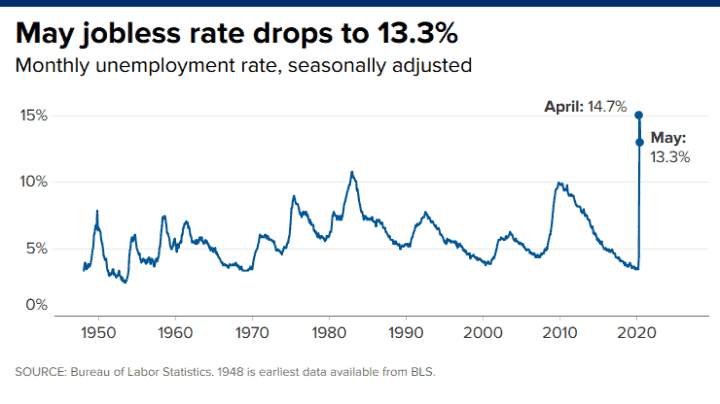 U.S. Labor Secretary, Eugene Scalia said earlier today, "We knew we were going to bounce back, but it happened faster and stronger than we expected.  It was also expected that when Trump won the election, there would be 1.7 million jobs added in three years.  But the economy added instead, 7 million jobs."  With a jobs surge that commenced in mid-May, July is expected to be even better. In 2018, President Trump said, "We're fighting to give every American all over the country a future of dignity, purpose, and pride."
Trump's commitment to support all Americans is seen through several legislative acts he either has initiated himself or supported with his signature.
South Carolina Republican Senator, Tim Scott, told Fox News that "$75 Billion in private sector funds have come into (America's) most distressed communities." Scott attributed the financial infusion to President Trump's Opportunity Zone program that was included in the new 2017 tax cut laws. The program promotes investments in economically distressed communities where 35 million Americans reside.
Specifically, there are 8,761 economically distressed communities in all 50 states, the District of Columbia, and five U.S. territories. All are designated as Opportunity Zones.
Another bill, a criminal justice reform bill called "The First Step Act," reduced criminal sentencing for non-violent illegal acts and improved inmate access to health and educational services. It was signed by President Trump in December 2018. According to the White House fact sheet, the bill reduced certain criminal penalties and was designed to reduce the risk of recidivism by former inmates.
In 2019, over 2,387 federal prison inmates received reduced sentences averaging 71 months, or 26 percent, under the First Step Act's retroactive application of the Fair Sentencing Act of 2010. The Act also: 1) increased inmate access to pre-release custody so that inmates can finish portions of their sentences in the community, 2) expanded the Medication-Assistance Treatment plan to assist and treat inmates with opioid use disorders, and 3) increased the availability of evidence-based, recidivism-reducing programs, such as vocational training, life skills development and mental health treatment.
For 2021, the criminal justice reform bill increased the Bureau of Prisons budget by $319 million to $409 million to make new investments expected to reduce the likelihood of future unlawful activity by formerly imprisoned persons. In 2020, the number of prisoner transitions into half-way houses (which are contracted by the federal government) is expected to increase with 300 planned additional beds, and a 2021 budget supports 8,700 more beds, which increases the total half-way house bed count from previously 14,000 beds to 23,000 beds.
The Bureau of Prisons estimates 10% of the U.S. federal prison populations may qualify for the new MAT (Medication-Assisted Treatment) program that combines behavioral therapy with medications for opioid addiction. Inmate access to all recidivism-based programs contained in the new law will continue to increase annually as the Bureau of Prisons prepares for such expansion. Prison inmate services for mental health and life skills assistance, educational, special needs, and vocational programs will continue to expand.
Minority colleges and universities received a permanent $255 million annual funding guarantee through 2019's "The FUTURE Act."  In the new law, $85 million a year is set aside for historically black colleges and universities, $100 million is for Hispanic-serving institutions, $30 million is for tribal schools, and $40 million is for other minority-serving institutions, such as Alaska Native and Native Hawaiian-serving institutions, Asian American and Native American Pacific Islander-serving institutions, Native American-serving, nontribal institutions, predominantly black institutions, and tribally-controlled colleges and universities. 
Trump signed the legislation to ensure continued funding that had lapsed due to Congressional inaction. Inside Higher Ed wrote in January 2020, "In March 2018, Secretary of Education Betsy DeVos, moved to cancel the (required) repayment of $300 million in federal relief loans that four historically black colleges took out after Hurricanes Katrina and Rita hit in 2005." According to Associated Press, a new amendment in the passed bill revised pre-existing requirements for filling out college application forms called the Free Application for Federal Student Aid. The forms were redundant with IRS-stored information that students were required to obtain themselves before the new law passed.
Login To Facebook From Your Browser To Leave A Comment