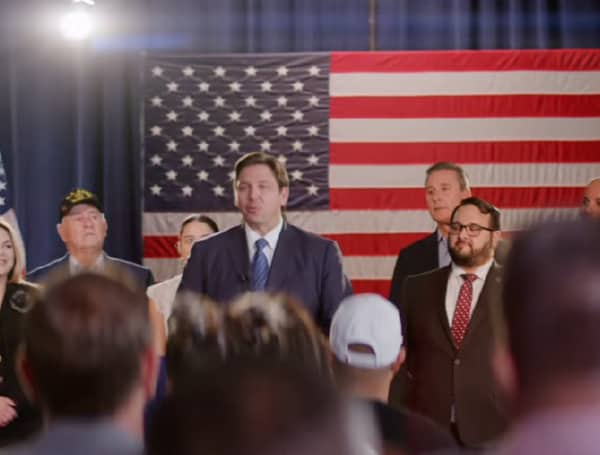 Countless liberals in elected office and media were appalled, with unsurprising hypocrisy, when Gov. Ron DeSantis took them at their word about being open to welcoming illegal immigrants.
They blasted the Florida Republican last week with the vilest names for sending 50 illegal immigrants to the wealthy, left-wing community of Martha's Vineyard in Massachusetts, a self-proclaimed sanctuary city.
Some, such as California Democratic Gov. Gavin Newsom, argued DeSantis should be investigated for human trafficking and kidnapping, simply for giving liberals what they said they wanted.
Yet one prominent Hispanic Democrat is not criticizing DeSantis; in fact, she argues that he's absolutely right.
In an opinion column for The Daily Mail, Gloria Romero, the former Democratic majority leader in the California state Senate, instead ripped "smug liberals" for not standing by their own alleged principles.
"More than two million undocumented immigrants will be arrested trying to cross into the U.S. in 2022. And Democrats don't bat an eye," Romero began in her column on Friday.
In the news: "Submerged Voters" Republicans Likely Quiet But Angry, Ready To Vote After Attacks By Biden
"But fly 50 migrants to one of the wealthiest places in America, spotted with multi-million dollar mansions, surrounded by the mega-yachts of the rich and famous and Democrats lose their minds? What a joke!"
"I am telling you that if the Democratic party thinks that Latinos are outraged by Florida Governor Ron DeSantis sending migrants to Martha's Vineyard – they are dead wrong!"
Romero continued, "Overwhelming rural, poor, and largely Latino communities along the southern border are expected to absorb the costs of unprecedented migratory streams in a wide-open border, but Martha's Vineyard cannot? Spare me!"
"This Democratic stronghold — where the Obamas now reside — couldn't stomach having 50 brown migrants in their midst without declaring an emergency and shipping them out of town within 24 hours. Liberals want open borders – just not in their immaculate backyards."
"While smug liberals and virtue-signaling progressives pretend that their immigration policies are 'compassionate,' Latinos know they are just cruel, naked politics," she added.
"Good for Governor DeSantis, Governor Greg Abbott in Texas, and Governor Doug Ducey in Arizona for sending this powerful message by making Democrats shoulder their 'fair share' of the burden of a broken immigration system. After all, isn't it the Democrats who scream about the rich shouldering their 'fair share'? Let the folks in Martha's Vineyard, Chicago, New York City, and Washington D.C. get a taste of what it feels like to live in a New World border-less state."
"Republican governors have finally called their bluff," Romero wrote. "The Democratic Party thought these policies would win the hearts and minds of Latinos everywhere. How wrong could they have been?"
She noted the Democrats' "compassion" for illegal immigrants is forcing desperate people to give up their children and submit to the "brutality of an ever more complex human smuggling operation."
As one example, she referenced the "Rape Tree," which Romero argues is not an urban legend but is very real as trees along the Mexican border are "decorated" with the underwear of women raped by smugglers as they try to reach the United States.
"Latinos know the horrors of the Democrat-condoned open-border system. We know that the Mexican cartels have transformed this naked political power-play into a lucrative drug smuggling and human trafficking operation," said Romero.
"Increasingly Latinos have also realized that if we have been treated as pawns by anyone – it is the Democratic Party. Our votes come in handy at election time but over the years, the needs and values of Latinos have been ignored and we have increasingly been insulted."
Romero ripped President Joe Biden for not going to see the border first-hand, and for sending Vice President Kamala Harris to the safe confines of El Paso.
Latinos, especially in south Texas, are fed up by the Democrats' empty promises, as was shown in a special election earlier this year when Republican Mayra Flores took a congressional seat the Democrats had held for 150 years, she added
"The Latino agenda is an American agenda. We want opportunity—not guaranteed outcomes. We want prosperity—not a redistribution of wealth. We want our values respected—not ridiculed. We celebrate motherhood—not Birthing Peoplehood (in fact, Latinos of Mexican descent celebrate two Mother's days!)," Romero continued.
In the news: John Kerry Cautions Impoverished African Nations Against Natural Gas Projects
"Latinos may be divided on reproductive rights, but overwhelmingly reject infanticide and growing Democratic support for abortion on demand even up to birth. Latinos are entrepreneurial— we believe in the American Dream—and value citizenship. While we want the respect of the authorities, we reject the radical 'defund the police' movements as we tend to be disproportionate victims of violent crime."
"We want jobs—not handouts. We want school choice—not mandated enrollment in government schools which generationally have failed to deliver quality educations," said Romero.
"What we don't want: insulting unserious proposals just ahead of national elections to preserve Democratic Party hegemony in Congress."
As for the relocations by DeSantis, Abbott, and Ducey, Romero added, "The hypocrisy of their 'sanctuaries' has been exposed in their ultimate NIMBYism (not in my backyard).
Latinos need to remember their obvious disgust towards these migrants when we go vote in November. Latinos have had enough of being used as pawns."
We love our country, value citizenship, want a fair immigration system, and protected by secure borders on all shores," she concluded. "There's nothing 'racist' about that. Good for you DeSantis – keep the flights coming. If they won't go to the border, bring the border to them."
Visit Tampafp.com for Politics, Sports, and National Headlines. Support journalism by clicking here to our GiveSendGo or sign up for our free newsletter by clicking here.
Android Users, Click Here To Download The Free Press App And Never Miss A Story. Follow Us On Facebook Here Or Twitter Here.
Copyright 2022 The Free Press, LLC, tampafp.com. All rights reserved. This material may not be published, broadcast, rewritten, or redistributed.
Login To Facebook From Your Browser To Leave A Comment