By PAUL CATALA
Toni Armstrong has had the roughly century-old treadle sewing machine ever since she was a teenager in Bossier Parish, Louisiana.
Although Armstrong, of Apollo Beach, hasn't used the sewing machine – mounted on a veneer cherry wood table – in decades, she recently decided to have it refurbished.
Within a month, Alex Findlay, who runs Custom Wood Designs By Alex, had cleaned and refinished Armstrong's treasured family heirloom, making it look almost new again.
Findlay started the furniture-building, refinishing and restoration business in Apollo Beach in 2017. At his home shop on Gran Kaymen Way, Findlay, 55, who retired from the U.S. Army Special Forces as a lieutenant colonel, has made a part-time living turning tarnished items into treasures.
For Findlay, the home business is basically a fun hobby that provides extra income for him and his wife, Jodi.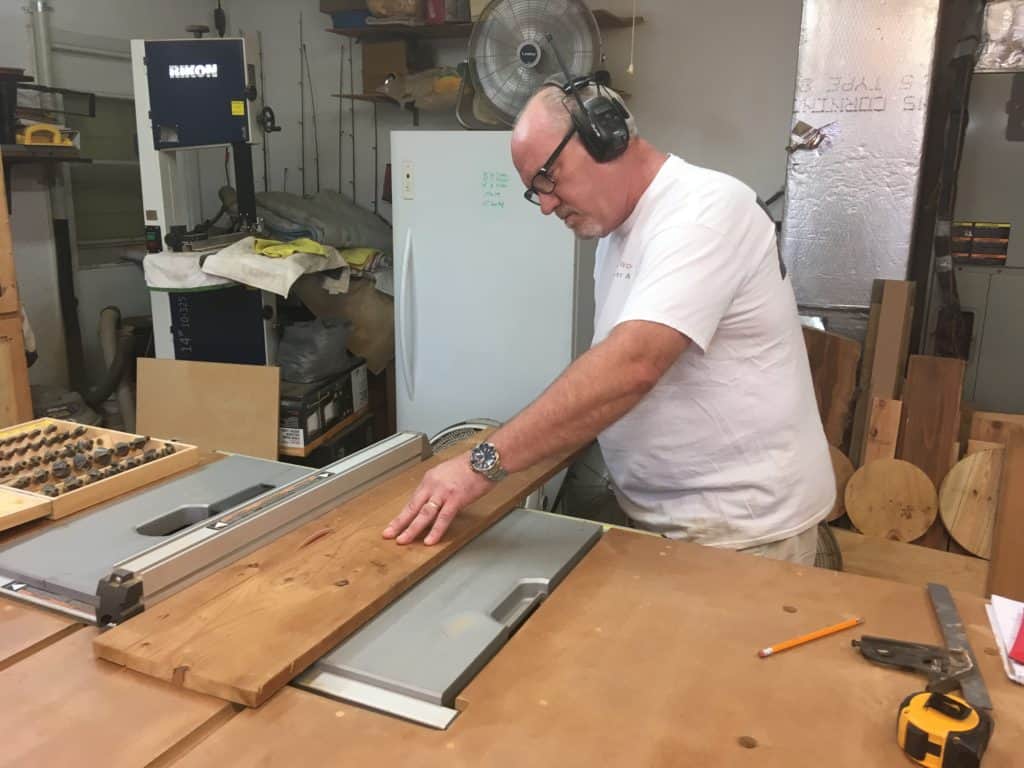 During a recent workday in his garage-turned-workshop, Findlay put the finishing touches on a century-old cedar bed for a family in the Mira Bay community.
"I love doing this. I really do," he says. "I love the challenge. What I really love is taking something in really bad shape and bringing it back to its former look and its original beauty."
Over the past 35 years, Findlay, a Mount Prospect, Illinois, native, estimates that he's completed about 30 projects. Some of his favorite projects have entailed restoring a 1920s-era Hoosier cabinet, refurbishing an antique radio from the 1930s, creating a baptismal font for Apollo Beach's Calvary Lutheran Church and restoring a rare 1920s walnut Doten-Duncan desk.
"You couldn't even tell what kind of wood it was made of when I started," he says of the desk. "But when I finished, you could see it confirmed what the research showed – it was solid walnut."
Another of Findlay's customers is Sean Rice, owner of Apollo Beach's Salty Shamrock Irish Pub. Rice said he learned of Findlay's woodworking skills through conversations at the restaurant.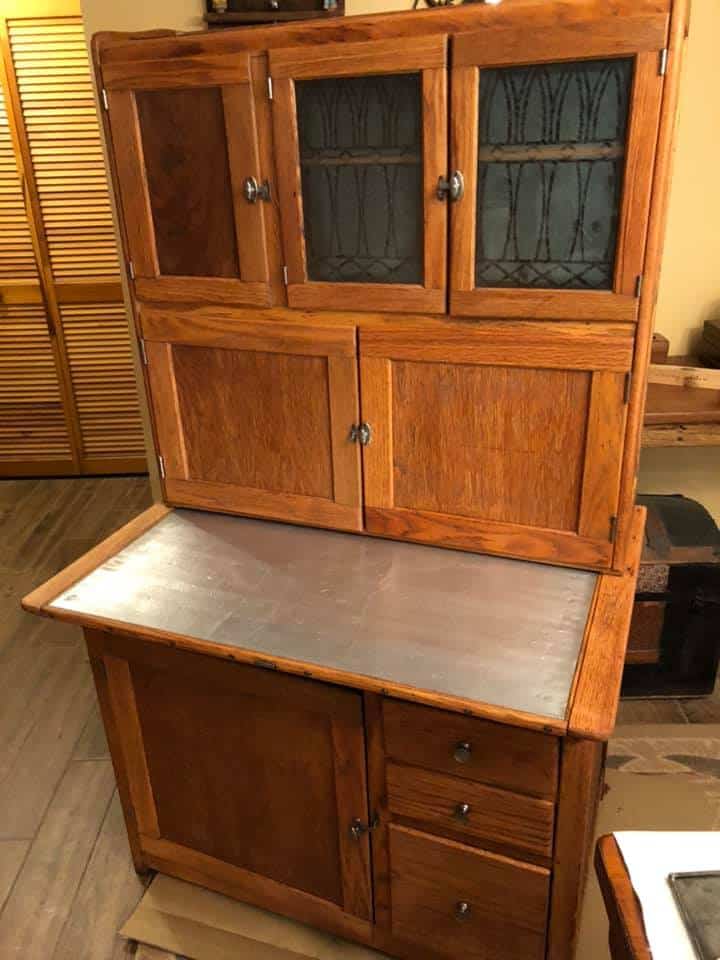 Rice hired Findlay to redo a room at his home in a "barn style" and is currently having him craft cedar wood bases for the restaurant's serving dishes.
"He's excellent and very dedicated. He takes his time and if you're not satisfied with something, he'll correct it," says Rice, who opened the Salty Shamrock over three years ago. "He also keeps you posted on progress and is very professional."
Growing up in Hoffman Estates, Illinois, he says he and his late father, Wray, kept busy in their home refinishing furniture and customizing wood furnishings. He has also done work for his mother, Kathryn, and sister, Susan Owens, both of whom live out of state.
"We kind of all did stuff, finished my grandmother's stuff, restored furniture – it's always been a passion of mine," he says. "After the military, we settled (in Apollo Beach), and I could create a workshop and pick up odd jobs for friends and for us."
Findlay's prices generally range from about $300 to $400 for a small table up to $2,000 to $3,000 for larger projects. While the financial payoff is rewarding, he says his woodworking and wood crafting isn't entirely about money.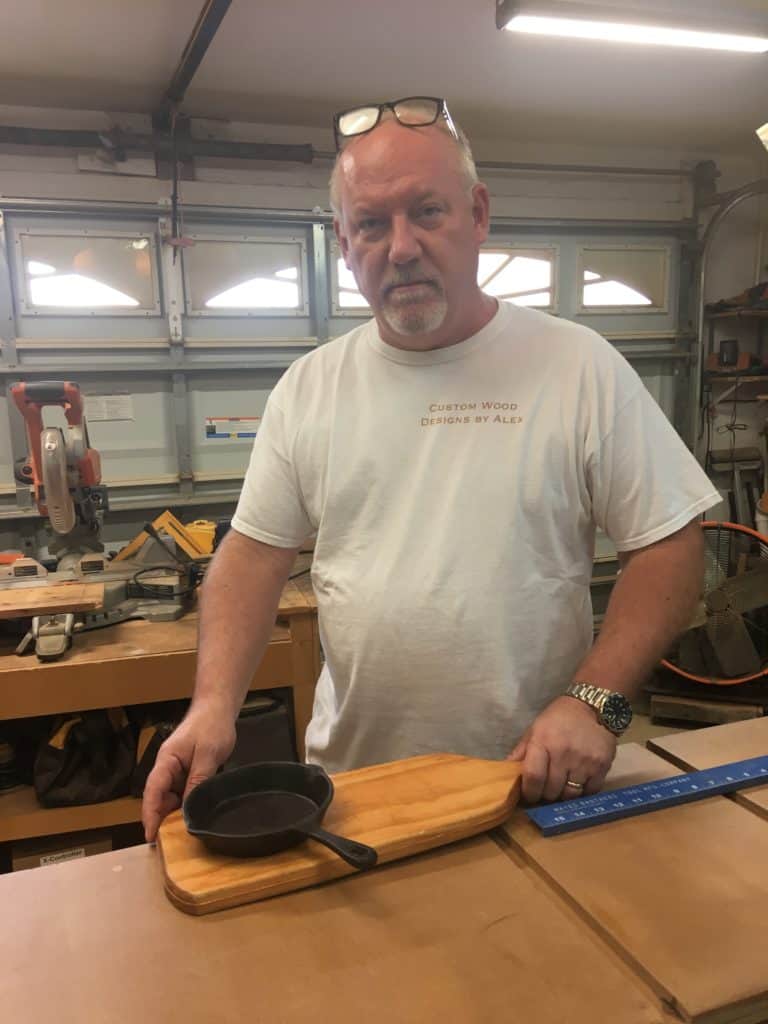 "It's too much fun and it can be very satisfying to take something that someone has a long history with, something special for them, and bringing it back to its natural beauty," he says.
For information, see www.customwooddesignsbyalex.com or email alexfindlay750@gmail.com
Login To Facebook From Your Browser To Leave A Comment