In Illinois on Monday, the DuPage County Democratic Party was announcing it had fired one of its officials who may have a new standard for hate following the massacre in Waukesha, Wisconsin.
On Sunday, according to local police, a career criminal named Darrell Brooks Jr., who was out on bail for multiple felonies and wanted on a Nevada warrant, plowed through a Christmas parade, killing five people and injuring nearly 50 more.
Brooks, who is black, was apparently a supporter of Black Lives Matter, and had made anti-white posts on social media. Waukesha, according to the Census Bureau, is nearly 90 percent white, as were the victims who died Sunday.
The incident occurred just two days after Kyle Rittenhouse was acquitted of killing two rioters and wounding a third during a violent uprising in Kenosha, Wisconsin, last year that was fueled by BLM. Rittenhouse claimed self-defense.
Yet in the wake of the verdict, the liberal media promoted an unproven narrative, one that was once pushed by President Joe Biden, that the 18-year-old Rittenhouse was a white supremacist, and avoided prison simply because he was white.
In the immediate aftermath of the Waukesha tragedy, Mary Lemanski, the social media director for the DuPage County Democratic Party, offered a series of hateful tweets.
In one, she wrote, "It was probably just self-defense."
In other comments, Lemanski added of Brooks, "Living in Wisconsin, he probably felt threatened." "I'm sure he didn't want to hurt anyone. He came to help people," she added.
In still another post, she wrote, "I'm sad anytime anyone dies. I just believe in Karma and this came around quick on the citizens of Wisconsin."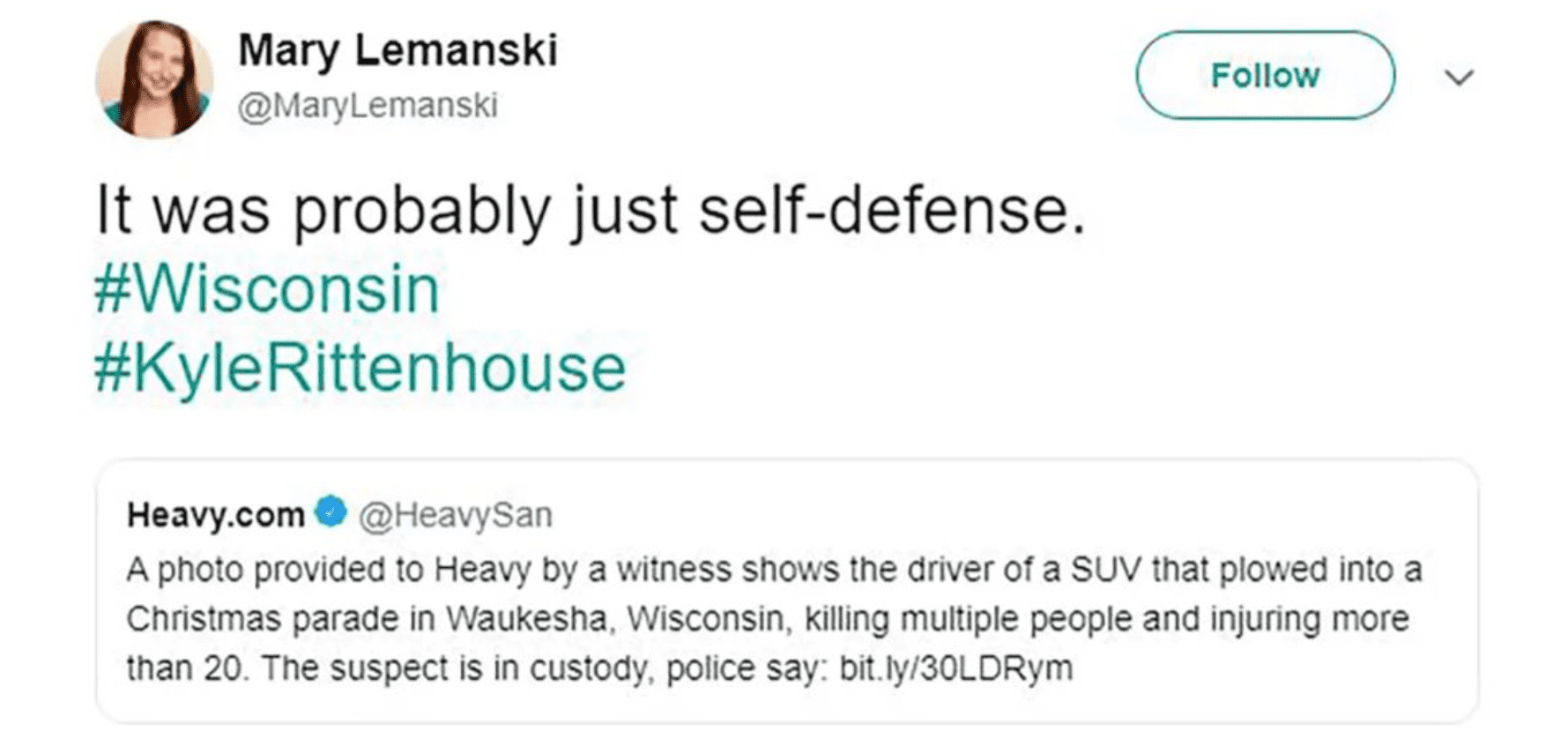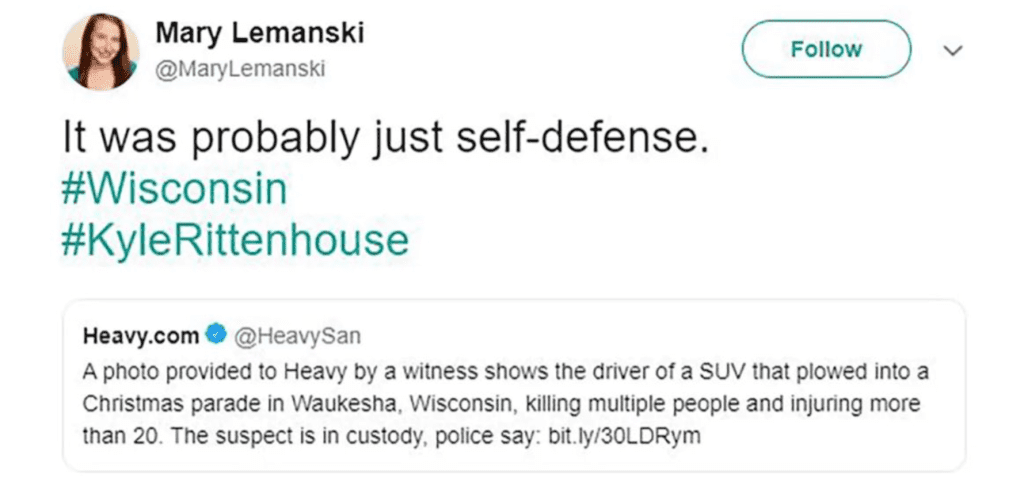 "You reap what you sow, Wisconsin," she tweeted. "It's sad people died, but when you open the door to vigilante justice, everyone seems threatening."
That was too much for her fellow Democrats.
On its Twitter feed, the DuPage Democratic Party posted on Monday, "We are deeply saddened by the tragedy in Waukesha. We are aware of statements made by a former member of our organization and find them to be incredibly insensitive and not in alignment of who we are as an organization. Our organization does not support hate in any form."
Lemanski reportedly went on Facebook and claimed she had resigned.
She posted a statement that wasn't an apology to the victims, but acknowledged that she had quit. She said she was accepting the "consequences" of her "free speech" for making "remarks that were not in good taste."
That prompted a second tweet a few hours later by party Chairman Ken Mejia-Beal. He said the DuPage County party had "severed all ties with Mary Lemanski once we became aware of her callous and reprehensible posts."
"She does not speak for us and we unequivocally reject her statements about the tragic events that occurred yesterday in Waukesha. We as a party denounce violence of any kind. Our thoughts and prayers are with the families impacted by this heinous act, which shocked and saddened us all."
Before the party announced that it was axing her, Lemanski seemed surprised by the blowback her hate generated.
Earlier on Monday morning, before she claimed to have resigned, she tweeted, "Nobody cared about me my whole life. My mom used to leave me for hours at a time in myplay pen. I've put out music for 20 years nobody gave a s–t. Why do people all of a sudden care about a stupid remark? I can't believe my 15 minutes of fame is for this s–t."
But don't worry: the Biden administration will probably offer her a job any day now, or considering that she is reportedly part of the famed Second City improv group in Chicago, maybe "Saturday Night Live" will. 
Check out Tampafp.com for Politics, Tampa Local News, Sports, and National Headlines. Support journalism by clicking here to our GoFundMe or sign up for our free newsletter by clicking here. Android Users, Click Here To Download The Free Press App And Never Miss A Story. It's Free And Coming To Apple Users Soon.
Login To Facebook From Your Browser To Leave A Comment