Elon Musk says he will resign as CEO of Twitter, he tweeted late Tuesday, following a poll on the platform in which a majority of users said he should leave his post.
"I will resign as CEO as soon as I find someone foolish enough to take the job!" Musk tweeted on Tuesday. "After that, I will just run the software & servers teams."
The poll created by Elon Musk asking whether he should "step down as head of Twitter" ended early Monday morning, with most respondents voting for the CEO to step down.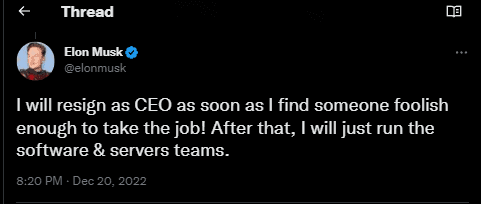 Musk had said he would abide by the results of the poll, which began Sunday evening and concluded with 57.5% voting yes, 42.5% voting no.
In the news: CNN's Jake Tapper Says GOP Won't Legislate Because Of McCarthy And 'His Gang Of Flying Monkeys'
More than 17 million votes were cast in the informal poll, which gave no timeframe as to when the "step down" would occur, if voters swung that way.
Musk did not immediately react to the outcome of the vote, but tweeted soon after the poll was published, "As the saying goes, be careful what you wish, as you might get it," and "Those who want power are the ones who least deserve it."
Android Users, Click Here To Download The Free Press App And Never Miss A Story. Follow Us On Facebook Here Or Twitter Here. Signup for our free newsletter by clicking here.
Login To Facebook From Your Browser To Leave A Comment