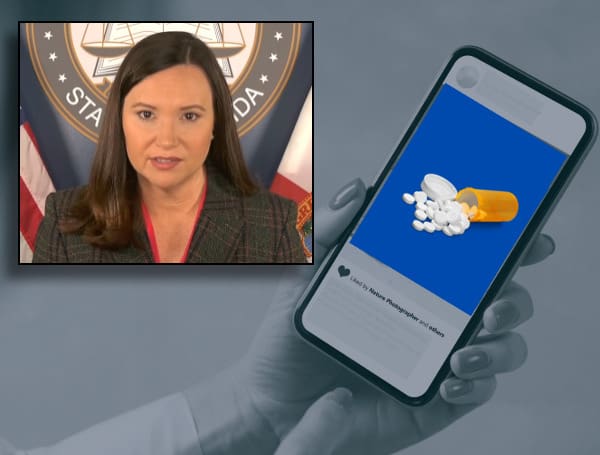 Last year drug overdoses killed more Americans than gun violence and car crashes – combined.
Against that backdrop of misery, Florida's Republican Attorney General Ashley Moody is urging President Joe Biden to off the bench and halt the flow of fentanyl into the country.
In a letter to Biden on Monday, Moody asked Biden to declare fentanyl a "weapon of mass destruction" in order to stop the "stark carnage that this country is experiencing."
Moody noted that fentanyl as largely responsible for the nearly 76,000 Americans who ODed from opioids in 2021. Fentanyl abuse, accidental or otherwise, is now the leading cause of death among Americans 18 to 45. That means the drug has claimed "more lives than COVID-19, cancer, car accidents or suicide," Moody wrote.
In Florida in 2020, the drug killed 5,806 people, a 59 percent increase over 2019. Through the first half of 2021, the death toll had reached 3,210 – which projects to 6,420 deaths in 2022.
"Fentanyl impacts more than those who use it. It can kill first responders and good Samaritans who seek to resuscitate overdosed users."
She noted the death toll in Florida is increasing at an "alarming, exponential" rate. And she cited the recent nine OD deaths in a 24-hour period in Gadsden County as an example of the horror it can bring.
In the news: REPORT: Biden Poised To Declare Climate Emergency To Ram Through Green Agenda
"In the nearly two years that your administration has been in office, you have done little to abate this American tragedy," wrote Moody. "Indeed, many of your policies have exacerbated the death toll needlessly wasting America's youth."
The attorney general noted Biden has talked about the crisis. But action has been hard to find.
Even as his administration wants to take credit for record amounts of fentanyl seized at the Mexican border, the "historic number overdose deaths" prove that massive amounts are still escaping the dragnet.
"While there are many acts and steps that your administration could take, like stopping the overwhelming influx of illegal immigrants and further fortifying the southern border, I realize that your administration will not or is incapable of taking those actions," she argued. "Your administration has dangerously failed to recognize the ties between criminal drug cartels and both the surge of illegal immigration and the flood of fentanyl into this country."
Moody stated that Florida will continue to fight Biden in court over his failed border policies. But as that battle play out, she added, I would urge you to take a different action that has bipartisan support: declare fentanyl a weapon of mass destruction."
Moody noted that Biden could do so under existing federal law, or he could champion the passage of the "Fentanyl is a WMD Act."
That one-page bill, introduced a month ago by Colorado Republican Rep. Lauren Boebert, would, as the name implies, get the federal government to label fentanyl a WMD.
Boebert has picked up nine GOP co-sponsors, including one from Florida, Rep. Bill Posey of Rockledge.
"There is not a serious dispute that fentanyl could be weaponized causing a mass casualty event," Moody wrote. She pointed out the Russian army deployed a derivative of fentanyl to neutralize a band of Chechen terrorists who kidnapped more than 800 people in a Moscow theater in 2002. More than 120 hostages died in the response.
Moody also recalled that terrorists acted unconventionally when they turned four jumbo jets into weapons on 9/11.
"Relying on non-state criminal actors and terrorists to think or act as expected is a losing proposition," Moody argued. The reality is that the deadliness of fentanyl combined with its sheer availability in Mexico to criminal cartels and non-state actors makes it an increasingly likely weapon for use."
She pushed back on the assertion that the fentanyl flood is a "narcotics control problem," because its deadliness and widespread manufacture make sit "unique" among other illegal drugs.
In the news: Deputies In Florida Need Help Finding A Home, Literally, It's Missing
"We need bold action to meet that threat and end it," Moody wrote.
"Given how many Americans are being murdered, the whole federal government and every tactic and capability we have should be utilized to stop the death and destruction that fentanyl is causing," she said.
Designating fentanyl a WMB would allow Biden the flexibility to unite the DEA, the Defense Department, and Homeland Security against its pipeline.
"One could imagine techniques utilized to prevent proliferation or to detect the transportation of existing weapons of mass destruction could be used with fentanyl," Moody maintained.
"Mass deaths. LIves shattered. More than two hundred Americans die each day from opioids, primarily fentanyl, leaving broken families struggling with incomprehensible loss," she concluded.
"I urge you to take immediate and decisive action to protect Americans and declare fentanyl a weapon of mass destruction."
Visit Tampafp.com for Politics, Tampa Area Local News, Sports, and National Headlines. Support journalism by clicking here to our GiveSendGo or sign up for our free newsletter by clicking here.
Android Users, Click Here To Download The Free Press App And Never Miss A Story. Follow Us On Facebook Here Or Twitter Here.
Copyright 2022 The Free Press, LLC, tampafp.com. All rights reserved. This material may not be published, broadcast, rewritten, or redistributed.
Login To Facebook From Your Browser To Leave A Comment