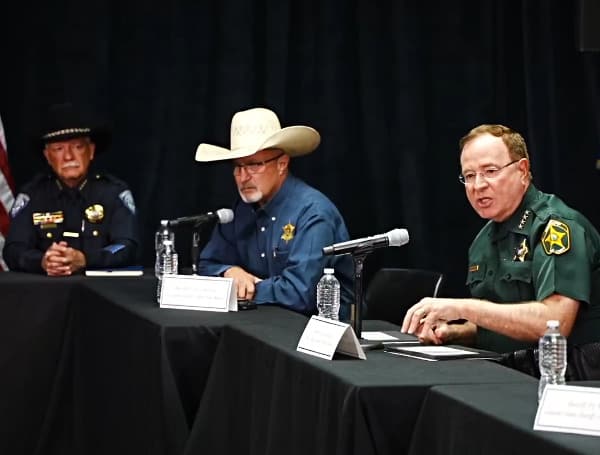 Today, Florida Governor Ron DeSantis traveled to the southern border, where he was met by sheriffs from Arizona, New Mexico, Texas, and across the country who conveyed the urgent need to secure the border. 
While in Arizona, Governor DeSantis highlighted Florida's successful actions to combat illegal immigration within the state and along the southern border.
Florida's blueprint for border security includes new methods for combating human smuggling and drug trafficking across state lines and the relocation of illegal aliens who wish to be transported to so-called sanctuary states and cities. Florida's law enforcement agencies are offering trainings for other states that want to follow Florida's lead on protecting citizens from the impacts of illegal immigration.
In the news: Florida AG Moody Pushing Back On FEMA To Lower Flood Insurance Rates
"Joe Biden is derelict in the performance of his duties and refuses to uphold the borders of our nation," said Governor Ron DeSantis. "In Florida, we're stepping up even as the federal government falls down on the job. We enacted strong legislation to combat illegal immigration, sent law enforcement officers and equipment to the border, and have dedicated resources to divert migrants to sanctuary jurisdictions. Today we're taking Florida's no-nonsense approach to border enforcement nationwide."
At a roundtable held near the border in Sierra Vista, Arizona, with sheriffs from across the country whose communities have been harmed by illegal immigration, Governor DeSantis announced an inter-state law enforcement partnership to bring Florida's successful anti-illegal immigration policies and practices to more American communities.
This initiative includes a training program developed by the Florida Highway Patrol and the Florida National Guard's Counterdrug Task Force which will be made available to law enforcement agencies across the United States.
The program will explain Florida's response to the Biden Border Crisis and train law enforcement officers in multi-agency criminal interdiction.
"I can't imagine what the people who live on the border are going through, because I do know what's going on through the rest of the country while our president and the administration stands silent and allows the people of this country to be victimized," said Sheriff Grady Judd, Sheriff of Polk County, Florida. "That is simply unacceptable. When people are safe and they feel safe, they thrive. And our great state does tremendous. But we need to do that across the United States of America."
In the news: Florida Gov. DeSantis Says Newsom Dealing With "Fruits" Of His Own Policy Post Migrant Flights
"In Florida, we could sit back and say, well, we'll fight this in our backyard. But instead, we say let's fight it on the front. Let's join together, let's be united," said Sheriff Wayne Ivey, Sheriff of Brevard County, Florida. "That's what this is about. Governor DeSantis asked us to put our resources in to put our money where our mouth is. He's done that. He is standing here today saying Florida is in this fight and Florida understands this is not just impacting you locally in Cochise County or the other border communities. It's impacting us. Thank you, Governor, I am honored to stand with you and our Attorney General."
The Governor also commended the work of Florida law enforcement officers currently deployed to the border as part of Operation Lone Star, including the Florida Department of Law Enforcement officers who recently assisted in the apprehension of a capital murder fugitive.
"You're doing everything you can from the state of Florida for the state of Texas," said Sheriff Thad Cleveland, Sheriff of Terrell County, Texas. "I spent 26 years in United States Board Patrol. I spent ten years of that career here in Arizona. At one point it was chaos here years ago. And with the hard work of the men and women of the U.S. Border Patrol, we had the safest, most secure border that we'd ever had until two years ago. And it took about six months to dismantle that safe and secure border… We're reaping from the help you're giving us… Governor, thank you for coming."
The initiatives announced today and Florida's continuing commitment to on-the-ground and in-the-skies operations build upon Governor DeSantis' previous actions to step up and lead the border security fight President Biden has abandoned. These actions include:
Sending Florida state law enforcement officers and equipment to Texas in 2021 where they apprehended thousands of illegal aliens and aided in hundreds of criminal arrests for felonies including human trafficking and drug smuggling;
Issuing an executive order that prohibits Florida state agencies from providing support for the resettlement of illegal aliens in Florida and prohibits licensing of facilities that house unaccompanied minors;
Signing legislation that prohibits government contracts with private entities that assist the Biden administration in resettling illegal immigrants into Florida;
Signing legislation that requires all public employers, contractors, and subcontractors attempting to enter into contracts with public employers to use E-Verify to determine employment eligibility;
Suing the Biden administration over its unlawful "catch and release" policy and speaking out when the administration announced plans to end Title 42, ludicrously claiming that pandemic restrictions and "emergency measures" were still required domestically while attempting to do away with the pandemic measures at the border;
Forming a strike force of state and local law enforcement to interdict human smuggling and human trafficking and to seize illegal weapons being transported through the state, resulting thus far in thousands of felony charges, more than 40 human smuggling charges, and more than 125 drug charges and the seizure of more than $2 million of illicit drugs;
Successfully petitioning the Florida Supreme Court to impanel a statewide grand jury to examine international human smuggling networks that bring aliens to the southern border and ultimately to Florida;
Securing $24 million to facilitate the transport of illegal aliens to Martha's Vineyard and other sanctuary jurisdictions, relieving overrun border communities and bringing the reality of the border crisis to the communities that support Biden's open border policies;
Issuing an executive order that mobilized state law enforcement and National Guard resources to aid in the interdiction of more than 10,000 migrants attempting to land on Florida's shores; and
Signing the nation's strongest anti-illegal immigration legislation which makes using E-Verify mandatory for any employer with 25 or more employees, imposes enforceable penalties for those employing illegal aliens, enhances penalties for human smuggling, prohibits local governments from issuing identification cards to illegal aliens, invalidates ID cards issued to illegal aliens in other states, and requires hospitals to collect and submit data on the costs of providing healthcare to illegal aliens.
Android Users, Click To Download The Free Press App And Never Miss A Story. Follow Us On Facebook and Twitter. Signup for our free newsletter.
We can't do this without your help; visit our GiveSendGo page and donate any dollar amount; every penny helps.
Login To Facebook To Comment