TAMPA, FL. – The wind chill at Lambeau Field on December 28, 2008, was 10 degrees at kickoff and going nowhere but down as late afternoon turned into the early evening.
It was the final Sunday of the NFL regular season and Detroit Lions linebacker Ernie Sims responded to what he felt was one of the biggest challenges of his life.
The Lions were 0-15 and no team since the league expanded to a 16-game schedule in 1978 had lost every one of its games. Alas, the Packers prevailed, 31-21, and the Lions went into the league's record book. (The 2017 Browns would join them.)
Sims, however, did not allow the Lions' futility and harsh weather conditions to diminish the effort he put forth. He wanted to finish the season 1-0. That is how his parents raised him and that is the type of mindset Bobby Bowden instilled in him.
"I told myself that I was not going to quit on my teammates, I was not going to quit on the organization, I was not going to quit on myself and the things I took pride in, such as being a competitor," said Sims, an All-American linebacker at Florida State before being selected ninth overall by the Lions in 2006. "Some guys didn't make it through the game and some didn't even make it out of the locker room, but I vividly remember the guys that stood toe to toe to fight for something bigger than (avoiding) an 0-16 season. There is a larger message there. When my players experience difficult times and adversity hits, I remind them why we do what we do."
It is such character and professionalism that appealed to Jeff Scott and why the second-year coach at USF brought Sims on board to be a defensive quality control analyst last year and why he was elevated to linebackers coach this year.
"Just like he was an outstanding player, he was known as a guy that is very detailed and going to do things exactly the right way," said Scott. "I think that has carried over into his coaching on the field. He takes a lot of pride in his work and how he communicates with the linebackers. I think he is at the beginning of an outstanding career."
The 36-year-old Sims, who played 109 games over the course of eight seasons with the Lions, Eagles, Colts and Cowboys, was on Lane Kiffin's staff at FAU in 2018 and 2019. The first year he served as an assistant strength and conditioning coordinator before moving into the role of director of football operations. It was at FAU that he became close to Glenn Spencer, who joined Kiffin's staff as defensive coordinator in 2019.
When Spencer was hired by Scott for the same role in 2020, Sims also made the move from Boca Raton to Tampa. It was an easy decision given his relationship with Spencer and what he felt of Scott.
"Jeff Scott is all about character and integrity," said Sims, who feels much the same about Spencer. "I have been a part of organizations where (those traits were) absent and it is very difficult to work in that type of environment and truly be your best. More than anything, I felt the genuine character and integrity here. People want to do things the right way."
Sims has been doing things the right way through his Tallahassee-based Big Hits Foundation, which is in its 14th year. The foundation assists disadvantaged youths by teaching life lessons through sporting activities, such as flag football.
His father, also Ernie, a former Seminoles player who starred at Tampa's Jefferson High School, and mother, Alice, who was a track and field All-American at FSU, instilled in their son the need to open his heart to the less fortunate. Both parents have long been active in making their community a better place, something that is much a part of Sims' makeup.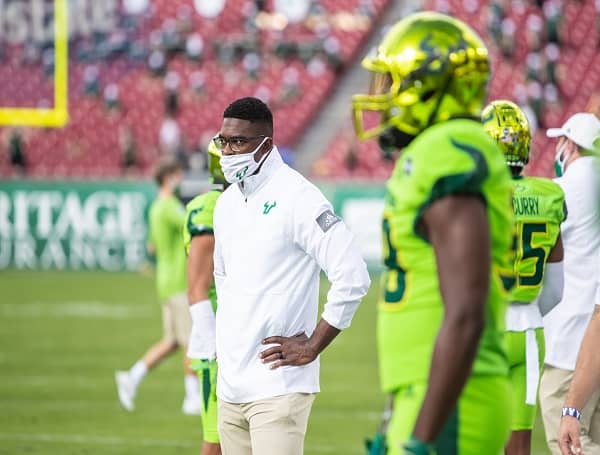 "My goal and the foundation's goal is to give young boys and girls hope and give them opportunities to see something outside the four walls of their home," said Sims, husband to Brooke and father of three.
While such values were instilled by his parents, Sims was a sponge soaking up Bowden's lessons.
"I was extremely grateful for my time at Florida State, especially playing under Bobby Bowden," said Sims, who left FSU after his junior season and returned to complete his degree in social sciences in 2018. "As a little boy, I learned so much about who he was. I heard so many stories from my father and older brother. More than anything, I am extremely grateful for how patient and genuine he was. He was very passionate and wanted to get the best out of everybody."
Sims, whose older and younger brothers also played at FSU, can see and feel Bowden's influence on Jeff Scott and Brad Scott, who is serving as USF's chief of staff. The younger Scott absorbed the words and wisdom of the great coach while Brad spent a decade of his career as an assistant at FSU before becoming the head coach at South Carolina.
"It all stems from what Bobby Bowden stood for," when asked about the culture at USF. "You see that illuminating from coach Brad Scott to coach Jeff Scott. Everything Brad Scott helped build at Florida State and what Jeff Scott helped build at Clemson, is being built here with this program at South Florida."
Sims is glad to be a part of it.
"It is great being here and I am really excited for the direction this program is going," he said.
Support journalism by clicking here to our GoFundMe or sign up for our free newsletter by clicking here
Android Users, Click Here To Download The Free Press App And Never Miss A Story. It's Free And Coming To Apple Users Soon
Login To Facebook From Your Browser To Leave A Comment