June 28. 2020
By: Staff Report
Tallahassee, Fla. – Saturday, Governor Ron DeSantis signed the following bills:
SB 1092 – Fire Prevention and Control
SB 1116 – Trust Funds
CS/CS/SB 1118 – Inmate Welfare Trust Funds
SB 1362 – Rental Agreements
CS/HB 131 – Security in Trial Court Facilities
CS/HB 437 – Nurse Registries
HB 469 – Real Estate Conveyances
CS/HB 559 – Institutional Formularies Established by Nursing Home Facilities
CS/CS/HB 573 – First Responders and Correctional Officers
CS/HB 717 – Space Florida Financing
CS/HB 783 – Uniform Commercial Real Estate Receivership Act
CS/CS/HB 945 – Children's Mental Health
CS/CS/HB 977 – Motor Vehicles Dealers
CS/HB 1005 – Voting Systems
CS/CS/HB 1439 – Bank Property of Deceased Account Holders
Governor Ron DeSantis vetoed the following bill:
SB 1292 – Public Records (SB 1292 was contingent on the passage of SB 700 – Juvenile Justice, which did not pass the Legislature. Therefore, SB 1292 is a nullity.)
The firefighter-protection bill (SB 1092) had support from state Chief Financial Officer Jimmy Patronis, who serves as the state fire marshal.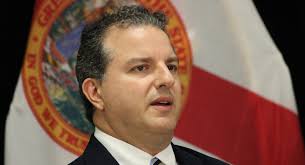 "Floridians depend on their local firefighters every day to come to their aid at a moment's notice," Sen. Aaron Bean, a Fernandina Beach Republican who sponsored the measure with Rep. Elizabeth Fetterhoff, R-DeLand, said in a statement after the bill passed in March.
"This bill ensures that we are coming to their aid every day to keep them safe from cancer-causing residue on their equipment."
Login To Facebook From Your Browser To Leave A Comment