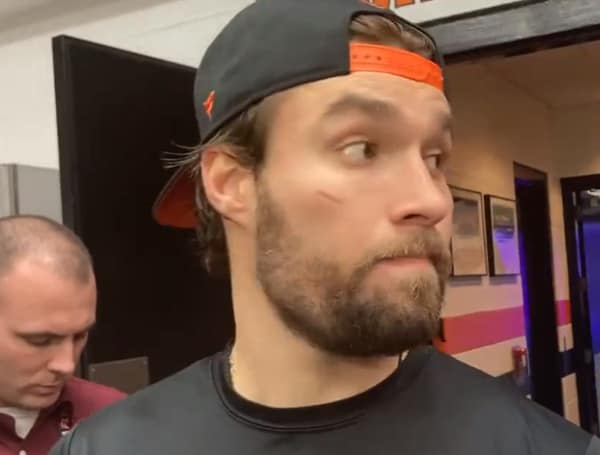 We can see three ways in which people vote.
The most obvious, of course, is at the actual ballot box. Another is with their feet, as we've seen as people fleeing Democratic-controlled areas to red states. And people can vote with their wallets.
The latter of these was on display last week after Philadelphia Flyers defenseman Ivan Provorov refused to wear a Pride-themed jersey during his team's warm-up drills on Tuesday night.
As Breitbart News reported last week, Provorov's No. 9 jersey was "nearly completely sold out on NHL Shop and Fanatics online stores after the player opted out of participating in the team's gay pride night."
Related News: Woke Mob Comes For Philly's Ivan Provorov, A Russian Orthodox Hockey Player
The only sizes left to buy were extra small as of Friday, Breitbart noted.
Provorov, as The Free Press reported, skipped the Pride festivities because of a religious objection.
"I respect everybody. I respect everybody's choices," Provorov, a member of the Russian Orthodox Church, told reporters at the time. "My choice is to stay true to myself and my religion."
It's perhaps not surprising that Provorov's stance was popular with hockey fans, despite the near-universal denunciations he received from the left-wing sports media.
A Morning Consult poll from September 2020 found that the NHL has the least liberal fan base among the four major sports.
The survey of more than 400,000 fans revealed that 36% of hockey fans are Democrats, while Republicans and independents split the remainder fairly evenly.
In an interview with Fox News host Tucker Carlson, sports journalist Jason Whitlock said one might expect more American-born athletes who claim to be Christians would understand and appreciate Provorov's stand for religious freedom.
In the news: Lightning Spreading The Wealth Offensively During Four-Game Win Streak
But so much of the sports world, he added, is now infested with "cowards."
Whitlock said leftists, aided by their allies in corporate America, are assaulting sports because it is the last bastion in pop culture that still celebrates conservative values. The NHL has been trapped by that effort to make sports bend to the will of "the left, the secular, and the godless," Whitlock added.
"We've had athletes in football, basketball, baseball, everywhere: They're all disavowing their religious convictions and taking on the convictions of corporate America and global corporations," he said.
"They're slaves to the dollar. They worship the dollar. … We don't have men bold enough to stand on their religious convictions, other than, I guess, a Russian guy. It's embarrassing for us as Americans."
Android Users, Click Here To Download The Free Press App And Never Miss A Story. Follow Us On Facebook Here Or Twitter Here.
Login To Facebook From Your Browser To Leave A Comment