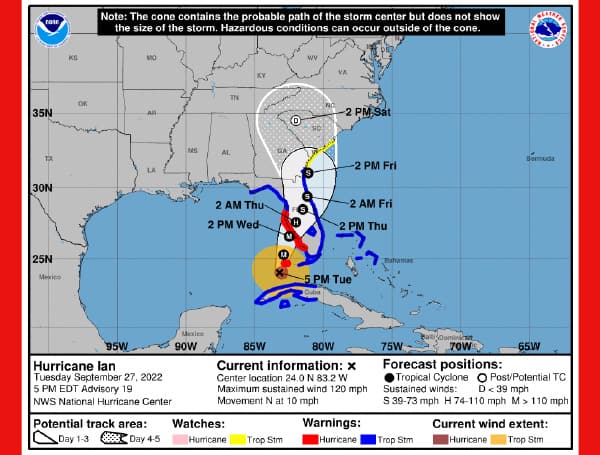 As of 5 PM today, Ian was located in the southeastern Gulf of Mexico about 230 miles South of Sarasota, Florida, and moving North at around 10 mph.
Ian is forecasted to approach the southwest coast of Florida on Wednesday afternoon, anticipating its path nearing the Sarasota and Port Charlotte area by 2 p.m.
As Ian continues to increase in intensity, the storm will also grow in size and is forecasted to be a Category 4 storm prior to landfall.
Impacts can and will spread well beyond the center. Due to the slow movement of the storm, wind impacts could last as long as 24 hours in affected areas, experiencing tropical storm-force winds as early as Wednesday afternoon.
In the news: President Biden Calls Tampa Mayor But Declines To Call Florida Governor
Rainfall will be a major and potentially catastrophic hazard with this storm.
These bands of heavy rain will have potential to cause street flooding.
The new forecast necessitates a Hurricane Warning for portions of extreme southwestern Florida, and a Tropical Storm Warning for the rest of southeastern Florida that wasn't previously under a warning.
Life-threatening storm surge is increasingly likely along the Florida west coast where a storm surge warning is in effect, with the highest risk from Naples to the Sarasota region. Residents in these areas should listen to advice given by local officials and follow any evacuation orders for your area.
Hurricane-force winds are expected in the hurricane warning area in southwest and west-central Florida beginning Wednesday morning with tropical storm conditions expected overnight. Devastating wind damage is expected near the core of Ian. Residents should rush all preparations to completion.
Heavy rainfall will affect most of the Florida Peninsula for the next several days, spreading to the rest of the Southeast U.S. by Thursday and Friday, likely causing flash, urban, and small stream flooding. Considerable flooding is expected with widespread, prolonged moderate to major river flooding expected across central Florida.
Login To Facebook From Your Browser To Leave A Comment