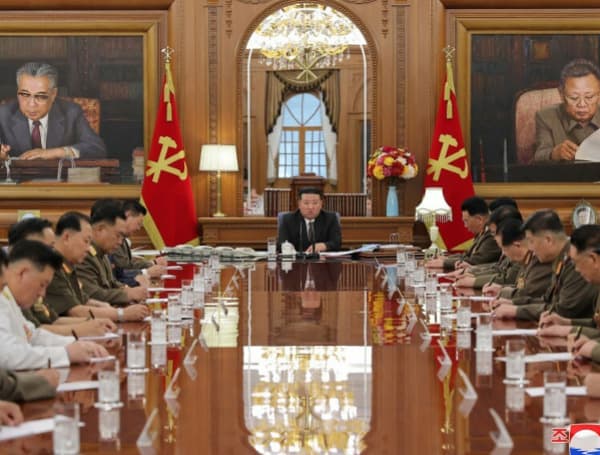 Kim Jong Un is traveling to Russia to meet President Vladimir Putin amid fears that North Korea is arming the country in its war against Ukraine.
Kim is expected to travel to Russia sometime "in the coming days" to meet with Putin, according to North Korean and Russian officials.
The U.S. and its allies have expressed concerns that North Korea could be supplying Russia with weapons in the country's ongoing war with Ukraine, which the State Department has said would be a clear violation of United Nations Security Council resolutions.
In the news: 9/11 We Remember: As It Happened 22 Years Ago
"We urge the DPRK to cease its arms negotiations with Russia and abide by the public commitments that Pyongyang has made to not provide or sell arms to Russia," a State Department spokesperson told the Daily Caller News Foundation last week. "And we are taking action directly by exposing and sanctioning individuals and entities working to facilitate arms deals between Russia and the DPRK."
Kim appeared to have departed aboard a special train for Vladivostok, but an exact date for the meeting has not been confirmed by Pyongyang or Moscow, according to Reuters. Kim will be surrounded by heightened security during his travel by armored train, according to Reuters.
During the visit, Kim and Putin will potentially discuss a deal in which Russia receives antitank missiles and artillery shells, while North Korea receives food provisions, satellite technology and nuclear-powered submarines.
In the news: Kim Jong Un Boosts Military And Weapons In Prep For War, Cans Top General
Kim last met with Putin in 2019, following Kim's discussions with then-President Trump about North Korea's nuclear disarmament.
Since President Joe Biden began his tenure, North Korea has dramatically ramped up its military production. In June, Kim promised "full support and solidarity" to Putin.
The State Department did not immediately respond to a request for comment.
Android Users, Click To Download The Free Press App And Never Miss A Story. Follow Us On Facebook and Twitter. Signup for our free newsletter.
We can't do this without your help; visit our GiveSendGo page and donate any dollar amount; every penny helps
Login To Facebook To Comment