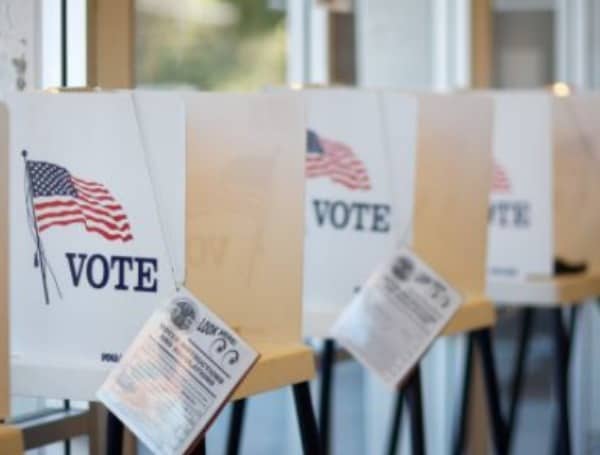 HILLSBOROUGH COUNTY, Fla. – Craig Latimer, Hillsborough County Supervisor of Elections (HCSOE), and Lutz-based Vistra Communications, a government contractor offering integrated marketing and communications services are Defendants in a lawsuit filed May 25.
The legal complaint contends the Defendants have violated Florida's Sunshine Law – Chapter 119 – which requires them to fulfill public records requests.
Potential conflicts of interest, partisanship, stonewalling and non-disclosure regarding the 2020 elections riddle the lawsuit's storyline.
Latimer, a retired major of the Hillsborough County Sheriff's Office, is the recipient of the Sterling Award issued by former Governor Rick Scott for "Performance Excellence."
Brian Butler, Founder, and CEO of Vistra Communications is a retired military career officer who advised senior leaders at U.S. Central Command and the Pentagon in strategic communications. Vistra Communications is designated as an SBA 8 (a) and service-disabled, vet-owned small business. It is also a minority-owned corporation.
According to the lawsuit, the plaintiff, Lakeland attorney Hadram Tripathi believes he has received only a limited portion of his requested documents pertaining to the 2020 general elections. At issue is the use of $3 million dollars in grant funds that originated from an approximate $332 million dollar donation given to a leftist non-profit organization, the Chicago-based Center for Tech and Civic Life.
Facebook Founder Mark Zuckerberg and his wife, Priscilla Chan were the donors.
The Center for Tech and Civic Life promotes itself as an advocate for election reform, as does Zuckerberg.
The monies received from the Zuckerbergs were intended to allegedly provide assistance with voting infrastructure during the COVID-19 pandemic.
But Plaintiff Tripathi, an immigration and veteran law attorney and founder of Lakeland's Trip Law suspects that "Zuck Bucks" and other factors may have produced a partisan environment at the HCSOE during the 2020 elections, although his suit is focused on allegations of Sunshine Law violations.
Tripathi is also Secretary of Lakeland's Republican Club.
Tripathi claims the HCSOE has not notified or confirmed to him that they have submitted all documents they possess regarding 2020 election affairs after a nearly nine-month request and waiting process.
A plethora of questions about the creation and execution of an HCSOE "Voter Education" drive originally proposed as a "Get Out the Vote" campaign – planned and executed by Vistra Communications– are left unanswered.
In the news: CNBC's Rick Santelli Flies Off The Handle, Hammers Biden's Inflationary Energy Policies
According to the lawsuit, $2.6 million dollars of the "Zuck Bucks" were paid to Vistra Communications by HCSOE for the re-named Voter Education campaign which is designated by the state governor as an in-house government duty assigned to all of Florida's Supervisor of Elections Offices.
The lawsuit states, "Originally, it seems that the Hillsborough's SOE Office did not believe that it needed CTCL (Center for Tech and Civic Life) grant money to support its elections operations. Gerri Kramer, the SOE's Chief Communications Officer, was quoted in an article on Floridapolitics.com on September 2, 2020, discussing the CTCL grants. According to the article:
"That's really a county by county question," said Gerri Kramer, spokesperson for the office. "Since it's a grant process, any county can apply for the money if needed. That won't happen in Hillsborough. We're good,' she said.'"
But for some reason, the lawsuit contends, that lack of need quickly changed – and just as rapidly, a contract was established with Vistra Communications. The presumably limited amounts of documents Tripathi received – which are exhibited in the suit – show Vistra presenting its six-week $2.6 Million Dollar "Get out the Vote" contract that would target "Youth: Black/African American, Hispanic/Latinx, and Mainstream" audiences.
The lawsuit states that the HCSOE instructed Vistra to re-name the campaign concept "Voter Education," but due to the alleged lack of transparency between Tripathi and HCSOE, it is not known what caused the campaign to be originally titled a "Get out the Vote" campaign.
Tripathi's lawsuit questions the meaning of the term "mainstream" as it is considered obscure in describing whether it refers to whites or the County's dominant political party, the Democrat Party.
The lawsuit expresses its suspicion of partisanship stating, "Putting aside the apparent Constitutional implications of the SOE financing a campaign that was expressly designed to prioritize certain racial/ethnic categories, the categories identified in the 'Campaign Concept' also represent demographic groups whose voters – as indicated by the SOE's own data – are disproportionately registered as Democrats in Hillsborough County…In short, it appears that the SOE used $2.6 million to enter into a contract with Vistra that was both Constitutionally infirm and constituted a partisan get-out-the-vote campaign, all the while insisting the Campaign be presented as mere 'voter education.'"
Due to this suspicion caused by reviewing limited documents, the Plaintiff wishes the court to make a declaration as to whether Vistra must supply all its documentation to enforce compliance with Florida's Sunshine law. It also seeks injunctive relief to receive all documents requested.
Tripathi's attorney, is "Jeff" (Seldon J.) Childers in Gainesville.
In the news: 19-Year-Old Suspect Identified In Westfield Brandon Mall Shooting
Founder of Childers Law and a popular blog found at www.coffeeandcovid.com, he commented, "We don't have the documentation to evidence that (illegal partisanship), but that is what we are asking for, and all of that information should be available under Sunshine and I would add that transparency is a key part of our democratic institutions and there shouldn't be any room for people to wonder. Those funds should be clear and well documented on how they were used, and that information should be readily available and the problem we are facing right now, is that info is not being readily provided. In fact, we've had to file a lawsuit because we've seen push-back on providing that information. And that alone raises questions…there's that old saying that sometimes the coverup is worse than the crime. I'm not alleging any crime has occurred here, but at minimum, there is poor record-keeping and resistance to being transparent."
The Free Press attempted to contact Brian Butler, Founder, and CEO of Vistra Communications for this article, but received no response. Childers indicated all contact with Vistra Communications to date has been limited to the company's attorneys.
It is not known who at Vistra Communications has allegedly resisted fulfilling public records law, or what premise they claim for alleged lack of cooperation. But investigative media reports seem to indicate "stonewalling" activity is associated with the Center for Tech and Civil Life.
Influence.org states: "For its part, CTCL refused to cooperate even with friendly, left-leaning media outlets. For example, when American Public Media and National Public Radio (NPR) began inquiring after CTCL's grants in December 2020, the group "declined repeated interview requests from APM Reports to discuss the funding and how it was used." [14] The New York Times was also stonewalled by CTCL, as was the Associated Press and the New Yorker, even though CTCL leadership knew it would eventually have to disclose its funding about a year later in its nonprofit filings with the IRS."
The lawsuit notes the plaintiff could not find any announcement by the HCSOE which publicly disclosed that its in-house Voter Education efforts were assigned to an outside, private sector entity for the 2020 elections, or disclosed Vistra Communications as the government contractor. According to Childers, it appears that only the Center for Tech and Civic Life released news on the decision.
The plaintiff is also suspect of an email introduction made by Kim A. Barton, Supervisor of Elections for Alachua County to Craig Latimer.
The lawsuit states, "Craig Latimer, the Supervisor of Elections for Hillsborough County, Florida, was informed of the CTCL grant program on September 1, 2020, via an email from a fellow supervisor of elections, Kim A. Barton, the SOE of Alachua County, Florida. [Ex. 1]. Barton's email reminded Latimer that she "serve[d] as an advisor on the Center for Tech and Civic Life."
Childers sees a potential for conflict of interest because Barton apparently persuaded Latimer to consider using Zuck Bucks as a leftist-organization member.
lnfluencewatch.org reprinted news and commentary reflecting concern about such large sums of money being injected into the elections: "In January 2022, New York Times contributor Christopher Caldwell criticized CTCL's "relief grants" as a private intrusion into public elections offices, arguing that voters "might consider the intervention of info-tech billionaires in the 2020 election to be a larger potential threat to our democracy" than the January 6, 2021, protest in Washington, D.C."
Florida Governor Ron DeSantis and other state governors recently banned all privately issued funds to their Supervisor of Elections Offices.
The Florida Sunshine Law was enacted to help enforce government transparency. The public can request documents without explaining the cause or purpose for their requests. Fines and punishment for non-compliance to the law includes remittance of $1,000, a year in prison, or both.
Peg Rees, Chief of Staff at HCSOE returned a Free Press call made to Craig Latimer, stating "We are not going to make any comments on pending litigation."
The Free Press will continue to report on this story.
Visit Tampafp.com for Politics, Tampa Area Local News, Sports, and National Headlines. Support journalism by clicking here to our GiveSendGo or sign up for our free newsletter by clicking here.
Android Users, Click Here To Download The Free Press App And Never Miss A Story. Follow Us On Facebook Here Or Twitter Here.
Copyright 2022 The Free Press, LLC, tampafp.com. All rights reserved. This material may not be published, broadcast, rewritten, or redistributed.
Login To Facebook From Your Browser To Leave A Comment