By Geoff Fox
RUSKIN – Kelly Kowall strolled onto the memorial area at My Warrior's Place.
A light breeze blew through the gazebo, jingling a display of hanging dog tags like wind chimes. The area was lined with bricks stamped with the names of U.S. military veterans, some of whom died while serving the country.
Among the names was that of Kowall's son, U.S. Army Spc. Corey Kowall, who was killed on Sept. 20, 2009, while assisting a convoy that encountered an improvised explosive device in Afghanistan's Zabul province. Corey was 20 when he died alongside U.S. Army Spc. Damon Winkleman, a medic.
Kowall exhaled, and her voice quivered slightly as she recalled Corey, but then she seemed to relax.
Such is the calming effect the memorial area – situated on the banks of the Little Manatee River – can have on anyone.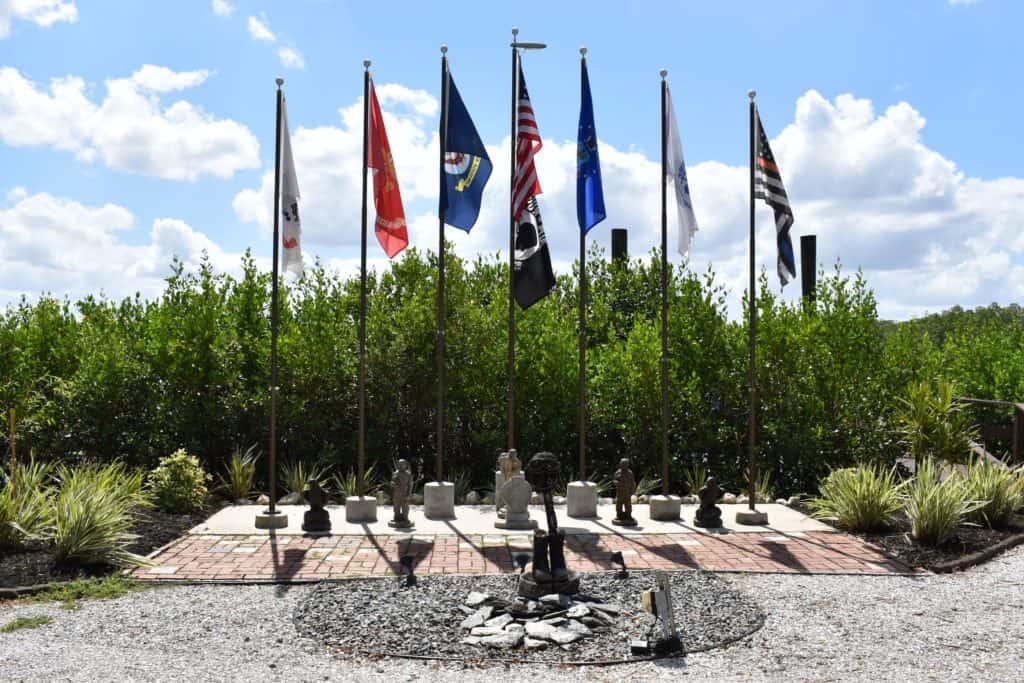 "A lot of the veterans who served in a combat zone, they've lost friends and seen a lot of stuff, and they don't have the opportunity to go through a grief process," Kowall said. "They have to keep sharp all the time, so they bottle it all up. After they get out of hell, there's no way to uncork it."
For military veterans, law enforcement personnel, and other first responders, My Warrior's Place offers a serene, therapeutic getaway.
Kowall founded the non-profit organization in 2012. Located at 101 22nd Street NW, the compound features soothing, pastel-colored cabins and trailers available for weekend rentals. The spot also offers fishing (especially reds, snapper, and catfish), as well as canoe and kayak rentals.
Kowall also refers guests to local services they may need.
"One man who came in had a traumatic brain injury," Kowall said. "He felt he was worthless, but his wife brought him in, and he loved it. Just helping me with simple landscaping projects was beneficial to him. We can help people find their purpose again."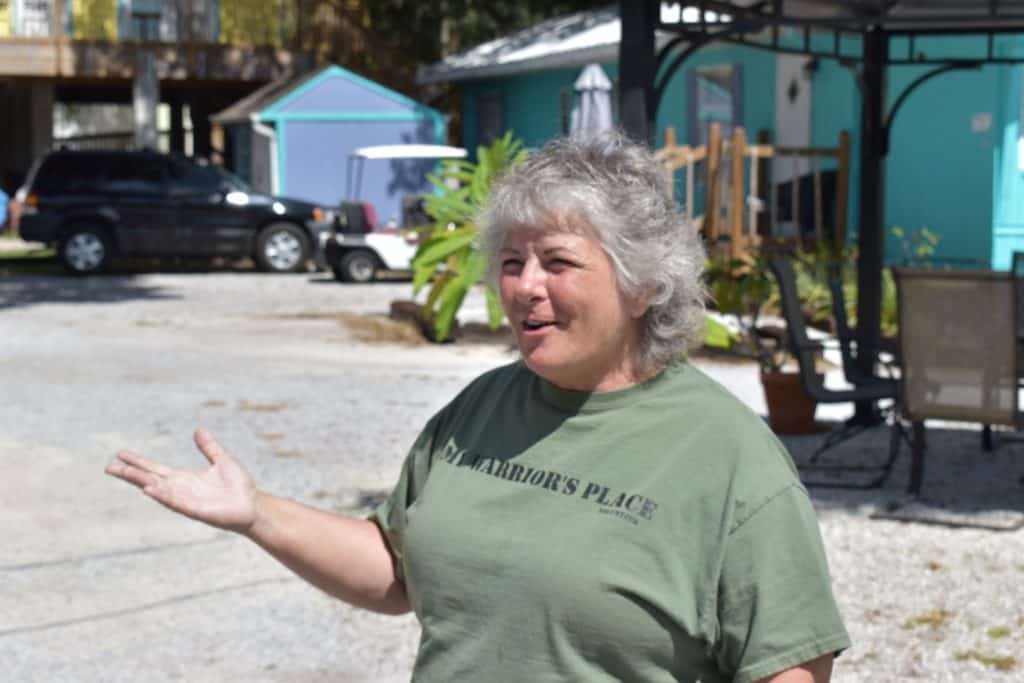 Kowall also recently began offering hypnosis therapy via Daniel Cyral, a hypnotist based in Riverview, and chiropractic services from Deidre Deany, an Apollo Beach chiropractor who is certified in acupuncture; Deany often works out of A Peaceful Harbor Day Spa in Apollo Beach.
Deany said she didn't know My Warrior's Place existed until she saw an episode of "Returning the Favor," a Facebook Live program hosted by Mike Rowe, who made his name hosting "Dirty Jobs" on The Discovery Channel. "Gold Star Mom," the episode featuring My Warrior's Place, aired July 2. It can be viewed at mikerowe.com.
"My son, Taylor, has been in the Air Force for eight years, stationed at MacDill" Air Force Base in Tampa, Deany said. "I can help out people with PTSD, anxiety, and pain issues. I just enjoy helping others and (My Warrior's Place) is a great facility for military families."
The scenic property is run entirely by volunteers. New construction on the property includes a 1,200-square-foot, wheelchair-accessible stilt house. Almost all material used to build the house was donated by Home Depot (which offered a $44,000 grant for flooring), National Gypsum, Cemex, and other large companies, while Serta offered free bed frames and mattresses.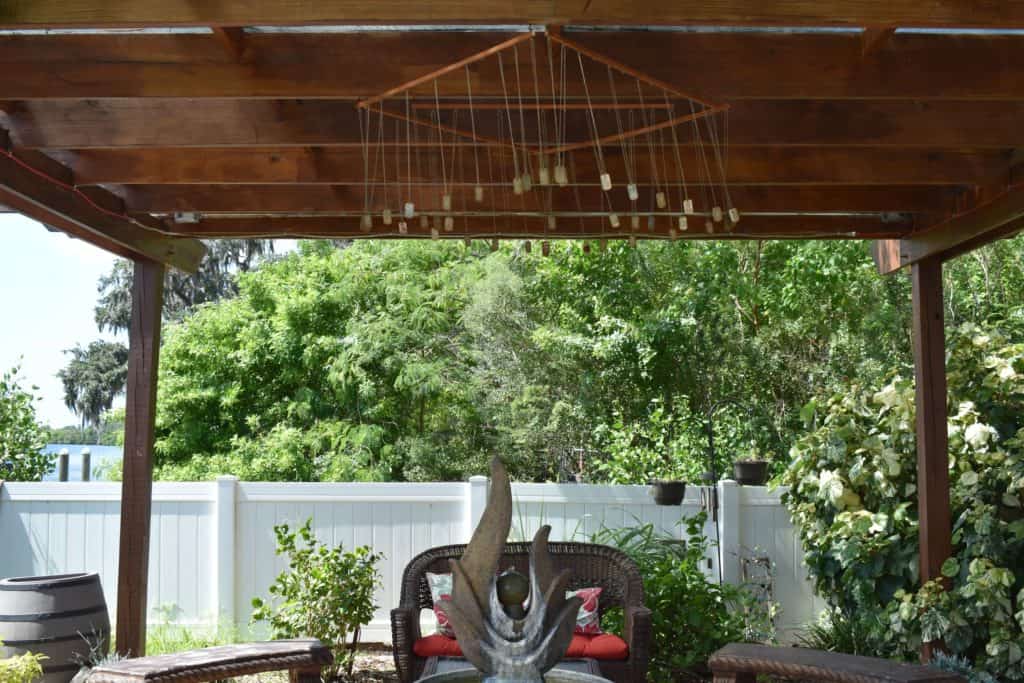 "We only had to come up with $2,500" for the stilt house, Kowall said.
Over the years, dozens of local businesses have offered skilled labor and financial support, while Rowe gave My Warrior's Place a new Suzuki Carolina Skiff fishing boat named "Corregidor" after Corey Kowall; Corregidor was a nickname given him by Kelly Kowall's father.
The organization's 5-acre tract is full of oak and palm trees and includes three pads for recreational vehicles. A large outdoor pavilion is used for weddings and other events, and also as a dog park. Kowall heaped praise on the scores of volunteers who have helped make it all possible.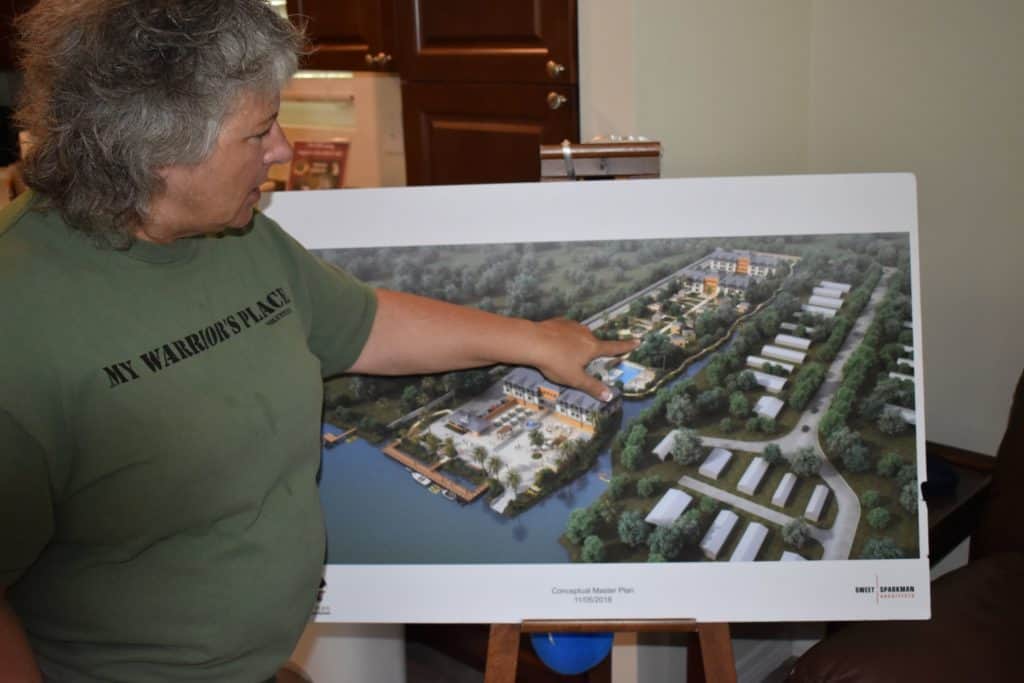 Among them is Maj. Gen. George "Nordie" Norwood, U.S. Air Force (retired), who spent over 32 years in the Air Force as a fighter pilot. Besides serving two years during the Vietnam war, Norwood often flew Cold War-era missions in Korea, Japan, and Germany.
Norwood knew Kowall several years before he joined her board of advisors a couple of years ago; he began serving on the board of directors about a year ago.
"Being retired military, I'm interested in and concerned with veterans and their families. They're the ones who often pay the price over the loss of someone in the military," said Norwood, who runs Flagship Sailing in Ruskin. "I've always been impressed by (Kowall's) outreach and efforts to help" military families.
Norwood has taken many families at My Warrior's Place for boat tours on the Little Manatee River and into Tampa Bay.
"Out on the water, it's very therapeutic, and you can see the healing effects," he said.
Norwood said he understands well the "ripple effect" of sorrow that can devastate family and friends of military personnel killed in the line of duty.
"Different people deal with grief in different ways," he said. "Kelly chose to honor Corey by having this facility for people to enjoy and take part in counseling services. Some people are really in a bind and really need help. For me, this is another chance to serve."
Corey Kowall is never far from his mother's mind.
In 2016, she published a book titled "My Life After … The Death of My Son (A Story of Miracles)," which chronicles her journey from profound grief to the revelation that Corey contacts her from Heaven.
At a time when 22 U.S. military veterans commit suicide every day, Kowall said she believes My Warrior's Place helps fill "a need that's not being met."
"We're here for the people who really need a respite – a vacation," she said.
For information about My Warrior's Place, visit www.mywarriorsplace.org, follow on Facebook or call (813) 321-0880.
Login To Facebook From Your Browser To Leave A Comment