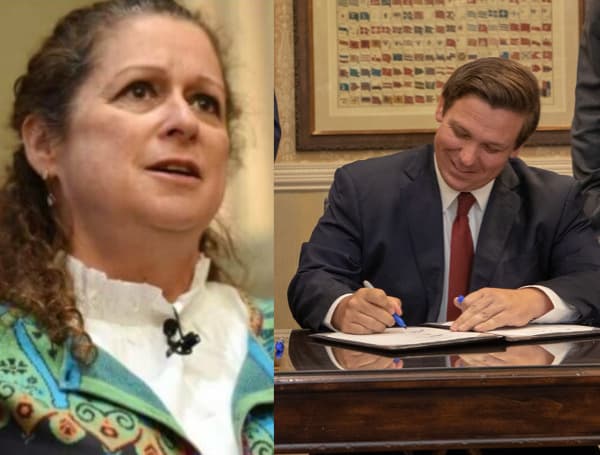 Walt Disney billed his Magic Kingdom as the happiest place on Earth. Apparently one of his misanthropic relatives needs a trip there.
Disney heiress Abigail Disney, Walt's grandniece, unloaded on conservative journalist Christopher Rufo, who recently took a break from exposing the dangers of Critical Race Theory to spotlight the pro-grooming opinions in Disney's back rooms.
Rufo this week released video of Disney execs discussing Florida's new Parental Rights in Educaton law, which prohibits schools districts and teachers from implementing lesson plans about sexual orientation and gender identity in grades K-3.
One executive producer in a virtual call cheered the company's "not-at-all-secret gay agenda," and proudly proclaimed Disney was increasingly "adding queerness" to its kids' shows.
Rufo also posted video of a Disney President over Content, saying she wholly supports having "many, many, many LGBTQIA characters in our stories," in part because she has one trans child and another who is "pansexual."
On Thursday, the day after those posts, Rufo tweeted, "We are waging moral war against Disney. We are directly targeting their public reputation. We are turning half of their customers against them. We are going to war with Disney and the left-wing activists who are subverting parents and pushing gender ideology onto children."
That did not sit well with Abigail Disney, who on Friday launched her own unhinged, rage-filled Twitter thread against Rufo, and against corporations that have supported Republicans, that was an exercise in how leftists project their own ideology onto their critics.
At the end of her tirade, she also vowed that corporations like Disney would crush a "punk" like Rufo.
"Like all radical ideologues," the Disney heiress began, "the right-wing has finally run amok and is coming to devour the hand that feeds it.  Business. For my part I am delighted" because it was exposing to corporations what the right is about.
Abigail then added, it was the right who distracted "us with culture war nonsense while they rifle through the till and empty everyone's pockets. This 'anti-woke' right wing nonsense is unsupported by a large majority of Americans. In fact most Americans are offended by it and wish it would just go away."
Sure, that's why polls show Americans support Florida's law by a 2-1 margin – and that one survey, as The Free Press reported, indicated 52 percent of Florida Democrats agree with the statute.
She then said conservatives like Rufo "need to be constantly looking for fresh meat to throw to the minions, to keep them riled up all the time."
She then accused U.S. businesses of an "outrageous and multi-decade campaign to stack the deck against the American People [that] brought us this whole raft of Trump wannabe's now casting about for new and more insidious ways to tear the country apart."
Yes, the right is tearing the country apart by protesting institutionalized racism and the sexual grooming of children.
"Disney has everything it needs to fight this threat, if only it will have the courage to weather the slings and arrows and threats and name-calling," she bellowed in her screed.
"Perhaps we will see [business] lobbies lose faith in the devil's partnership they until now have relied so heavily upon to look after their subsidies, their tax breaks, their flouting of law and regulation. Perhaps the right wing has finally bitten the hand that has been feeding it superfoods these last few decades," Abigail continued.
"The only thing that will work for business now if they want to emerge in one piece," she added, "is to stand tall for authenticity, generosity, joy, and decency. These things are cryptonite (sic) for the right wing agenda. So the cure for this isn't hard.  And it also just so happens to be the heart and soul of the Disney brand."
Yes, the "joy and decency" just oozed from her thread, and was evident most in its closing tweets.
"Right now, when it matters most of all, they [Disney's leadership] will stand for those values with every fiber of their being. Yeah guys like Rufo can try, but Disney is so much bigger, means so much more to the American people than that little punk can ever hope to mean."
Rufo, on Friday, answered Abigail, and noted that he is not going anywhere.
"LMAO: The Disney heiress, who inherited $100+ million and cosplays as a 'class traitor,' is coming after me now. The most privileged people on the planet pretend to be avatars of the oppressed and they are absolutely pathetic," he tweeted.
"I met a lot of these people when I was an undergraduate at Georgetown. They are the most entitled, narcissistic, status-obsessed people imaginable. They adopt identities and moral causes to project their problems onto the world and 'solve' them with their inherited wealth," Rufo added.
"But deep down, Abigail knows that she doesn't deserve it, couldn't survive without, and isn't morally strong enough to give it away. And so she builds an image as a 'class traitor,' wants to 'outlaw private jets,' and tries to evade that gnawing sense that she's a fraud. The best way to understand people like Abigail Disney is that, for them, playing progressive politics is a very expensive form of therapy," he continued.
"I welcome the scorn of people like Abigail Disney. I know who I am, I know the privileges that I've inherited, and I know that I could survive on my own initiative and raise my children without the vast psychological complexes of people like her."
Visit Tampafp.com for Politics, Tampa Area Local News, Sports, and National Headlines. Support journalism by clicking here to our GiveSendGo or sign up for our free newsletter by clicking here.
Android Users, Click Here To Download The Free Press App And Never Miss A Story. Follow Us On Facebook Here Or Twitter Here.
Login To Facebook From Your Browser To Leave A Comment