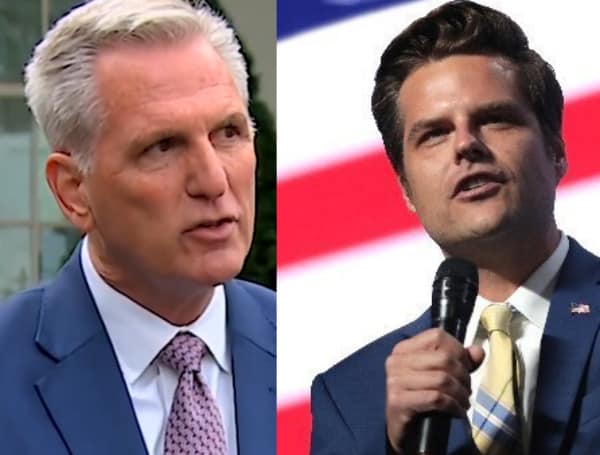 President Joe Biden hosted his first official state dinner on Thursday, entertaining his French counterpart, President Emmanuel Macron, at the White House.
Presumed incoming Republican House Speaker Kevin McCarthy joined the left-wing glitterati in welcoming France's leader to Washington.
As it turned out, McCarthy also dined with Biden's son Hunter, who allegedly will be the target of GOP investigations into the Biden family's corruption when Republicans take over in January.
Some conservatives argued this only proved that the California Republican is unfit to lead the House next month.
Florida Rep. Matt Gaetz, who has announced his support for Donald Trump ally Rep. Jim Jordan to be speaker, tweeted on Thursday, "Tonight Kevin McCarthy had dinner with Hunter Biden at a state dinner with Macron to rally support for more US aid to Ukraine. He should not be Speaker. Republicans need a Speaker who will investigate Hunter Biden, not eat lobster with him."
Gaetz added, "@Jim_Jordan wouldn't be caught dead dining w Hunter Biden."
Newsmax host Greg Kelly tweeted, "Why we HATE the swamp: Kevin McCarthy is in It for the STATUS and Perks. He should have been home last night preparing SUBPOENAS for Fauci and HUNTER.  He left Good candidates Unfunded (Majewski) -I'd rather go to a RED LOBSTER than be with RATS at the White House."
The appearance could not come at a worse moment for McCarthy. On Friday, Twitter owner Elon Musk released numerous files showing that the previous regime at his company actively suppressed the New York Post story of Hunter Biden's laptop, which revealed details of overseas business deals that involved his father, just before the 2020 election.
McCarthy, on Friday night, attempted to show that his attendance at Biden's soiree would not affect the GOP's search for truth.
"We're learning in real-time how Twitter colluded to silence the truth about Hunter Biden's laptop just days before the 2020 presidential election," McCarthy tweeted. "In 32 days, the new House Republican majority will get answers for the American people and the accountability they deserve."
Others were not convinced.
One Twitter user, American Soldier for Christ, noted, "America needs a Speaker of the House who will fight against the deep state and investigate Hunter Biden, not eat lobster with him. Kevin McCarthy has to go."
Retweeting Gaetz's comment, another user, Boston Bobblehead, added, "Kevin McCarthy is the uniparty. Grassroots Republicans must demand he never become Speaker."
Another user, Tim Lawrence, simply said, "Kevin McCarthy is a snake…"
Visit Tampafp.com for Politics, Sports, and National Headlines.
Android Users, Click Here To Download The Free Press App And Never Miss A Story. Follow Us On Facebook Here Or Twitter Here.
Login To Facebook From Your Browser To Leave A Comment