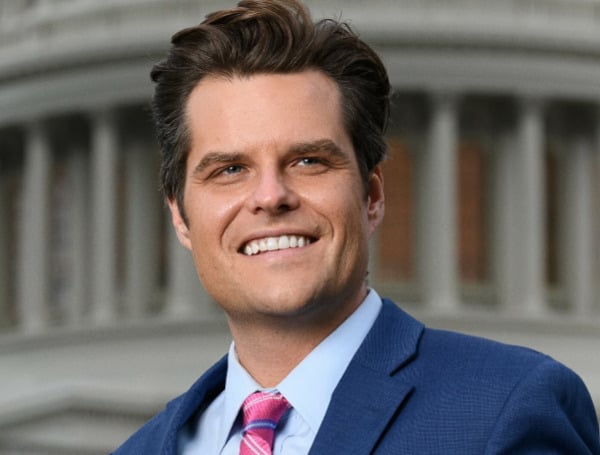 ---
U.S Rep. Matt Gaetz recently denounced House Democrats for extending their woke politics to America's military veterans.
Gaetz penned an opinion article for the American Greatness website on Friday discussing a new report by Democrats on the House Veterans Affairs Committee about "violent extremism" within America's veteran community.
The report concluded that extremism is an "unfortunate reality" among the U.S. veterans, Gaetz noted.
"When I conjure a vision of extremism," Gaetz wrote, "I see Osama bin Laden. Democrats, on the other hand, see an American veteran."
The Fort Walton Beach Republican noted that the report may be "nothing more than some boomer Democrats dusting off the old Vietnam playbook of attacking veterans with vile names like 'baby killer.'"
"The reality, however, is much more sinister. This report continues an ongoing attack by Democrats on conservatives more generally, which now finds our honorable servicemembers and veterans in its crosshairs."
It all begins with President Joe Biden, he wrote, noting that Biden directed Secretary of
Defense Lloyd Austin "to lead the extremist witch hunt within our armed forces."
While Austin vowed to follow orders and "rid the ranks of 'extremists and racists,'" reality intruded, Gaetz said. By the end of 2021, when Austin released his "manifesto" on fighting extremism within the armed forces, the conclusion was self-evident: "There is no extremist problem in our military," said Gaetz.
Rather, "The whole 'problem' of extremism in our military was contrived for political purposes only; i.e., to target those who do not support Joe Biden's regime and a woketopian Department of Defense."
The congressman recapped Austin's manifesto that found fewer than 100 instances of extremist behavior within the ranks. Last April, Austin testified to the House Armed Services Committee that "99.9 percent of our military were 'doing the right thing every day.'"
In May, after Austin's report and after House Armed Services Committee Chairman Adam Smith, a Democrat, downplayed extremism in the military, Gaetz noted that he proposed an amendment to the National Defense Authorization Act that declared combating extremism within the military should not be a top priority for Defense Department. Democrats, he added, "curiously voted it down."
"The Democrats' witch hunt for political opponents within the ranks of our active duty, reserves, and National Guard kept leading to dead ends. The data did not support their claims. Thus, it seems Democrats aimed to cast a wider net into a deeper pool, searching for political opponents within the ranks of the nearly 18 million veterans in America," Gaetz noted.
The report by Democrats on the Veterans Affairs Committee, he added, "besmirches the name of all veterans and casts aspersions on the very best America has to offer."
"Ironically, it is the Democrats who claim Republicans stereotype, profile, and generalize whole populations based on scanty evidence. They call us racists, bigots, and extremists, all the while launching ill-founded, unsupported, and disgusting attacks on our military and veteran communities."
"The American people will not stand for such attacks on its bravest citizens, those men, and women who answer the call to defend our freedoms," continued Gaetz. "Republican majorities in Congress must end the political witch hunts for a phantom extremism within our armed forces and veterans' communities."
Meanwhile, he noted, GOP lawmakers will focus on real-world issues such as manpower, training, and equipment, so that the U.S. military can "continue to be the most lethal fighting force in the history of the world."
"We will fight to ensure our brave veterans receive the care and benefits they fought for and earned. Left in the dust will be yet another generation of Democrats who attacked America's military and veterans to their own peril and had to live with the consequences," Gaetz concluded.
Visit Tampafp.com for Politics, Sports, and National Headlines. Support journalism by clicking here to our GiveSendGo or sign up for our free newsletter by clicking here.
Android Users, Click Here To Download The Free Press App And Never Miss A Story. Follow Us On Facebook Here Or Twitter Here.
Login To Facebook From Your Browser To Leave A Comment