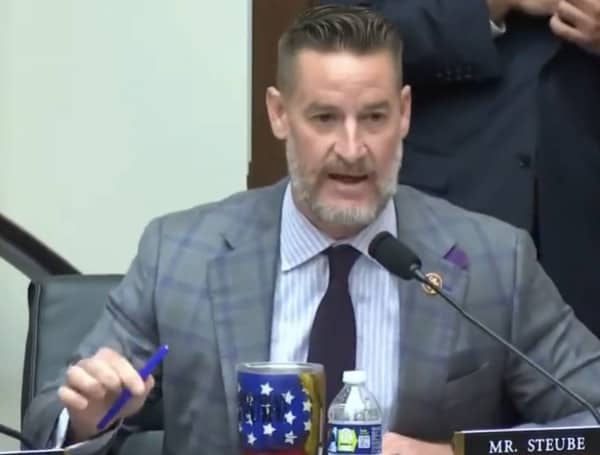 As Elon Musk reveals more daily about how the previous Twitter regime censored conservative voices, Rep. Greg Steube argues it is time to strip away Big Tech's protection against being held liable for blocking speech.
In an interview on Wednesday with Breitbart News Daily podcast host Alex Marlow, the Sarasota Republican asserted Big Tech hides behind a controversial provision of the federal Communications Decency Act in order to render certain speech they don't like as objectionable, and thus capable of being removed or prohibited.
Steube was referring to Section 230 of the 1996 law. That provision states in part, "No provider or user of an interactive computer service shall be held liable on account of any action voluntarily taken in good faith to restrict access to or availability of material that the provider or user considers to be obscene, lewd, lascivious, filthy, excessively violent, harassing, or otherwise objectionable, whether or not such material is constitutionally protected."
In the news: Docs Show Twitter Had Secret 'Blacklists' That Suppressed Stanford Doctor, Top Conservatives
The law was passed when Republicans controlled Congress. At the time, the law was understood to prohibit trafficking in porn and to help boost the internet as a tool of industry.
Yet, Steube argued, we've long passed the point of the original intent.
"When these social media companies started years ago — I wish I would have been here, but I wasn't — a Republican Congress gave them liability protection because the argument at the time was, 'They would be sued out of existence and not be able to get off the ground,'" he told Marlow.
"Of course, now they've used that, knowing that they can do things like censor the Hunter Biden story, censor [Breitbart News], censor your emails, not allow you to speak on vaccines or COVID or any of these other things, and there's legally nothing that you or Breitbart or anybody can do to stop them legally from doing that."
"President [Donald] Trump wanted to completely remove Section 230," Steube added. "I don't think we should completely remove it. I think we should reform it."
Steube proposes to do that with his own bill, the Curbing Abuse and Saving Expression In Technology Act.
Steube noted his bill creates a "market dominance test."
The test is based on a platform's number of subscribers. Any company above that number would be at risk of being sued for violating users' First Amendment rights.
Meanwhile, smaller companies, especially conservative startups, would still be protected from being "sued out of existence."
"Just the mere passage of that bill would change their behavior," Steube told Marlow of Big Tech firms, "because they're not going to want to get sued by a whole bunch of people when they're censoring your posts and colluding with the Biden administration to determine what you're seeing and not seeing."
Visit Tampafp.com for Politics, Sports, and National Headlines, or signup for our free newsletter by clicking here.
Android Users, Click Here To Download The Free Press App And Never Miss A Story. Follow Us On Facebook Here Or Twitter Here.
Login To Facebook From Your Browser To Leave A Comment