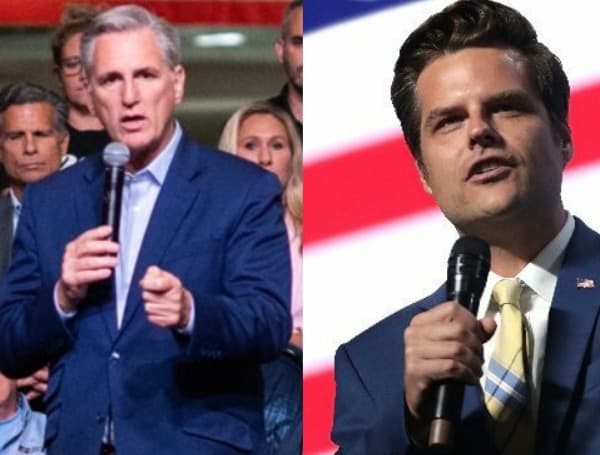 U.S. Rep. Matt Gaetz continues to campaign against "McCarthyism."
The Florida Republican on Thursday pressed the case against House Minority Leader Kevin McCarthy becoming the new speaker of the House next month, saying it's "boneheaded" to accept that the establishment California Republican deserves automatic fealty as the GOP's new leader.
The administration is aiding and abetting an invasion of the Southern border. Our rights are being stripped away. We are at war, and the enemy is within," Gaetz wrote in an opinion article for Real Clear Politics. "Kevin McCarthy is not the right leader for the moment. Fortunately, enough Republicans recognize that to stop him from being the next Speaker of the House."
Gaetz noted that he is among five Republicans who have already signaled that McCarthy is not their man. That means, as of right now, he does not have the votes to become speaker.
The Florida congressman said some in the media are suggesting Democrats will vote for a "squish" Republican to keep the Trump-aligned forces on the back bench.
"This is the uniparty in action and should let you know that McCarthy is not a threat to the system destroying America," Gaetz argued. "This is the moment for a fight, and McCarthy's instinct is flight."
Gaetz has endorsed Ohio Rep. Jim Jordan as the new GOP leader. He noted that Arizona Rep. Andy Biggs is openly challenging McCarthy's claim to the title. Others may do so as well.
And that, Gaetz added, is what the Republicans need.
"Now is the time for conservatives to come to terms with the fact that the Speakership is up for grabs. Five Republicans are enough to stop Kevin McCarthy from becoming Speaker," he wrote. "In order to avoid chaos on January 3rd, Republicans need to embrace reality."
Biggs, whom Gaetz described as a "true conservative," would be "a much better choice than McCarthy," he wrote.
While it's true five other House Republicans might step up and reject Biggs, that's beside the point, Gaetz said.
"There are likely dozens or even hundreds of House Republicans that I would love to support as Speaker. It's time for them to prove their case. McCarthy has lost his," he concluded.
Visit Tampafp.com for Politics, Sports, and National Headlines, or signup for our free newsletter by clicking here.
Android Users, Click Here To Download The Free Press App And Never Miss A Story. Follow Us On Facebook Here Or Twitter Here.
Login To Facebook From Your Browser To Leave A Comment