By GEOFF FOX
RUSKIN – I'm not a foodie, but I know what I like. And I like Cuban food.
Of course, in Florida, it's practically un-American to dislike Cuban food.
That affinity for Cuban cuisine is what first lured me into Ybor Grille last month. I'd passed by its location at 339 19th Ave. N.E., just west of U.S. 41, several times en route to other locations, but that sign – touting its "Authentic Florida Kitchen" – called out to me until I responded.
Ascending the front steps, you're greeted with acoustic Latin music. Enter the restaurant and the almost-rustic Latin decor pops, especially the diamond-shaped mural of bright cigar boxes on the far wall.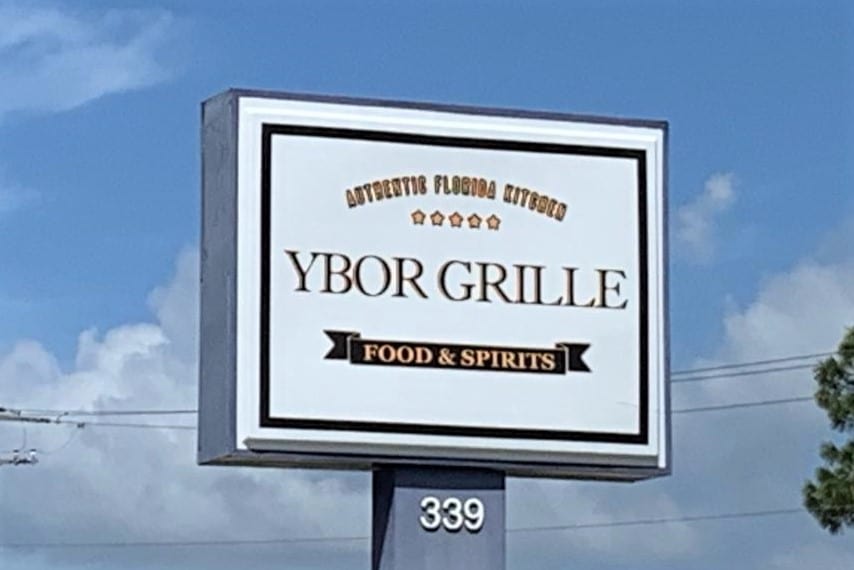 It's hard for me not to first judge a restaurant by its service. At Ybor Grille, the service has been quick, knowledgeable – of daily food and drink specials, as well as how the food is prepared – and friendly, but never pushy.
On my first visit, I ordered the Pork Sandwich under the menu heading: "From the Streets of Old Ybor." The sandwich was piping hot and piled high with succulent pork. The sandwich is served with mojo sauce, which is to the Pork Sandwich what au jus is to a French dip.
The thick Cuban bread, shredded pork and garlicky mojo sauce make for an explosion of flavor.
And the thing is massive. I weigh about 180 pounds, but I have a relatively quick metabolism. At Asian buffets, I'm usually a three-plater.
But I could only finish half of the sandwich. The good news is that it held up well, even after being refrigerated several hours. My 18-year-old son finished the other half later that night after warming it in a toaster oven.
More recently, I stopped in to try Ybor Grille's Cuban Sandwich, because, really, if you're touting a restaurant with the word Ybor in it, the Cuban better not disappoint.
If you've been disappointed by Ybor Grille's Cuban Sandwich, then your standards are simply higher than mine.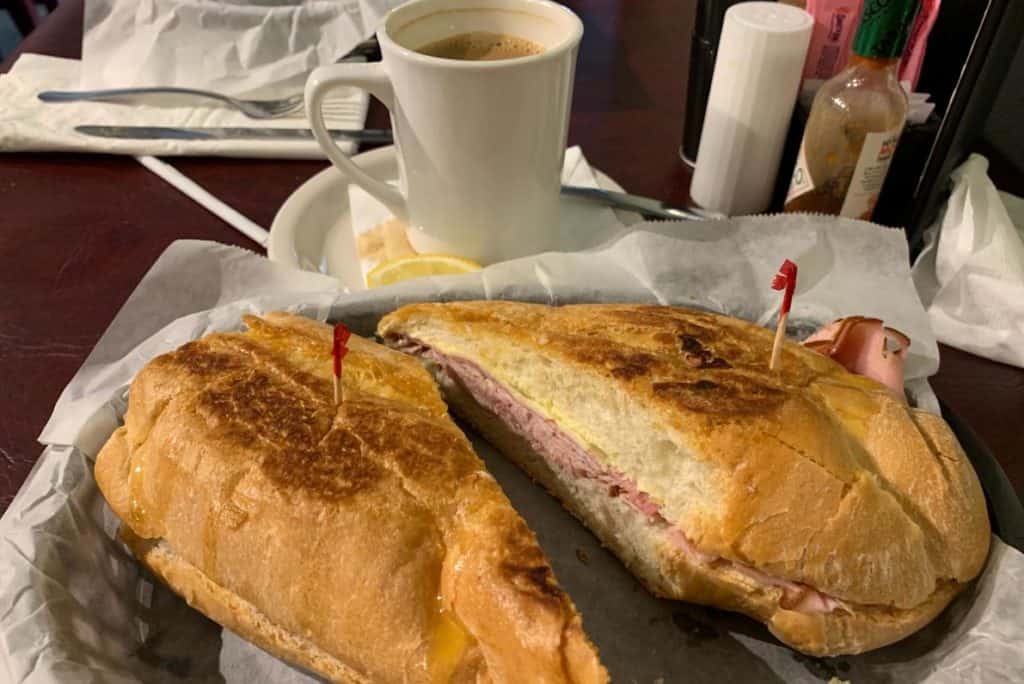 Like the Pork Sandwich, the Cuban won't leave you hungry. This time, I also ordered the Papas Relleno, a fried potato filled with seasoned beef, and cafe con leche, the traditional Cuban coffee with scalded milk.
The Papas Relleno is maybe a bit smaller than a racquetball. It's fired to a golden crisp and filled with just the right amount of beef.
Just as I finished it, the Cuban arrived. Look, if you like Cubans, you can't go wrong at Ybor Grille. The bread is thicker than I'm accustomed to, and along with the Papas Relleno, I was full of carbs after half a sandwich.
That's where the cafe con leche came in. Before my system could begin its carb comedown, the coffee had me as alert as a long-haul trucker. It was as strong as it was rich, and distinctively Cuban.
I have not tried the Ybor Salad, but I have a trusted source who said it was a meal in itself, with ham and salami, Swiss and Romano cheeses, peppers, olives and herbs piled high on a bed of greens.
Because I'm on a tight budget, I almost always go the sandwich route, but there are several menu options: Black Bean and Garbanzo soups; Ropa Veja (shredded flank steak simmered in Burgundy and tomato sauce); Lechon Asado (Cuban roast pork) and Palomilla Steak.
House specials include the 7th Ave Filet, Grouper Supreme (a filet topped with shrimp garnish and white wine cream sauce), Merluza a la Rusa (a lightly breaded Spanish whitefish filet, sautéed and topped with a Russian-style sauce) and Shrimp Alajillo (fresh Gulf of Mexico shrimp tossed with tomatoes, green onions, white wine, olive oil and garlic on a bed of rice).
If you have any room left over, Ybor Grille also serves flan, bread pudding, guava cheesecake and Double Chocolate Texas Sheet Cake, topped with vanilla ice cream and chocolate drizzle.
But don't take my word for it.
Look at the restaurant's parking lot any time around noon.
There will be plenty of cars.
What does that tell you?
For menu and other information, visit yborgrille.com or call (813) 641-7300.
Login To Facebook From Your Browser To Leave A Comment