By Geoff Fox
RUSKIN – The water could be smooth as butter or rougher than a bad hangover.
Either way, Clyde Petty will splash through it at up to 95 mph. At that speed, his 28-foot powerboat can catch major air.
It's not the safest endeavor, especially when there are more than a dozen other boats splashing at your stern, but Petty didn't get into the world of offshore powerboat racing because he's afraid of an adrenaline rush.
A Ruskin resident, Petty, 38, has worked on various race crews since 2002 but recently struck out on his own. Last year, he – and his crew of up to six – took second place at the Key West World Championship and third place at the Offshore Powerboat Association-Powerboat P1 (OPA-P1) World Championships in Englewood, in southwest Florida.
"I always told myself that when I was secure enough to buy my own racing boat, I was going to do it – and that's what I did," Petty said.
Petty calls his boat, a Larry Smith model with twin 496-cubic-inch engines, Rollin' Dirty Offshore. He bought it last year and spent four months restoring it before entering his first race in Cocoa Beach; that day, the waves were up to 10 feet high.
"I'd never even had the boat in the water before," he said.
Still, he won the race. Successful runs at Michigan City, Indiana, and Clearwater followed.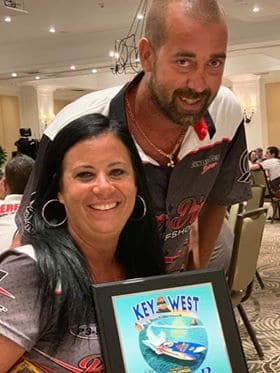 "I got that itch," he said. "Since then, I've traveled all over the U.S., and I've done races in Trinidad and Puerto Rico, too. Every race we do is televised worldwide on NBC Sports."
The powerboat racing business isn't cheap, so Petty has drawn sponsors from around the Tampa Bay area and is always looking for more.
Randy Shamrock, owner of Shamrock's Irish Pub in Fort Myers Beach, is one of them. When the races come to town, Shamrock said crowds of over 100,000 pack the beaches.
"It just seemed like a logical fit" to sponsor Petty, Shamrock said. "I met the promoter of the race and he said a couple of the guys were looking for sponsors, so I talked to Clyde. He's a real down-to-earth guy, very honest and likable. He was very easy for us to work with."
Petty said his next race will be at the OPA National Championships in Fort Myers Beach in October.
"The courses are ever-changing," he said. "It's not like NASCAR; you don't know what to expect. It can beat the hell out of you and your equipment. The sea has no mercy."
Petty would have it no other way.
He said he entered last year's Key West World Championship, a nine-day event, on "a shoestring budget" compared with other racers.
"I had no place to stay," he said. "I roughed it in a trailer for 10 days, just slept in the pits. But I still came in second – ahead of 17 other boats."
Asked how long he plans to race competitively, he said: "Until they take me out in a body bag or put me in with a crane and a wheelchair."
For sponsorship information, call Petty at (941) 254-0221.
Login To Facebook From Your Browser To Leave A Comment